Alexandria Ocasio-Cortez, Other Progressives To Visit Left-Ruled Latin American Nations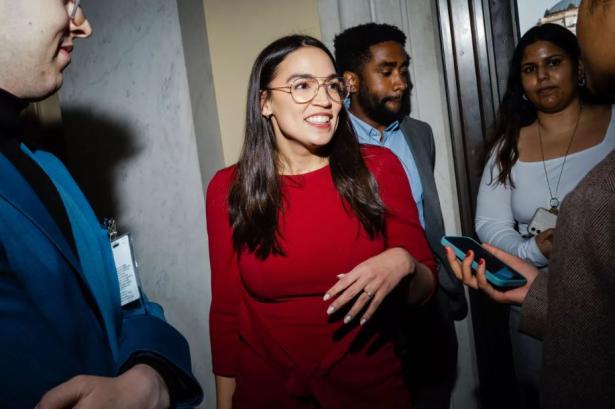 Rep. Alexandria Ocasio-Cortez (D-N.Y.) speaks with reporters at the U.S. Capitol in April., (Credit: Kent Nishimura / Los Angeles Times)
An 11-member group of lawmakers and staff plan to leave Aug. 14 to meet with officials and civil society groups in the region's three largest leftist-ruled democracies: Brazil, Chile and Colombia. The weeklong trip to the countries' capitals, which has not yet been announced, will be sponsored by a progressive advocacy group based in Washington and won't use taxpayer funds, the organizers said.
"It's long past time for a realignment of the United States' relationship to Latin America," Ocasio-Cortez said in a statement provided to The Times. "The U.S. needs to publicly acknowledge the harms we've committed through interventionist and extractive policies, and chart a new course based on trust and mutual respect."
Rep. Joaquin Castro of Texas, the top Democrat on the influential House Foreign Affairs Subcommittee on the Western Hemisphere, is also scheduled to join the delegation. His office confirmed his plans but declined to comment further.

With the arrival to the White House of President Biden — A Democrat who prides himself on decades of familiarity with Latin America — many activists, advocates and progressive political organizations believed he would reverse some of Republican predecessor Donald Trump's policies that they felt ignored or were hostile to the region.
But two and a half years into his presidency, Biden has maintained some of Trump's controversial immigration policies involving Latin America; kept in place punitive measures against Cuba while opting not to revive Obama-era rapprochement; and overlooked human rights or other abuses in Mexico, Colombia and other countries in favor of U.S. economic and trade interests.
Biden's critics on his party's left flank believe the president fumbled last year when he refused to invite Cuba, Venezuela and Nicaragua to the Summit of the Americas, a gathering of Western Hemisphere leaders that traditionally includes all countries in the region.
The summit, held every three or four years, was held in Los Angeles in 2022, hosted by the U.S for the first time in nearly three decades. Biden's exclusion of the three generally authoritarian countries triggered a boycott of the event by several Latin American leaders.
Meanwhile, a democratic left wave was sweeping parts of the continent.
In Brazil, veteran leftist former President Luiz Inácio Lula da Silva was returned to power on Jan. 1 after defeating a hard-right populist and staunch Trump ally.
Voters in Chile — where democracy has flourished after decades of right-wing authoritarian military rule and governments have transitioned peacefully between progressive and conservative leaders — last year elected Gabriel Boric as the youngest president in the hemisphere.
And Colombia, Washington's closest ally in the region, for the first time in its history elected a president who did not hail from either of the country's two traditional, mainstream pro-U.S. parties. Gustavo Petro, a former guerrilla fighter, was sworn in to office late last year.
"We have much to learn from our counterparts in these countries, including how to confront disinformation and violent threats to our democracies, how to protect our environment from capitalist pressures, and how to engage in productive truth-and-reconciliation efforts that provide true justice to citizens that have been harmed by their governments," Ocasio-Cortez said.
Brazil's Da Silva, widely known as Lula, confronted his own version of the Jan. 6, 2021, attack on the U.S. Capitol when supporters of his defeated rival, Jair Bolsonaro, fueled by misinformation about election fraud, stormed and trashed the Brazilian Congress, Supreme Federal Court and presidential palace on Jan. 8 of this year, hoping to overturn Lula's victory.
The Biden administration has also confronted numerous obstacles in its efforts to promote better governance and economic prosperity in Central America, partly in hopes of eradicating the violence and poverty that have stoked migration and requests for U.S. asylum.
Guatemala, which was not long ago on the road to cleaning up corruption and electing better leaders, is in the throes of political turmoil in which the military and wealthy business class are attempting to block a leftist presidential candidate who is leading in some polls. Meanwhile, El Salvador has been taken over by Nayib Bukele, a millennial autocrat who is ruling with an iron fist and little regard for human rights.
"The United States shares critical challenges with our friends in Latin America, but we have too often prioritized corporate interests or great power competition in our historical engagement with the region," Sen. Bernie Sanders (I-Vermont) said in a statement ahead of the trip, which his chief of staff, Misty Rebik, is joining.
"I hope this delegation will help present a new face to the hemisphere, one based on engagement for the sake of people and planet," Sanders added.
Other participants include Democratic Reps. Maxwell Frost of Florida, Nydia M. Velázquez of New York and Greg Casar of Texas, according to organizers at the Center for Economic Policy Research.
In addition to delving into issues surrounding democracy, the organization said, delegates will hear from South Americans on environmental protection — with a particular focus on the vast Amazon jungle, where Lula has made progress in arresting rampant deforestation.
They also plan to discuss reconciliation projects following civil wars and other unrest that have plagued the continent.
[Tracy Wilkinson covers foreign affairs from the Los Angeles Times' Washington, D.C., bureau.]