labor
In a Summer of Record Heat, These Striking Workers Are Making Climate Demands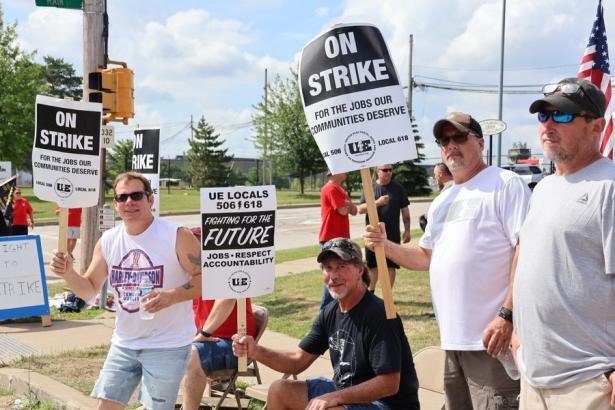 Workers picket at the east gate of the Wabtec facility in Erie, Pennsylvania the morning of June 25,(Photo courtesy of UE)
July was the hottest month on record, and possibly the hottest in the history of human civilization, and August is bringing more scorching temperatures and supercharged storms. On July 16, the heat index at the Persian Gulf International Airport weather station in Iran climbed to 152 degrees Fahrenheit, a level that tests humanity's ability to survive. Meanwhile, in vast swaths of the United States, people watched smoke from Canadian wildfires turn their skies noxious hues of orange and gray, only to then be hit with storms and heat waves. The scientific consensus has long held that climate change is human-made and real. But this summer, it seems a threshold has been crossed.
Amid this climate crisis, 1,400 locomotive builders and clerical workers on strike in Erie, Penn. are modeling how unions—and workers walking off the job—can make climate justice demands of an employer. 
Locals 506 and 618 of the United Electrical, Radio and Machine Workers of America (UE) have been on strike since late June. One of their demands has already captured nationwide attention for its centrality to building labor's overall power. They are insisting on the right to strike over non-discipline grievances—things like subcontracting work, or forcing someone to take vacation they don't want to. Such language, the workers hope, will build more accountability into the grievance process, as well as protect the union's strongest tool: the strike. Workers are also asking for the guarantee that their employer will not make unilateral changes to their healthcare benefits throughout the duration of the contract, and they are asking for improved pay to keep pace with inflation. Their employer is the Fortune 500 company Westinghouse Air Brake Technologies Corporation (or Wabtec), which is valued at some $20 billion and manufactures railway locomotives. The mammoth company acquired GE Transportation for $11.1 billion in 2019.

The union's demands are also aimed at improving society as a whole. There is another stipulation that workers put forward in the bargaining process: They want the company to help the union win a green overhaul of the rail locomotive industry, with the overall goal of drastically reducing emissions that spew carbon and pollution into the atmosphere.
This is not the first time that a union has pushed for environmental improvements. Unions threw their support behind an Illinois law passed in 2021 aimed at creating clean energy jobs and retraining fossil fuel workers. And the United Auto Workers, under the leadership of reformer Shawn Fain, are calling for the growing electric vehicle industry to provide dignified union jobs. But UE general president Carl Rosen says that the fact that UE is "directly challenging a private-sector major employer on this has made environmental justice groups very excited."
To understand the ask from Locals 506 and 618, it is first necessary to understand how regulation—or the lack thereof—works surrounding railway locomotives. In 1998, the Environmental Protection Agency started a tier-based system of regulating emissions. This system determines how many emissions are permitted from a locomotive based on when it was manufactured. Tier 4 locomotives, built in 2015 or after, are held to the highest standards. Tier 0 are the oldest, and the most heavily polluting.
However, there is a major loophole. Locomotives are only required to upgrade tiers when they are newly constructed or remanufactured—defined as the replacement of 75% or more of its parts. Any other overhauls or fixes, as long as they remain below the 75% threshold, do not require an upgrade. That means that vehicles can keep getting fixed and repaired without any requirement that they conform to the highest present-day environmental standards. Locomotives can spend years, and even decades, on the rails without improving tiers. 
As a result, there are a troubling number of dirty locomotives in use today, and environmental improvements have moved slowly. In March, the EPA told me that when it comes to Class I line-haul fleets, which are the highest revenue and largest rail carriers, a whopping 74% are Tier 2 or lower. And when it comes to Class II and III line-haul fleets (mid-sized and shortline), 93% are Tier 2 or lower. Put differently, only a fraction of the locomotives in circulation are at the highest standards, which themselves were last updated 15 years ago and, environmental advocates argue, should be significantly improved.
And the stakes are high.
Most locomotives run on dirty diesel engines, and the regulations are supposed to put limits on things like diesel particulate matter (associated with some kinds of cancer) and nitrogen oxides, which are extremely harmful to people's health. Switchers, a term that refers to locomotives that operate within railyards, are particularly dirty and old. The lack of robust regulation not only results in avoidable carbon emissions, but also pollutes communities near railyards (often working-class neighborhoods of color), as well as railyard workers, who are among UE's members. Studies show that exposure to diesel exhaust is associated with dire health consequences like cancer and asthma.
This is where the striking UE workers in Pennsylvania come in. On May 19, both locals—who are negotiating a joint contract—proposed a Memorandum of Agreement during the bargaining process that includes two provisions:
First, it calls for the company and union to work together to push federal and state governments to "adopt laws and rules" to require upgrades of rail locomotives and switchers to the "highest environmental and safety standards available." Any locomotives that do not meet the highest environmental tiers should be eliminated, the memorandum states.
Second, it says that "at least 75% of all Tier 4 locomotives, higher emission standard locomotives and zero emission locomotives sold by the company shall be manufactured and assembled by bargaining unit employees at the company's Erie, Pennsylvania manufacturing plant."
Scott Slawson, the president of Local 506, said over the phone that the memorandum is aimed at improving emissions standards in the railway industry, and protecting good union jobs. A report released in April by the Political Economy Research Institute of the University of Massachusetts, Amherst found that boosting green locomotive manufacturing could create a significant number of jobs in Appalachia.
"There's an opportunity for a just transition," he says, using a term that describes the need to make sure workers and other impacted communities are leading the process of transitioning away from a fossil fuel economy and are employed in dignified green jobs. "At our factory it should be fairly simple, because we are already building Tier 4 locomotives. We need to make this change, we need to show change is possible. We can do this without diminishing anyone's livelihood."
I asked Tim Bader, Wabtec director of external communications, to comment on the company's refusal to respond to the Memorandum of Agreement. He says that "Wabtec shares the UE's commitment to a greener future and is actively pursuing the green technology that will get us there." 
"Wabtec is an industry leader in developing and building sustainable solutions such as low- and zero-emission locomotives," he adds. "The company was the first to develop and commercialize the Tier 4 locomotive in 2015. More recently, Wabtec introduced the world's first 100% battery-powered, heavy-haul locomotive, called the FLXdrive. In fact, at Wabtec's design center, the Erie engineering team has been integral in developing these locomotives."
But Slawson says, "If that's the case, why not formalize or negotiate it? Flat-out ignoring the memorandum means you have no interest in having that conversation with your workers. They're saying, 'We don't want to give our employees any ownership over the direction of the company.' If you share our commitment, you should partner with us instead of pushing us to the side and ignoring the memorandum." 
"I'm 100% proud, as are our members, that we were able to launch the first Tier 4 locomotive, and first battery-powered heavy haul, and that we're pursuing other technology," he adds. "But it's beyond that. While we've launched these locomotives, if nobody is being encouraged to purchase them, and we don't do some law changes, then what good is it anyways?"
UE's "Green Locomotives Project," which aims to compel a green overhaul of the industry, extends beyond this contract. The campaign goes back to 2019, Slawson says, when UE began working on environmental improvements that it hoped would be included in the Biden administration's federal spending legislation. There has been some progress on the state level: A new rule in California, to start in 2024, says that all locomotives that operate in California must change to zero emissions according to a set timetable, though, as Kari Lydersen reported in In These Times, that rule faces an industry lawsuit.
But UE is also calling for standards to be enforced nationwide. On July 26, Carl Rosen, general president of UE, spoke at a hearing to the U.S. Senate Subcommittee on Clean Air, Climate, and Nuclear Safety. "We are unequivocally in favor of stricter emissions standards for rail," he said. The rail industry, he emphasized, "will not make this investment in our shared future unless our country requires them to."
UE has also called for a shift to zero-emissions locomotives, a demand shared by some environmental groups like Earthjustice, which emphasizes advances in electric technology. The union also supports public ownership (or nationalization) of the railway industry, arguing that the profit motive is a key barrier to vitally needed improvements.
"Wabtec is committed to sustainable value creation," the company says on its website. But according to Slawson, Wabtec has not responded to the union's Memorandum of Agreement. This is not a mandatory subject of bargaining, and workers are not striking directly over the company's refusal to agree to the Memorandum of Agreement. But the striking workers are raising awareness about this broader push for green locomotives, and the important role that strong contracts play in protecting good, climate-friendly jobs.
Six weeks since workers went on strike, there has been little movement at the bargaining table, and the last time UE met with the company, the union says Wabtec presented a letter rejecting their proposals. (Bader from Wabtec didn't deny this, stating, "The negotiations have been slow to date and we would like to see more progress.") This is despite the company's significant revenue: On a July 27 earnings call, Wabtec President and CEO Rafael Santana said "Sales were $2.41 billion, which was up 17.5% versus prior year."
"They don't want to negotiate. They just want to dictate," Slawson says of Wabtec.
Despite their employer's reported intransigence, "the resolve of the members has been amazing," Slawson says. As Wabtec workers picket and rally in the blazing sun, with the support of environmental groups like ReImagine Appalachia and PennFuture, it's hard to deny that their struggle is worthy of attention—and support.
As heat waves and hazardous air crises have swept the country, there has been little federal progress on curbing the climate crisis with the urgency and scale required. While the Biden administration has boosted some spending on clean energy, it has also greenlighted major drilling projects, like the controversial $8 billion Willow oil project in Alaska. But there have been some promising developments: In May, New York elected officials passed state legislation to increase production of renewable energy and put utilities under public control. But, overwhelmingly, the U.S. political system has shown itself unwilling to make the drastic changes needed, including a halt to fossil fuel extraction, if we hope to stave off the worst of climate change and save hundreds of millions of lives.
Studies show that wealthy nations and wealthy individuals are driving climate change. I asked Rosen, UE's general president, if it is ironic that it is workers who are putting their own livelihoods on the line to demand real change, when they're not the primary players responsible.
He told me irony is a poor choice of words. "It stands to reason," he says, "that workers are the ones pushing this conversation. You're talking about who's responsible and who's irresponsible in our society. It's working people who are trying to find ways to address people's needs and society's needs, and it's the wealthiest who are more interested in taking care of themselves as a select group of people at the expense of everyone else."
Sarah Lazare has been a journalist for 10 years, covering U.S. militarism, climate, and labor. She joins the LES team from In These Times, where she was a web editor and reporter for five years. Sarah got her start reporting with the Independent Media Centers that emerged as part of the global justice movement. She also has a background in organizing workers and mobilizing against U.S. wars. 
This article is a joint publication of Workday Magazine and In These Times.
Workday Magazine holds the powerful to account while bringing the perspectives of everyday workers, and the organizations that defend their rights, to focus. We emphasize long-form investigative journalism to unearth the concealed and buried. Our publication is based in Minnesota and covers the greater Midwest, along with international issues that affect workers, like climate change and U.S. militarism.  Workday Magazine fulfills the mission of the Labor Education Service at the University of Minnesota by providing a public outlet to examine the conditions that workers face on a day-to-day basis. We began publishing in the summer of 2000 with support from Minnesota's labor community. We were the first online labor news publication in the United States.
To get more news and provocative analysis from In These Times, sign up  for a free weekly e-newsletter or subscribe to the magazine at a special low rate. Never has independent journalism mattered more. Help hold power to account: Subscribe to In These Times magazine, or make a tax-deductible donation to fund this reporting. Reader donations, many as small as just $1, have kept In These Times publishing for 45 years. Once you've finished reading, please consider making a tax-deductible donation to support this work.