Here's Why PA. And Some of Its Trump Supporters Are Named in the Georgia Indictment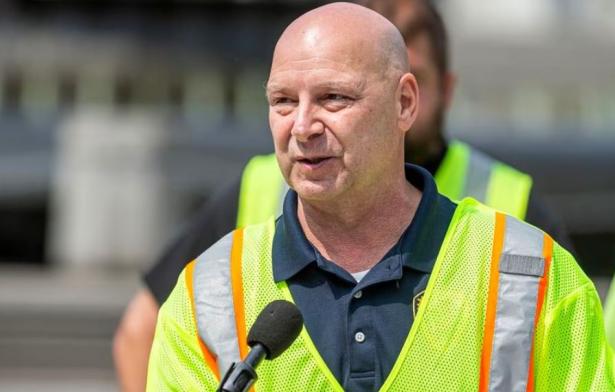 Current Pennsylvania State Senator Doug Mastriano, R-Franklin County, in May 2023. (He organized buses for the Jan. 06 Capitol Coup in Washington, DC) ,Photo: Dan Gleiter / PennLive
That was done, legal experts say, in the interest of helping build a racketeering, or corrupt organization, charge against Trump and 18 co-conspirators by showing that their efforts in Georgia, where she has prosecutorial authority, were part of a larger criminal effort.
"It shows a pattern, a practice, a scheme, that if you read the indictment. ... starts immediately after the election," said Dickinson College President John Jones, a former federal judge for in the Middle District of Pennsylvania. "It's the story of a criminal enterprise."
One Pennsylvania native, Republican political strategist Mike Roman, is among those indicted in the Georgia case.

Several others, former Senate President Pro Tempore Jake Corman and then-Speaker of the Pennsylvania House Bryan Cutler, are noted for their resistance to persistent entreaties from Trump attorneys Rudy Giuliani and Jenna Ellis - and at one point even Trump himself - to call a special session of the Pennsylvania Legislature for the purpose of naming a Trump slate of electors despite Democratic candidate Joe Biden's clear win in the state's popular vote.
But Trump's two biggest cheerleaders in the orbit of Pennsylvania elected officials - U.S. Rep. Scott Perry, R-York County, and state Sen. Doug Mastriano, R-Franklin County - are barely named in the latest indictment.
Here's a closer look at Pennsylvania's mentions in the Fulton County indictment, which now will proceed alongside a separate federal election subversion case against Trump.
Mike Roman
Roman is charged in the Fulton County indictment as being a central figure in the multi-state "fake electors" plot that became so central to Trump's 11th-hour pressure campaign on former Vice-President Mike Pence to block the certification of Biden's electoral college majority in Congress on Jan. 6, 2021.
After carving out a career in Republican politics, Roman, a Philadelphia native, served as director of Election Day operations for Trump's 2020 reelection campaign. He now faces several conspiracy charges related to the fake elector scheme.
The Philadelphia Inquirer reported in June that in the aftermath of the November election Giuliani tapped Roman as "the lead" for organizing the slates of fake Trump electors from key battleground states.
That included coordinating with Trump lawyers and aides to Trump to identify potential substitute electors and organizing signing ceremonies designed to mimic the actual convening of the Electoral College among legitimate electors for Biden.
Roman had been in talks with Special Counsel Jack Smith's office and agreed to sit for an interview with his federal investigators, the New York Times and CNN reported last month. It's not clear what the outcome of those overtures will be.
In at least one other state, Michigan, Trump electors and those associated with the fake electors plot are facing state-level prosecution.
Former Trump attorney Timothy Parlatore, who's represented Mastriano in both Smith's federal investigation and the U.S. House Select Committee on Jan. 6th's probe, said Tuesday that the Pennsylvanians have dodged that bullet because of language in their documents making clear they were an alternate slate, to be considered only if and when state court's had validated a Trump win.
U.S. Rep. Scott Perry
The indictment lists then-Trump White House Chief of Staff Mark Meadows texting Perry on Nov. 21 for points-of-contact for key Pennsylvania legislative leaders. That would be an act in furtherance of the conspiracy, Willis is arguing, in that the indictment seeks to show that Trump's efforts were active in several states in furtherance of the goal of stealing the election.
The indictment then goes on to cite seven different telephone calls from Giuliani and Ellis, Giuliani and Trump himself to Cutler and Corman, in which the defendants ask the leaders to unlawfully appoint a pro-Trump slate of presidential electors from Pennsylvania.
Cutler and Corman never agreed to do that.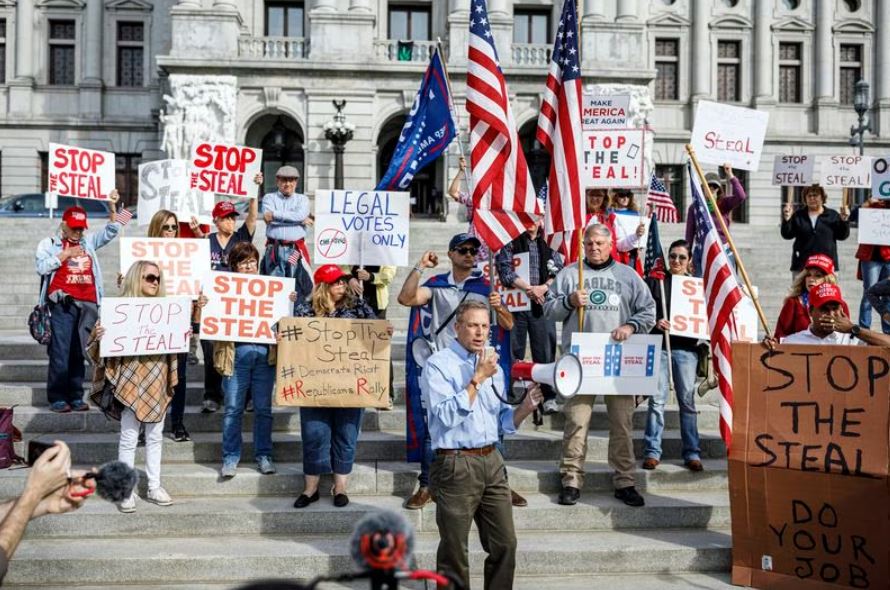 It's the only overt mention of Perry in this report, though other investigations of the alleged election subversion efforts have cast a bright light on his seemingly enthusiastic support for Trump's efforts through that fall and winter.
The New York Times reported in early 2021, for example, that Perry introduced Jeffrey Clark to Trump shortly before Christmas in 2020. Clark, the acting head of DOJ's civil division in the waning weeks of the Trump Administration, had become known for having a more charitable view of Trump's election claims than most of the top brass at Justice.
It was a significant introduction because, as detailed in the report, Clark quickly captured Trump's fancy as a potential Attorney General appointee willing to try Hail Mary plans such as sending letters asking legislatures in six states — including Pennsylvania -—to call special sessions to review election fraud allegations and consider direct appointment of alternate Electoral College slates that would award votes to Trump instead of Biden, as the popular votes dictated.
The proposed letters would have been sent in contradiction to other Justice findings that there had been no widespread fraud in the national election.
Instead, in the hours before the president was set to replace Acting Attorney General Jeffrey Rosen with Clark, Trump backed off in the face of warnings that such an action would result in mass resignations throughout DOJ and even within his White House staff.
So, Perry's biggest contribution to the effort ultimately fizzled.
Clark, however, was charged for his role in the Fulton County indictment, and he is believed to be one of the unindicted co-conspirators cited in Special Counsel Smith's federal case against Trump.
The investigations are still incomplete. But based on the record as it stands now, Jones said Tuesday, it's likely prosecutors are not viewing Perry's actions in lobbying for Clark's appointment - an appointment he didn't control - as a criminal act.
"You got to line draw someplace as a prosecutor, and I think it may be that Congressman Perry flew closer to the sun than he should have," Jones said. "But in the end, he didn't get his wings burned off."
PennLive reached out to Perry and his attorneys for comment Tuesday, but received no response as of the publication of this story.
Sen. Doug Mastriano
Mastriano, who would go on to become Pennsylvania's Republican nominee for governor in 2022, hosted a state Senate committee meeting in Gettysburg on Nov. 25, 2020 that gave Giuliani a forum to make several claims about voter fraud in the Pennsylvania vote.
Some were incorrect on their face; none were ever substantiated to the point where there was ever any legitimate question about Biden's 81,000-vote victory in Pennsylvania; a key trove of 20 electoral college votes.
The Gettysburg and Washington meetings were both cited in the grand jury report as a part of Trump's corrupt activities; Mastriano is not mentioned by name.
Mastriano continued to beat the bully pulpit for Trump from Harrisburg, and was in routine communication with Trump through December.
In the Pennsylvania Legislature, he urged his colleagues to throw out the certified election results and name their own winner - likely an unconstitutional plan, given that Pennsylvania (and every other state) awards its electoral votes based on the winner of the popular vote, not on who legislatures want to be president.
He even organized bus trips for Pennsylvania supporters to attend the Jan. 6, 2021 "Stop the Steal" events that preceeded the now-infamous attacks on the U.S. Capitol.
But Mastriano was not present for any of the other White House meetings cited in the Georgia grand jury's report, Parlatore said. And ultimately, while Trump lauded his efforts, he appeared to conclude that the Franklin County state senator didn't have the juice to move the needle in Pennsylvania.
Parlatore told PennLive Tuesday he's convinced the Fulton County case "has nothing to do with him (Mastriano)," and that - as he has maintained all along - Mastriano has no criminal exposure for his actions on behalf of Trump.
Mastriano went on run and win in the Republican gubernatorial primary in 2022, but lost to Gov. Josh Shapiro in a landslide last fall. He continues to serve in the state Senate.
A Dec. 27, 2020 call to then-Acting Attorney General Jeffrey Rosen puts Perry and Mastriano's work for Trump into a larger context.
On the call, Rosen told Congressional investigators later, Trump hailed the work of individual lawmakers like Perry and Mastriano on his behalf, but argued that they had limited power to address election fraud claims, and indicated that in his view, the Justice Department wasn't doing enough.
Rosen and Acting Deputy Attorney General Richard Donoghue both recalled telling Trump, according to the U.S. Senate Judiciary Committee's majority report, that DOJ was doing its job, with Rosen at one point noting that the department "can't and won't just flip a switch and change the election."