film
Blue Beetle Review – Superhero Fun With Immigrant Survival Subtext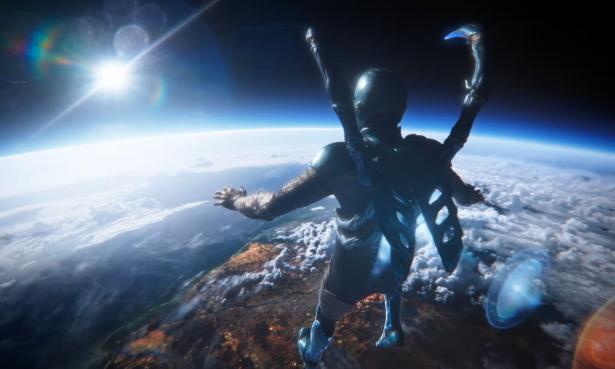 'Our eyeballs kept spinning, our heartstrings plucked': Blue Beetle. ,Photograph: Warner Bros Pictures
Cinemagoers could be forgiven for suffering from superhero fatigue of late, with outings such as Black Adam, The Flash, Ant-Man and the Wasp: Quantumania and Shazam! Fury of the Gods failing to match spectacle with anything vaguely approaching substance. This latest offering from DC (and its extended universes) is a little different, focusing on a believable Latino family whose lively interaction really powers the drama. Directed by Puerto Rican-born film-maker Ángel Manuel Soto, it has something of the anarchic charm of Robert Rodriguez's Spy Kids flicks, albeit welded to the chassis of a franchise-launching DC FX vehicle.
Originally intended to go straight to the streaming service HBO Max, Blue Beetle may be frontloaded with visual fireworks that neatly meld the practical and the virtual, but it is the likable interplay between its down-to-earth characters that gives the film oomph, making it more than just a Shazam-style romp.
Rising star Xolo Maridueña (best known for the Netflix series Cobra Kai) is excellently cast as Jaime Reyes, the Gotham law school graduate who returns home to find that his family is destitute, in danger of losing their house. "I'm gonna get the money to save this place," Jaime assures his sister, Milagro (Belissa Escobedo), looking out over Palmera City – the fictional replacement for the comic-strip's El Paso, Texas.

But when the benevolent industrialist Jenny Kord (Bruna Marquezine) offers to help him find a job, Jaime instead becomes welded to a biotechnical scarab – a glowing creature ("is that the new Tamagochi?") that turns him into an armour-plated blue avenger with a mysterious inner voice (think Iron Man, but without the option of stepping out of the suit).
Wicked warmonger Victoria Kord (Susan Sarandon) had planned to use the beetle to power her One Man Army Corps – a range of Robocop-style weaponised law-enforcers. Now she must track down Jaime and extract his newly found superpowers, with inevitably fatal consequences.
"We're invisible to people like that," Milagro tells her brother, "It's kind of our superpower", a line that rings through Mexican-born writer Gareth Dunnet-Alcocer's script, unexpectedly recalling a key plot point from Wim Wenders' underrated 1997 drama The End of Violence.
Later, when Jaime's family is confronted with the awful realities of their son's predicament ("What do you think Kord's gonna do when they find out some Mexican kid has that kind of military tech inside them?"), invisibility vanishes, leaving them exposed and endangered. Good job grandma Nana (Adriana Barraza) has a revolutionary past ("Down with the imperialists!") and isn't afraid to get back in the game.
"People think crossing the border's hard," says Jaime's Uncle Rudy (George Lopez), a DIY tech-whiz who gets machines working by kicking them, and who frequently steals the movie. "You know what's hard? The next 20 years."
Meanwhile, spiralling CG visuals intertwine with Polish cinematographer Pawel Pogorzelski's sinewy camera moves, ensuring that our eyeballs are kept spinning even as our heartstrings are gently plucked.
There's a slapstick quality to the action scenes that fits the film's comedic tone, injecting pathos and humour into sequences that might otherwise descend into smashy-crashy tedium. As for the human-mechanoid transformation scenes, they are an alarming amalgam of Venom-style possession riffs from the Marvel Universe, and the flesh-and-metal squishiness of Shinya Tsukamoto's Tetsuo: The Iron Man.
Nods to Japanese giant-monster "kaiju" flicks and Mexican "luchador" wrestling movies rub shoulders with good-natured messages about embracing your destiny and standing by your kith and kin, which never descend into the empty platitudes of the Fast and Furious movies.
This is, first and foremost, fun – and it wouldn't be half as much fun were it not for the boisterous dinner-table vibe that drives the film. Composer Bobby Krlic's score features a bombastic theme reminiscent of John Williams' Imperial March from the Star Wars series, but it is the softer notes that get under the skin and tickle our insides.