tv
Killing It Is a Perfect Comedic Takedown of Late-Stage Capitalism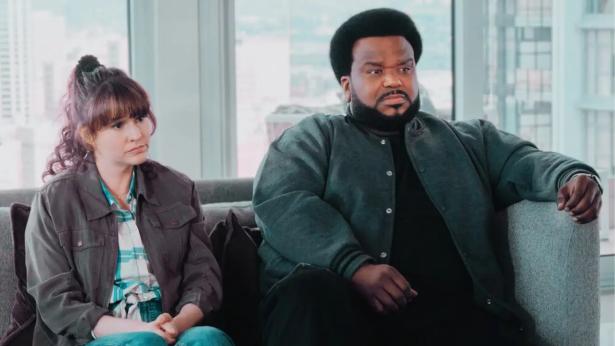 Claudia O'Doherty and Craig Robinson in Killing It. ,Photo: Trae Patton/Peacock/UTV/USG
Killing It has a striking setup in season one: Serial entrepreneurial hustler Craig (Craig Robinson) and his one-time Uber driver, Jillian (Love's Claudia O'Doherty), team up to kill snakes in Florida for a $20,000 contest. If they win, he can finally open his farm, and she can pay a lawyer to solve her visa problems. Their basic goal is to stop being card-carrying members of the gig economy. For a situational comedy, it doesn't get more bizarre than a Florida python challenge to bring random people together. This eccentric launching point isn't just used for laughs, of which plenty exist. Peacock's series offers layered commentary about late-stage capitalism and how it thrives by completely screwing over regular people. (Yeah, the snakes are both real and metaphorical here.)
The show walks a tightrope of genres. It's a meta-comedy, a gripping thriller, and often an emotional saga. But what makes Killing It stand out is that it's a scathing encapsulation of today's society. The writing attempts to unpack the rotten roots of an economy that consistently favors the rich while the common man is left behind in the muck—quite literally, in this case, as Craig and Jillian stomp around marshy wetlands in an attempt to make their dreams come true. Their dangerous reptile-hunting is novel, but their need for survival is universal. Their ambitions and frustrations send them on a rat race to emerge triumphant, even if it means defeating others like them.
Killing It's absurd gimmick mines meaningful stories (and subtle humor) about overcoming bureaucracy and red tape, a hurdle most of us face (maybe minus the jokes in real life). A poisonous serpent is pointedly the least of Craig and Jillian's worries. Who has time to fear reptiles when a scary government is making life far more miserable? To drive home that point, season one is set around election time in 2016. (The voting-themed sixth episode is a highlight. If you've ever stood in a long line to cast your ballot, you'll relate.)

Craig and Jillian's main problems range from being unable to secure a loan to facing homelessness to financial troubles that don't seem to have a long-term solution, no matter how hard they work. Resorting to slightly illegal options feels like the only way out. The duo also gets caught up in the shenanigans of Craig's con-artist brother, Isaiah (Rell Battle), and his wealthy employer, Rodney LaMonca (Tim Heidecker). Now, Rodney is a grade-A schemer masquerading as—ugh—a sensible, motivational CEO. Ah, corporate greed: the other big villain of our current socioeconomic climate.
Killing It | Season 2 | Official Trailer | Peacock Original
While it offers a moving and sharp critique of the American dream, Killing It is a little rough around the edges in season one when it comes to dealing with these issues. But in season two, which dropped on August 17, the show comes fully alive. The eight tightly paced, binge-worthy episodes follow Craig and Jillian in a post-competition era. (Yes, it means no more snakes for now, if that helps those with phobias.) Robinson and O'Doherty have perfected their crackling chemistry, with their characters' clashing personalities developing organically. Craig and Jillian have finally opened a saw palmetto berry farm. The sweet taste of success is practically on their lips. So, of course, that's when the state's Agriculture Department shuts down the entire operation, with the agent in charge derailing and delaying a routine inspection and possible reopening.
To make matters worse, Craig and Jillian get roped into more of Isaiah and Rodney's scams, while also dealing with a silly, local mafia family called the Boones. Nothing is black and white; the matriarch, Jackie Boone (Dot-Marie Jones), is only blackmailing them into hiring her clan as legit farm workers so they can afford health insurance. And—mild spoiler alert—when she gets a life-threatening diagnosis later, she's glad to be in jail because the government has to pay for her treatment. So what if it means spending years behind bars to get it? It would be a hilarious gag if it wasn't so damn tragic.
The show utilizes its supporting characters to enhance its thesis on late-stage capitalism: The daily grind comes for everyone, even lowly criminals. Only a rare few escape intact, like Rodney. In season two, he makes a huge fuss about wanting to fight a shark in front of an audience to promote a new pharmaceutical product—then he pays a stuntman $300 to do it instead. Weirdly, this was probably filmed before Meta and X's CEOs declared their wish to battle each other in a cage fight. So yes, clearly Killing It taps into real life even more than it could've imagined.
Co-created by Brooklyn Nine-Nine's Dan Goor and Luke Del Tredici, Killing It harbors a similar comedic vibe, in part because of its talented ensemble. The show is less of a generic sitcom and more of a biting satire, fitting nicely alongside other edgy Peacock half-hour shows like Girls5eva (which is moving to Netflix), Rutherford Falls (RIP), and Paul T. Goldman (an underrated gem). And in a sea of comedies that are under-promoted or canceled too soon, Killing It stands out: The streaming platform dropped the first three episodes of season one on TikTok, racking up massive numbers. However, don't think it's only meant to be watched on your phone. Killing It, at its core, is a methodical takedown of the capitalist era we're living in right now—and it deserves to be appreciated accordingly.