Alvin Bragg Keeps Winning in the Trump Hush Money Case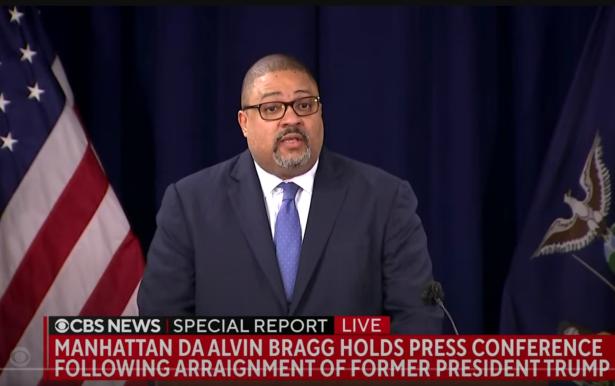 New York Judge Juan Merchan signaled this week that he would most likely delay the trial start date in Manhattan District Attorney Alvin Bragg's criminal case against Donald Trump. Usually such a development is a setback for a prosecutor. In this case, which had been set for trial in March, the delay is a win for democracy and for Bragg himself — the latest in a series of overlooked victories for the district attorney.
The delay makes room in the schedule for perhaps the most important of the criminal cases against the former president: his federal election interference trial now set to commence that same month in Washington, D.C. Even before that trial was scheduled, Bragg had publicly signaled that he was willing to give up his pre-existing March trial date in the 2016 hush-money case if that was "what justice requires."
This is only the latest in a series of shrewd and successful moves by Bragg.

Of course, it's ultimately up to the judge, not the prosecutor, to move a case. We already had some inkling that Bragg's strategy had succeeded: After he announced his willingness to move the trial date, the judge who is overseeing the federal case, Tanya Chutkan, said that she had spoken with Merchan about scheduling, though she didn't provide more details. Now we have a strong additional indication Bragg's offer had its intended effect. 
This is only the latest in a series of shrewd and successful moves by Bragg that have largely gone unnoticed by the media and the public. From the moment he took office, he has faced significant public criticism related to his handling of Trump investigations. It appeared to some (including one of the authors) that he was moving too slowly — or even tacitly deep-sixing the Trump investigation.
He also had to withstand an unflattering insider account by a former lead prosecutor in the case. Bragg soldiered on, absorbing the flak that often comes with the job of being a prosecutor — and never let it affect his judgment or actions. He announced that he would bring charges if and when they were ready.
He did just that — and now with this latest sign of his wisdom, it is time for a reappraisal. The concerns that Bragg was pulling his punches were unfounded. In fact, within his first 12 months in office he secured convictions of two of Trump's companies and Trump's former CFO Allen Weisselberg. 
Moreover, in evaluating the strength of evidence the Manhattan DA's office had marshaled against Trump, Bragg focused on the allegations of secret payments to Stormy Daniels in the lead-up to the 2016 election — and the alleged subsequent cover-up. This decision sidestepped the complexities and defenses that might arise in connection with other business fraud allegations. In our view, with over a half-century of collective experience as criminal law practitioners, the resulting 34-count indictment makes a simple and strong case.
Not only are these types of charges regarding false business records the bread and butter of the Manhattan DA's office, but this case is also, at its heart, a democracy case. Paying Daniels hush money to keep quiet about an affair in the weeks leading up to the 2016 election was a form of election interference; its whole goal was to keep truthful information from the electorate. By bringing this case, Bragg is defending and enforcing the integrity of our elections and democracy. His case paved the way for election interference cases brought by special counsel Jack Smith and Fulton County, Georgia, District Attorney Fani Willis. By filing the initial indictment, Bragg also relieved some of the pressure of going first, drawing some of the criticism that Smith and Willis otherwise might have faced.
And draw it he did. After he charged Trump, Bragg came in for even more vociferous criticism from some legal experts. These voices claimed that the case was "preempted" by federal law because it related to a federal campaign, so it would be removed to federal court for that and other reasons and caught up in years of delay. 
Bragg's willingness to push his case back to allow Smith to go first, in the public interest, is remarkable.
Those criticisms got enormous airtime when the charges were filed, but little attention has been paid to the fact that they have since rightfully withered on the vine, as they should have. In July, U.S. District Judge Alvin Hellerstein ruled against Trump's attempt to remove the case to federal court, because the acts charged were personal and not, as required for removal, official. The judge also held that the collateral impact on a federal election wasn't a sufficient basis for federal law to pre-empt the state criminal charges. 
Hellerstein treated Bragg's case with the respect that it deserves. All signs are that the evidence establishes Trump's leadership of the scheme to falsify documents and conceal a multitude of payments as legal fees as part of a plan to keep damaging information from the electorate at a critical time in the election. Trump's own signature appears on many of the allegedly false documents. The Manhattan district attorney and other prosecutors across the state have regularly secured convictions on like charges and with equal or lesser evidence.
Moreover, when the case does get to trial, Trump faces a genuine prospect of incarceration. The sentences for each of the 34 counts run up to four years. Even if all are concurrent (served simultaneously), a maximum sentence would still be a substantial period. And the judge may provide that not all run concurrently, so two or more of them may be "stacked" or consecutive.
The strength of the case shouldn't be surprising. It would have made no sense for a career federal and state prosecutor like Bragg to bring a weak case. As Bragg said when he was criticized publicly for not having brought the case earlier, it wasn't yet ready.
In light of the strength of Bragg's case and his court success defeating Trump's effort to remove the case to federal court, his willingness to push his case back to allow Smith to go first, in the public interest, is remarkable, particularly for an elected official. His actions — from the investigation he led to the public spirit that infuses both his indictment and his willingness to cede the spotlight — exemplify the legal profession at its best.
Not many would show such gravitas. But throughout, Bragg has demonstrated true statesmanship — staying the course, continuing the investigation, pushing forward in spite of external (and some internal) sniping and, ultimately, stepping aside temporarily. He has transcended parochialism and politics, focusing only on the public good. He deserves our thanks. 
Ambassador Norman Eisen (ret.) was former President Barack Obama's ethics czar and impeachment counsel to the House Judiciary Committee in 2019-20.
Andrew Weissmann is a legal analyst for MSNBC and a professor of practice with the New York University School of Law's Center on the Administration of Criminal Law. Previously, he was a lead prosecutor for Robert Mueller's special counsel's office and led the Justice Department's Fraud Section. He co-hosts MSNBC's podcast "Prosecuting Donald Trump."
Joshua Kolb is a former law clerk for the Senate Judiciary Committee.
Get the latest from MSNBC.