film
'Stop Making Sense' Is Back, and Talking Heads Have More to Say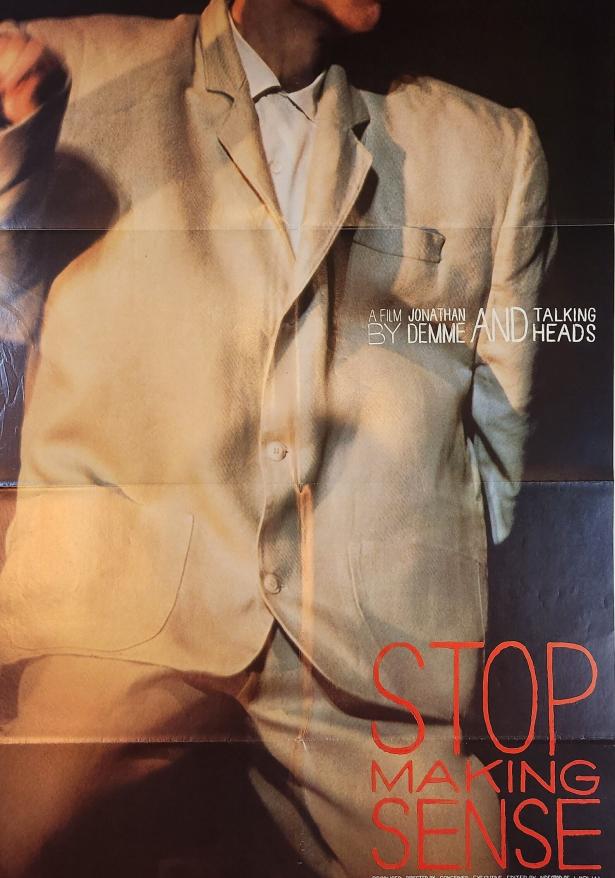 Original Vintage Movie Poster for Jonathan Demme's Concert Film of the Talking Heads with David Byrne ,
Four decades after it was filmed, "Stop Making Sense," the Talking Heads concert documentary, is still ecstatic and strange. "It stays kind of relevant, even though it doesn't make literal sense," David Byrne, the band's leader and singer, said in a recent interview.
The film, which was directed by Jonathan Demme, has been restored from its long-lost original negatives and this new version will premiere at the Toronto International Film Festival on Monday, then play in regular and IMAX theaters later this month. An expanded audio album, out Sept. 15, now includes the entire concert set, with two tracks omitted from the movie: "Cities" and a medley of "Big Business" and "I Zimbra." Refreshing its peak performance, the band hopes to draw one more generation of fans to its irresistible funk grooves and youthful ambitions.
"Stop Making Sense" is both a definitive 1980s period piece and a prophecy. Its staging helped reshape pop concerts in its wake. The music hot-wired rock, funk and African rhythms, while the fractured, non sequitur lyrics glanced at, among many other things, disinformation ("Crosseyed and Painless"), evangelicalism ("Once in a Lifetime"), authoritarianism ("Making Flippy Floppy") and environmental disaster ("Burning Down the House").
"Sometimes we write things and we don't know what they're about until afterwards," Byrne said. "There's a sense of a premonition. I've looked at things I've written and I go, 'Oh. That's about something that happened in my life after I wrote the song.'"
There had been choreographed soul revues and big-stage concert spectacles long before Talking Heads mounted their 1983 tour supporting the album "Speaking in Tongues." But Byrne envisioned something different: a performance influenced by the stylized gestures of Asian theater and the anti-naturalistic, avant-garde stage tableaus of Robert Wilson. (Talking Heads hired Wilson's lighting designer, Beverly Emmons.)
Byrne storyboarded each song. The first part of the show demystified the production, with backstage equipment visible and a stage crew wheeling in instruments and risers as the band expanded with each song. Then, with everyone in place, the concert turned into a surreal dance party, capped by Byrne's appearance in an oversized, squared-off, very floppy suit — an everyday American variation on the geometric costumes of Japanese Noh theater.
Demme's cameras were poised to catch every goofy move and appreciative glance between musicians. Now that most big concerts are video-ready extravaganzas, that might seem normal. In 1983, it was startling.
Only a few years earlier, Talking Heads were unlikely candidates to mount a tautly plotted rock spectacle. When the band made its reputation playing the Bowery club CBGB, its members dressed like preppies and looked self-conscious and nervous.
Formed in the art-school atmosphere of the Rhode Island School of Design, Talking Heads always had conceptual intentions. In a video interview from his studio, the keyboardist and guitarist Jerry Harrison said, "When I joined the band, I knew that we were going to be an important band, and that we would be artistically successful. I had no idea what kind of commercial success we'd have. All of us were pretty familiar with the art world, where there are painters who never in their lifetime were financially secure. And that was our goal at that point."
Byrne was purposely stiff and twitchy onstage. "When the band started, I was not going to try and use the movement vocabulary from rock stars or R&B stars," he said. "I thought, 'I can't do that. They're better at it. They've established it. I have to come up with my own thing that expresses who I am: a slightly angsty white guy.'"
But in the fast-forward downtown New York culture of the late 1970s and early 1980s — punk! disco! minimalism! hip-hop! art! theater! world music! — Talking Heads rapidly evolved from a thumping, yelping, skeletal pop-rock band into something more rhythmic, funky and far-reaching.
Byrne and the band equally appreciated the Southern roots and deep eccentricity of the Memphis soul singer Al Green — who wrote the band's first radio hit, "Take Me to the River" — and the calibrated repetitions of James Brown, Philip Glass and Fela Anikulapo Kuti. The band enlisted the equally open-eared Brian Eno as a producer and collaborator to extend its sonic palette and songwriting strategies — which, in turn, led Talking Heads to add musicians onstage.
If there's a narrative to "Stop Making Sense," it's of a freaked-out loner who eventually finds joy in community. The concert starts with Byrne singing "Psycho Killer" alone, to a drum-machine track, with a sociopathic stare. By the end of the show, he's surrounded by singing, dancing, smiling musicians and singers, carried by one groove after another.
"In a culture that's so much about the individual, and the self, and my rights," Byrne said, "to find a parallel thing that is really about giving, losing yourself and surrendering to something bigger than yourself is kind of extraordinary. And you realize, 'Oh, this is what a lot of the world is about — surrendering to something spiritual, or community or music or dance, and letting go of yourself as an individual. You get a real reward when that happens. It's a real ecstatic, transcendent feeling."
The band filmed a rehearsal and three live concerts at the Pantages Theater in Hollywood. Then they chose the best audio and video takes.Credit...via Rhino
"Stop Making Sense" has been released on multiple iterations of home video technology — VHS, DVD, Blu-ray — but their sound and video were often lacking. For the new restoration, the production and distribution company A24 employed a forensic film expert to track down the film's original negatives. They were stored, inexplicably, at an Oklahoma warehouse owned by MGM, a company that never had business dealings with Talking Heads. The images have gained clarity, contrast and depth.
"I noticed you can see things that you couldn't see even in the original version," said Chris Frantz, the band's drummer, in a video interview from his home studio. "Now you can see every little detail of the back of the stage."
When "Stop Making Sense" was first released, in 1984, audiences treated it like a concert, applauding between songs and getting up to dance. The band and Demme chose to dispense with the concert-film convention of cutting to interviews or backstage interactions or, especially, to happy, well-lighted audience members; they only show up in the last few minutes. Demme avoided that, Byrne said, because "it's telling the film viewer what they're supposed to be feeling."
The band and Demme filmed a rehearsal and three live concerts at the Pantages Theater in Hollywood. Then they chose the best audio and video takes. They weren't always the same ones, but the timing each night was almost exact. "Chris was very consistent, even though he never played to a click track," said Tina Weymouth, the band's bassist, in an interview from the home she shares with Frantz, her husband.
"The sync is not perfect," Harrison said. "We could go digitally now and make this perfect. But would we want to disturb the historical quality to update it with what technology can do now? And we, of course, decided not to."
The tour's technology was primitive by modern standards. The rear-screen visuals came from slide projectors; the lights were unfiltered. The show didn't have a choreographer; Byrne and the backup singers, Lynn Mabry and Ednah Holt, had worked out some moves while dancing around his loft before the tour, while others emerged as it progressed. The show didn't have a costume designer, either; the musicians were instructed to find clothes in neutral tones, mostly grays. But according to Weymouth, Frantz's laundry hadn't come back in time for the first show at the Pantages, and he ended up wearing a blue shirt all three nights for continuity.
Yet the band had the foresight to record the music on digital equipment, then in its early stages. Digital recording meant the sound quality could stay intact through the multiple generations involved in mixing for film, and it's one reason the movie has aged so well.
But the main reason "Stop Making Sense" has maintained its reputation as one of the greatest concert movies is the nutty jubilation of the performances. The musicians in the expanded band — Alex Weir on guitar, Steve Scales on percussion and Bernie Worrell on keyboards — are anything but self-effacing sidemen; they're gleeful co-conspirators. And the sheer physicality of the concert, the performers' sweat and stamina, comes through onscreen; in "Life During Wartime," Byrne runs laps around the 40-by-60-foot stage at full speed.
"Looking at my younger self is a really strange experience," Byrne said. "He's doing things that are profoundly odd, but kind of inventive. But also, he's very serious and intent on what he's doing." He pointed out that until the last third of the movie, he doesn't smile much. "The joy is not visibly apparent, but it's there," he said. "I mean, I have enough memory to remember that."
For all its artistic importance, the tour was not profitable. "We made zero," Weymouth said. There was a large crew and three semi trucks full of equipment; some tour proceeds cofinanced the movie. It also turned out to be the final Talking Heads tour. "I also think that we had the ability to become one of the biggest bands in the world at that point, touring bands," Harrison said. "I think there was a lost opportunity that would have been fun for all of us."
He added, "There also might be the element that once 'Stop Making Sense' came out so great, it was like, 'How do we top this? Is the next thing going to seem like a disappointment?' I don't know if that was what was going through anybody's minds, but I know that we ended up not touring ever again."
Talking Heads made three more albums, the Americana-flavored "Little Creatures" and "True Stories" and the Afro-Parisian-tinged "Naked." After Byrne dissolved the band in 1991 — "an ugly breakup," he told People magazine — the other three members made an album, "No Talking Just Head," billed as the Heads. Byrne sued over the name, though the suit was eventually dropped.
The band did regroup to perform in 2002 when they were inducted into the Rock & Roll Hall of Fame, and the 40th anniversary of "Stop Making Sense" has helped further mend fences; the band members will appear together to discuss the movie in Toronto on Monday.
"Divorces are never easy," Byrne said. "We get along OK. It's all very cordial and whatever. It's not like we're all best friends. But everybody's very happy to see this film coming back out. We're all united in the fact that we really love what we did here. So that kind of helps us talk to one another and get along."
Jon Pareles has been The Times's chief pop music critic since 1988. A musician, he has played in rock bands, jazz groups and classical ensembles. He majored in music at Yale University. More about Jon Pareles
A version of this article appears in print on Sept. 11, 2023, Section C, Page 1 of the New York edition with the headline: Part Period Piece, Part Prophecy.