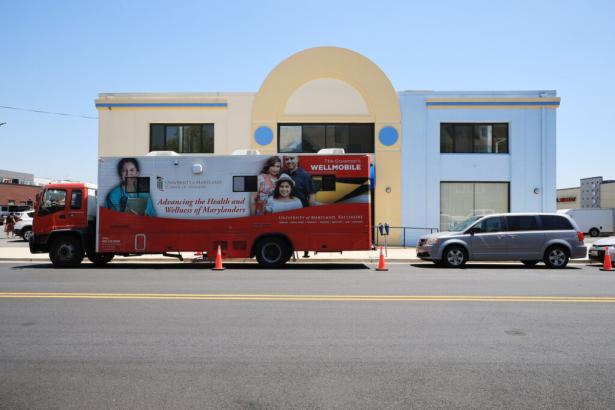 The State of Maryland's Wellmobile is parked outside of CASA's Wheaton Welcome Center during a mobile coronavirus vaccination clinin on May 21, 2021. Photo by Chip Somodevilla/Getty Images.,
ACLU of Maryland Statement in Support of CASA and the First Amendment 
(https://www.aclu-md.org/en/press-releases/aclu-maryland-statement-suppo…)
The ACLU of Maryland firmly supports CASA and their fundamental First Amendment right to issue statements of public concern in the public forum. It would be both wrong and unconstitutional for the Montgomery County Senate Delegation, or any government officials, to act on threats to punish CASA based on their protected political speech.
CASA was founded by people fleeing violence in Central America, and provides the Maryland immigrant community with basic services, jobs, health services, and English classes, and creates the possibility for immigrants to build the foundation for thriving in their community. CASA builds power for positive social change from the ground up, with an intentional focus on working class Black, Latino/a/e, Afro-descendent, and Indigenous communities. In its statement, CASA expressed solidarity with the people of Palestine, stating that they "strongly support the struggle for decolonization" and "condemn[] the outrageous attack by Hamas on Israel", and "call for an immediate cease-fire to save all precious life".  

The Montgomery County Senate Delegation issued a response suggesting that anything short of unconditional agreement with its own views about the conflict could result in defunding CASA. The threat to defund CASA for its statement amounts to unconstitutional viewpoint discrimination: the government cannot favor one side of a public debate while suppressing the other. Publicly threatening to defund an organization because of its political position is exactly the kind of viewpoint discrimination that the Constitution forbids, and among the most dangerous kind of wrongdoing by public officials because it fundamentally threatens democratic institutions, and chills not only the direct target, but anyone else thinking about also speaking out.
Further, the Delegation's statement directly threatens collective punishment of the immigrant community, which has for many years relied on and benefited from CASA's unique, broad, and deep expertise and impact.  The Delegation's claims of allyship to the immigrant community ring false, as no true advocate for the rights of Maryland immigrants would condition support on silence and compulsory allegiance to the government's opinions.
To be crystal clear, CASA's speech is fully protected under the First Amendment to the U.S. Constitution. Threats to terminate contract and grant funding for statements made in the public forum on matters of public concern fly in the face of the most basic free speech rights, and the U.S. Supreme Court has said as much:
"It is axiomatic that the government may not regulate speech based on its substantive content or the message it conveys. Other principles follow from this precept. In the realm of private speech or expression, government regulation may not favor one speaker over another. Discrimination against speech because of its message is presumed to be unconstitutional. These rules informed our determination that the government offends the First Amendment when it imposes financial burdens on certain speakers based on the content of their expression. When the government targets not subject matter, but particular views taken by speakers on a subject, the violation of the First Amendment is all the more blatant. Viewpoint discrimination is thus an egregious form of content discrimination. The government must abstain from regulating speech when the specific motivating ideology or the opinion or perspective of the speaker is the rationale for the restriction."
Rosenberger v. Rector & Visitors of Univ. of Virginia, 515 U.S. 819, 828–29 (1995) (citations omitted).
Regardless of CASA's status as a contractor or grantee, the government cannot seek to regulate or punish their privately funded political speech. See Bd. of Cnty. Comm'rs, Wabaunsee Cnty., Kan. v. Umbehr, 518 U.S. 668 (1996) (county government's decision to terminate or not renew plaintiff's trash hauling contract in retaliation for his speech critical of the county commissioners violates First Amendment on same terms as apply for government employees); Agency for Int'l Dev. v. All. for Open Soc'y Int'l, Inc., 570 U.S. 205 (2013) (Congress cannot require NGOS that receive grants to combat HIV/AIDS to have a policy explicitly opposing prostitution; government cannot seek to leverage funding to regulate speech outside of the contours of the program being funded). Courts have also recognized that retaliatory nonrenewal of grant funding based on the viewpoint expressed violates the First Amendment. See, e.g., Esperanza Peace & Just. Ctr. v. City of San Antonio, 316 F. Supp. 2d 433, 436-64 (W.D. Tex. 2001) (city's decision to discontinue grant funding for arts organization in retaliation for their LGBTQ+ advocacy in their grant funded programming punished them for their viewpoint in violation of First Amendment). There can be no doubt that CASA's statement expressing solidarity with the Palestinian people is purely political speech that is not part of the government funded immigrant services they provide. It is equally clear that the Delegation's threat to cease funding CASA's work is explicitly tied to that private political speech.
The Delegation's improper threats put all advocacy organizations, student organizations, and individual advocates on high alert that the Senate Delegation will seek to use their official authority to silence people who disagree with them. The Delegation should retract its threat to defund CASA and refrain from further abuses of their authority. The immigrant community, the AMEMSA (Arab, Middle Eastern, Muslim, and South Asian) community, and any others who fear expressing their First Amendment protected political views deserve better. Marylanders must be entitled to express First Amendment protected political views without fear of government reprisal.  
Just as the ACLU acted to protect the Constitution in the wake of September 11 and resisted former President Trump's Muslim Ban, we will oppose unlawful efforts to shut down and chill speech aligning with AMEMSA and other BIPOC communities whose views do not align with the government's in this political debate.  
Make no mistake, if retaliatory action is taken to defund the essential services that CASA provides to the immigrant community, we will respond accordingly.
The ACLU of Maryland exists to empower Marylanders to exercise their rights so that the law values and uplifts their humanity. Our vision is for Maryland's people to be united in affirming and exercising their rights in order to address inequities and fulfill the country's unrealized promise of justice and freedom for all.
Open Letter in Support of CASA
(https://istandwithcasa.org/about/)
Dear Montgomery County Senate Delegation:
We are deeply concerned and demand a retraction of your November 8th public letter which explicitly threatens the immigration rights non-profit, CASA, by stating that you intend to "re-evaluate" their legislative funding. The reason is because they expressed their support of Palestinian human rights and grief over Israel's bombing and cutting off of food, water and electricity in Gaza.
While your threat targets CASA directly, it also threatens thousands of immigrants and low-income communities that rely on CASA's safety net and advocacy services. And your statement further sends a "chilling effect" to the growing (and now even majority) number of Americans who want the genocidal attacks on Gaza to stop and have been expressing sentiments similar to those in CASA's tweet.
It is sadly ironic that your letter boasts that you "support freedom of speech" when in fact, the letter itself has the specific intent of leveraging your governmental power to punish an organization that expresses an opinion that differs from yours. The very action that the First Amendment was written to outlaw. Following through on this threat would be an unconstitutional condition on a public benefit.
 It is also important to call out the racial underpinnings of your letter. CASA's tweet noted that "the Palestinian struggle mirrors our own." Simply put, their statement reflects the lens of their lived experience. In clamping down on criticisms of Israel and support of Palestinian human rights, you now have also dismissed the collective lived experience of those who are not in seats of power, and have been personally impacted by colonialism. Because their truth differs from yours, it must be discounted.
Several of you also have histories that span more than a decade of demonizing Palestinian human rights activists. For example, in 2014, Archbishop Desmond Tutu personally called out one of you because you had been referring to Palestinian human rights advocates as Nazis and members of the Ku Klux Klan. In another example, one of you deliberately darkened a photo of an activist for Palestine who was challenging you in a primary election.
 In the closing of your letter, you state that you hope your reprimand of CASA will be a "learning opportunity" for them. This statement is incredibly paternalistic. Further, the lesson that your letter teaches is that elected officials in Montgomery County have a contempt for our foundational civil liberties; and a politicized compassion that is tone deaf to how occupation and colonialism factor into the narrative fabric of marginalized communities, like those from Latin America and Palestine.  
We demand that you retract your name from the letter and affirm your support for the civil liberties of all Montgomery organizations and residents, not merely the ones that you agree with.
Sincerely,
350.0rg
Arab American Anti-Discrimination Committee (Maryland Chapter)
Arab American Institute
Arab Word Studies, American University
Backbone Campaign
Baltimore City Green Party
Baltimore County Young Democrats
Baltimore Nonviolence Center
Baltimore Palestine Solidarity
Baltimore Peace Action
Baltimore Phil Berrigan Memorial Veterans For Peace
Baltimore Student Union
Baltimore Women in Black
Bethesda African Cemetery Coalition
BIPOC MOCO Green New Deal Interns (Montgomery County)
Bridge America
Casa Baltimore Limay
Caucus of African American Leaders
Community Actively Seeking Transparency (CAST)
Defending Rights and Dissent
Diaspora Pa'lante Collective
Episcopal Peace Fellowship-Palestine-Israel Network
Faith Strategies
Friends of Latin America
Friends of Sabeel North America (Palestinian Christians)
Friends of Wadi Foquin (under the United Methodist Church's General Board of Global Ministries)
Harriet's Wildest Dreams
Indian American Muslim Council
Johns Hopkins University Arab Society Club
June and July Therapy
Justice for All
Maryland2Palestine
Montgomery County Civil Rights Coalition
Montgomery County DSA
Montgomery College Muslim Student Association
National Arab American Medical Association
National Domestic Workers Alliance
National Lawyer's Guild, DC Chapter
The Noor Center
No Separate Justice
Palestinian Christian Alliance for Peace
Palestine Legal
Palestinian Youth Movement – DMV Chapter
Pax Christi, Metro DC- Baltimore
Pax Christi, USA
Peace Action Montgomery
Peace Action, USA
Peace and Justice Coalition of Prince Georges County
Progressive Democrats of Howard County
Progressive Maryland
Resource Generation, Baltimore Chapter
Runners4Justice
ShutDown DC
Students for Justice in Palestine, Howard University
Students for Justice in Palestine, American University
Showing Up for Racial Justice Annapolis and Anne Arundel County (SURJ3A)
Towson Young Democratic Socialists of America
US Campaign for Palestinian Human Rights
Walt Whitman High School Muslim Student Association
Virginia Coalition for Human Rights
WRITE! for Justice, Human Rights, and International Law in Palestine
Signatories (in an individual capacity)
Rev. Graylan Scott Hagler, Pastor Emeritus, Plymouth Congregational United Church of Christ
Steve Sosebee, President, the Palestine Children's Relief Organization
Letter to the Editor: Not in Our Name
(https://www.marylandmatters.org/2023/11/13/letter-to-the-editor-not-in-…)
By Dr. Zackary Berger, Baltimore; Karen Caplan, Silver Spring; Rabbi Ariana Katz, Baltimore; Michael Rubin, Takoma Park; Joanna Silver, Silver Spring; and Dr. Kate Sugarman, Potomac. 
We are Jewish organizers and activists who have worked closely with CASA for years in its efforts to support Maryland's immigrant communities. We have always found CASA to be an organization that acts with respect, solidarity, and love for people of all backgrounds. We are outraged that elected officials are weaponizing Jewish pain in the wake of the recent atrocities by Hamas to attack and undermine CASA in response to its tweets criticizing Israel and calling for a ceasefire. To be clear: As Jews, there was nothing in CASA's statements that we found to be antisemitic or hateful.
For the last few weeks, thousands of Jews around the country have raised their voices in support of Palestinian lives and demanded a ceasefire. They — and we — understand that the use of strong language to express outrage at the conduct of the Israeli government does not equate to antisemitism, and that an insistence on seeing this conflict in its full historical context is not antisemitic. In the weeks since October 7th, several of us have attended large, multi-ethnic and multi-religious protests and have been met only with respect and support by non-Jewish attendees who, like us, want to prevent any more loss of life.
Instead of engaging with CASA staff with the respect they deserve as partners working for the well-being of Maryland's immigrants, every state senator from Montgomery County and at least one county councilmember has now threatened to withhold funding from CASA. Let's be clear about what this means — CASA receives state and county funding because it provides direct services to highly vulnerable immigrant families, assisting them with housing conditions, wage theft, English language learning, and much more. What these elected officials seem to be saying is that these vital support services are less important than a single political statement.
Across America, people criticizing Israel have been harassed, threatened, and fired from their jobs, and it is unconscionable that elected officials from Montgomery County are joining in this McCarthy-like behavior. Some of these officials are Jewish, but we emphatically reject any assumption that they speak for all Jews in Maryland — they do not. We are outraged that our own elected officials are threatening to silence CASA because they expressed a view of the violence in Israel/Palestine that may be different from their own. We are also concerned that these public condemnations do not reflect authentic disagreements, but are political opportunism of the worst kind — a chance to weaken a bold, immigrant-led organization that has at times differed with some of these policy-makers on critical issues like rent stabilization, healthcare expansion, and immigration detention.
In the Mishna, a core Jewish religious text, we are taught that when someone wrongs us but makes a sincere apology, we are obligated to accept that apology. CASA has fully apologized for any harm their original statement may have caused, retracted it, and engaged in good faith dialogue and efforts towards repair. To bear a grudge against them through these continued public attacks is a violation of Jewish values and religious teachings.
To those who attempt to subvert Jewish values to harm an organization that is essential to the well-being of Maryland's most vulnerable community members, we say: not in our name. We call on our elected officials to retract their statements, to make clear that CASA's funding will be safe, and to affirm their commitment to listen to all the Marylanders that they represent.
We are joined by many other Jewish activists and organizers from around the state including Keren Cabral, Silver Spring; Mara Greengrass, Rockville; Eileen Hollander, Silver Spring; Elissa Laitin, Silver Spring; Michele Levy, Baltimore; Zev Rose, Wheaton; Evan Serpick, Baltimore; Max Socol, Silver Spring; Louise Weissman, Greenbelt; and Nicole Zimmerman, Silver Spring.