labor
Teacher Fight Backs and Contractors Threaten ULPs Against NYC School Bus Drivers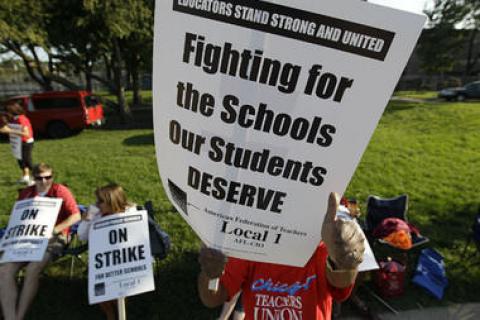 Teachers unions across the country are fighting for better schools and better education for their students. Sign from the Chicago Teachers strike, Sept. 2012, on the second day of the strike.,AP Photo/M. Spencer Green
By Michael Schwirtz
January 13, 2013
The New York City schools chancellor, Dennis M. Walcott, said on Sunday that a strike by the city's school bus drivers was all but inevitable and angrily dismissed it as "irresponsible and disrespectful" to students and parents.
At a news conference at the Tweed Courthouse, Mr. Walcott, citing various news reports indicating that a walkout could occur as early as Wednesday, said it was "not now a matter of if, but when, a strike will take place." He added that union leaders had promised to inform the Education Department 24 hours before beginning the strike and had yet to do so.
Maggie McKeon, a spokeswoman for Local 1181 of the Amalgamated Transit Union, which represents 9,000 bus drivers, would not say whether union leaders had agreed to strike.
A strike could affect as many as 152,000 public and private school students who rely on yellow bus service. The city has said it would provide parents and students with MetroCards and reimburse fares paid to taxis and car services for those without access to public transportation.
Raising tensions further, three bus contractors announced Sunday that they would file charges of an unfair labor practice against the union if it stopped work, and would request an injunction against it from the National Labor Relations Board.
In a letter sent to the union and made available to reporters, a lawyer for the contractors said they would also file civil complaints seeking millions of dollars in damages that "would likely deplete union coffers."
The dispute erupted last month when the Education Department announced that it would accept competitive bids for transporting 22,500 special-needs children, who require special services. The contracts would cover 1,100 bus routes, about a sixth of the city's total.
Most galling for drivers and the union, the new contracts, among other things, would omit longstanding job security provisions requiring new companies to hire veteran bus drivers by order of seniority and at the same pay rate. The protections were put into effect in 1979 after a 13-week walkout. There have been no strikes since.
continue reading this article
here: 
By Ben Gutierrez
January 13, 2013
HONOLULU - Teachers who organized the so-called "work to the rule" protests that spread to schools statewide are planning a rally at the State Capitol this week for legislation that the teachers' union says it does not support.
Organizers are pushing for what it calls the Penny for Education Act. "What this does is raise the GET (general excise tax) by one cent per dollar, and what this does is it really tries to solve the major problems of education in Hawaii," said organizer Corey Rosenlee, a teacher at James Campbell High School in Ewa Beach.
The proposals are similar to bills in Georgia and one that passed in California.
According to Rosenlee, the money raised by the tax increase would be an investment to improve educational conditions in Hawaii. "Teachers are teaching in hot and crumbling rooms with supplies that they've bought from their own money, and we're the lowest paid in terms of comfort level and cost of living, and that is causing many teachers to leave Hawaii. And that needs to change," he said.
Rosenlee also pointed to the collapse of the Farrington High School auditorium roof as evidence that more funding is needed. "Farrington's auditorium, for years, have been on a list for repairs. And that's just statewide, it's a problem. We need, as a state, to start thinking about what can we do to really truly solve education. And this bill is attempting to solve that problem," he said.
However, the Hawaii State Teachers Association posted on its Facebook page last night, saying "HSTA does not support the rally on the 17th because of the rally's message and intention. HSTA is focused on what is most important at this moment in time and that is winning a fair contract. The 17th rally is centered around a piece of legislation that was not written by HSTA and was not put through the proper channels of review and approval."
"All of our efforts will be, on the 17th, here at HSTA, in trying to resolve some of the issues in regards to teacher evaluation, and trying to make it fair and equitable for our members," said union president Wil Okabe.
The post drew dozens of comments from teachers and others. By Sunday morning, the Facebook post was scaled back a bit: "While HSTA does not support the legislative bill that the 17th rally is focused around, HSTA does not discourage teachers from having their voices heard."
"We encourage teachers to voice out their opinion because that's the democratic process, to be able to express themselves, and we encourage them to continue to do that," said Okabe. "However, as far as HSTA is concerned, we have to go through the protocols necessary by the organization."
Okabe also said while it has shown support for previous "Work to the Rule" rallies, it will be focusing on the contract negotiations on Thursday. Rosenlee said his group also supports the union's efforts. "We all want a fair contract," he said. "HSTA is working really hard to achieve a contract, and our organization is also working really hard in order to ensure revenue to actually be able to get a good contract for teachers."
by Linda Shaw
January 11, 2013
The Seattle teachers union said Friday that it shares concerns the faculty at Garfield High has raised about district-required tests known as the Measures of Academic Progress, or MAP.
Garfield teachers announced Thursday that no teachers at the school would be giving the MAP tests this winter, even though the district requires them to do so.  Nearly all the faculty signed a letter to the district saying they're not against testing, but they think the MAP exams fail to help them or their students and waste valuable class time.
In a prepared statement, the union said it shares the Garfield teachers' concerns, and has raised the same issue with school district officials over the past few years.  It also said it has been trying to get the district to consider alternatives to the MAP that are more closely aligned to the districtâ_Ts curriculum and state learning standards.
The union said it lobbied to reduce the number of times that teachers have to give the MAP tests each year, and the district has done so.
In the statement, SEA President Jonathan Knapp said he wants the district to set a date to stop using the MAP exams.  He also said that concerns over those tests are part of larger questions about the costs of testing, and how much time schools devote to it.
The union listed its concerns as follows:
The test does not line up with state standards. The test does not line up with district curriculum. The test takes valuable time away from student learning. Many students do not take the test seriously. The testing time frame takes valuable time away from students in the school being able to access computer labs and libraries for other projects. The data obtained is of minimal use to teachers in planning lessons and meeting individual student needs.
By Lisa Fleisher
January 11, 2013
The New York City teachers union has scheduled a meeting with its top delegates for Thursday, a sign top officials think negotiations over a new teacher- evaluation system could come down to the wire.
Thursday is the deadline for the city and the United Federation of Teachers to reach a deal on a system that for the first time would use student test scores as part of a teacher's annual grade. If no deal is reached, Democratic Gov. Andrew Cuomo has said he would follow through on a provision in state law to yank $250 million in state aid from the city.
Talks stalled before the new year when the city accused the union of trying to bring other issues to the table. The union largely said the city misunderstood its intentions.
This week, however, the two sides came back to the table. In a letter to his members, UFT President Michael Mulgrew said the 3,400-member delegate assembly would vote on a deal Thursday if one is reached.
If the negotiations fall through, "our work will then center on getting out into our communities to make sure that parents and others know that we, as always, are fighting to make the school system better for the kids we serve," the letter said.
Meanwhile, the union said its members will work to influence the opinions of parents and the public. On Monday, members will be distributing leaflets outside schools and at transportation hubs.