labor
Still on Strike, a Bus Union Sees a Threat to Its Culture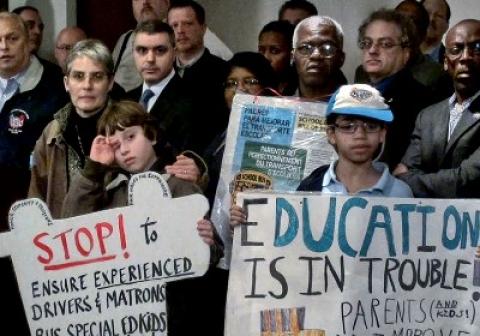 uprising radio,http://uprisingradio.org/home/2013/01/18/new-york-city-school-bus-drivers-strike-to-protect-union-jobs/
Each August, just before the start of school, more than 1,000 drivers for the Atlantic Express school bus company gather in a lot in the shadow of Citi Field in Flushing, Queens. For the drivers, it is the event of the year, one repeated at lots all over the city, and is known simply as "the pick."
The drivers inspect slips of paper stapled to hulking plywood boards, each slip detailing another route: Names of children, where to pick them up and when, and whom to contact for emergencies. In order of tenure, the drivers are called in groups of 5 to 10 inside a mammoth depot, where they try to sign up for a choice route — one that touches a neighborhood or school they prefer or ends at a bus yard near their home.

"It's basically picking your job," said Albert Serrano, 45, an Atlantic driver for the past 13 years who ranked No. 560 among 1,700 drivers at last summer's pick. "The longer you're there, the better chance you have to pick something you want."
Each profession has its own customs and quirks, but the culture of the New York City school bus driver is certainly one of the more unusual, one built on odd daily and annual schedules, decades of accumulated work rules and above all a deference to seniority. And it is now facing upheaval, with the city moving to end some seniority-based job guarantees, which led most of the city's drivers to walk out on Jan. 16.
The strike, which has shut down roughly 5,000 of the city's 7,700 school bus routes, is expected to continue this week, though the drivers' union and the school bus companies had agreed to sit down at Gracie Mansion with a mediator on Monday.
The city is not a direct party to the negotiations, but its decision to seek new bids for 1,100 special education routes is what led to the strike.
For union members, seniority plays a role in two important ways. One is during the August pick. The other is when drivers are laid off because their companies have lost city contracts to run bus routes. Laid-off drivers are entitled to choose from openings at other companies, with the longest-serving drivers having first choice, in a process known as the "master pick." The new bid requests do not require companies to hire laid-off drivers, ending decades of job protections for older drivers and essentially ending the master pick.
The city and the union, Local 1181 of the Amalgamated Transit Union, disagree over whether such job guarantees are legal, with the city pointing to a Court of Appeals rulingbarring them for prekindergarten routes.
The concept of seniority is laced through a bus driver's world: For the most experienced, "the pick" represents a reward for years spent on more onerous routes.
"The pick means I can go to the same area, all the time, and see the same kids year after year," said Dawn L. Wensmann, 46, who has been driving a bus for Atlantic for 14 years. "I see the kids and they say, 'Hey, bus driver, do you remember me?' and I say, 'Yes,' and I do. I watch them grow up. I've seen children who've been on my bus, and now I see them with children of their own."
Union drivers earn $14 to $29 an hour, and work on a 40-hour-weekly schedule with overtime kicking in if a day exceeds 10 hours. Ms. Wensmann, a single mother of an 11-year-old daughter who lives in North Babylon, on Long Island, earns $42,000 a year driving her bus; the most senior drivers earn around $51,000. Many have second jobs.
But many also qualify for unemployment during summertime, because they are technically laid off then; for Ms. Wensmann, that brings in an additional $362 a week for eight weeks.
In most cases, buses pull out of their depots between 6 and 6:30 a.m., but drivers must get to the yard in time to prepare their buses: Check their brakes and lights, and make sure they are clean and have enough diesel fuel.
Routes can be lengthy, with several going from Staten Island to Westchester County, the location of some special education programs. Two hours can pass between the first pickup and when a driver reaches the school. In the middle of the day are field trips, though they are less frequent in the coldest months. Field trips are assigned, more or less, in a reverse of seniority: Shop stewards hand them out to the newest drivers first, meaning older drivers might enjoy a few hours of downtime in the middle of the day, and if they were lucky enough to pick a route that ends close to home, they could eat lunch in their own kitchen.
The drivers must return to schools for dismissal, usually between 2 and 3:30 p.m., and by the time they finish and return to the depot it can be 6 p.m. or later.
The work force can resemble a United Nations meeting. At a picket line in Ridgewood, Queens, last week, there was Yousef Abdalla, of Egypt, and Ilya Bdil, of Ukraine. In the past decade, there has been an influx of Haitians, who now make up 40 percent of drivers and monitors in New York, said James P. Hedge, an executive board member in the union. An additional 30 percent are Hispanic, he said, and the rest are "everything else."
Sixty percent of drivers are male. The average age is 52 to 54. Among monitors, who are known as matrons and ride on special education buses with drivers, all but five percent are women. Continue reading here.