Nuclear Tensions Heighten On Korean Peninsula - Nuclear Roulette Has No Winners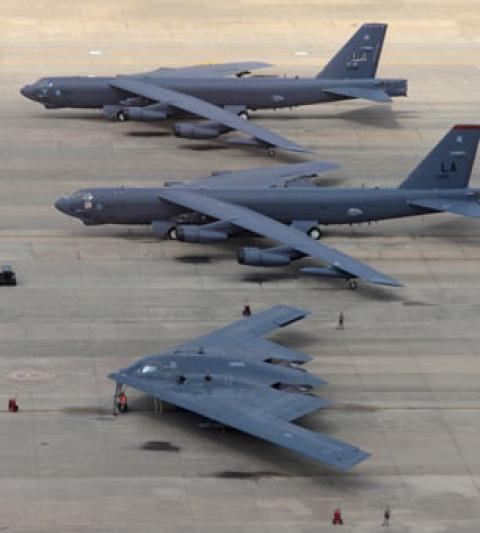 B-2 Stealth bombers that flew directly from the U.S. in mock bombing runs close to the North Korean border, (Photo: Christopher Ebdon / Flickr)
By David Krieger, Truthout Op-Ed 
April 3, 2013
The United States and North Korea are playing a dangerous game of nuclear roulette. The United States is taking actions that threaten North Korea, such as conducting war games with US ally South Korea, including practice bombing runs that send nuclear-capable B-2 bombers from Missouri to the Korean Peninsula. The North Koreans, in turn, are blustering, declaring they are in a state of war with South Korea, which, technically, is true, since a truce and not a peace agreement ended the Korean War in 1953. North Korean leaders have also cancelled the military hotline it maintains with Seoul to coordinate movement between the countries' borders and are threatening nuclear attacks on the United States, its troops and its allies.
North Korea withdrew from the Non-Proliferation Treaty in 2003 and has since tested nuclear devices on three occasions (2006, 2009 and earlier this year). It has also tested medium- and long-range missiles and is developing capabilities to threaten the United States and its allies with nuclear weapons.  The United States has responded to the North Korean tests by holding talks with other countries in Northeast Asia and putting increasingly stringent sanctions on North Korea. The United States also continues to regularly test its long-range, nuclear-capable missiles from Vandenberg Air Force Base in California. Tensions in Northeast Asia continue to rise.
Nuclear threats are an integral part of nuclear deterrence. For nuclear deterrence to work effectively, it is necessary for an opponent to believe a nuclear threat is real. When the United States joins South Korea in playing war games with nuclear-capable aircraft on the Korean Peninsula, the message of threat is clear to the North Korean leaders. Equally clear is the message North Korea sends to the United States with its nuclear tests and bluster: North Korea has a nuclear capability that could cause unacceptable harm to the United States, its troops and its allies.
From an objective perspective, each country has the capability to cause the other (or its troops or allies) horrific damage. While they are pounding on their chests and demonstrating that they are, in fact, crazy enough to use nuclear weapons, they are engaged in a drama that hopes to dissuade the other side from actually doing so. Both countries should take note of this.
The dangerous game of nuclear roulette is built into the nuclear deterrence paradigm. Each time the hammer of the gun is cocked and the gun is pointed at the other side's head, the barrel of the opponent's gun is also pointed at one's own head. An accident or miscalculation during a time of tension could trigger a nuclear holocaust.
Yes, of course the United States is the stronger of the two countries and would fare better, perhaps far better, in a nuclear war, but that isn't good enough. Yes, North Korea could be destroyed as a functioning country, but at what cost? In addition to the terrible cost in lives of North Koreans, the United States and its allies would also pay a heavy price: first, in the deaths of US troops stationed in the Northeast Asian region; second, in the deaths and devastation of US allies, South Korea and Japan, and possibly of the United States itself; and third, in the United States' loss of stature and credibility for having engaged in nuclear warfare that destroyed the lives of potentially millions of innocent North Koreans.
Nuclear roulette has no winners. It is a game that no country should be playing. But the leaders of countries with nuclear weapons tend to believe these weapons make their own country more secure. They do not. They risk everything we hold dear, all we love and they undermine our collective sense of decency. The only way out of the nuclear roulette dilemma is to unload the gun and assure that it cannot be used again by any side.
We can do far better than we are doing. For the short term, the US should stop conducting provocative war games in the region and instead offer some diplomatic carrots rather than sticks. The US would go far to defuse a dangerous situation by again offering to support North Korea in providing food and energy for its people. For the longer term, the US should lead the way forward by using its convening power to commence negotiations for a new treaty, a global Nuclear Weapons Convention, to achieve the phased, verifiable, irreversible and transparent elimination of nuclear weapons.
Copyright, Truthout. May not be reprinted without
permission
. Reprinted with permission
By Jim Lobe 
April 3, 2013
WASHINGTON - With all sides seeming to climb further up the escalation ladder over the last several days, defusing the crisis on the Korean Peninsula - let alone persuading Pyongyang to give up its nuclear arsenal as it once promised to do - looks daunting. Indeed, the latest moves by the major players - the two Koreas and the United States - evoked new appeals on Tuesday by United Nations secretary-general Ban Ki-moon for calm to be restored.
"The crisis has gone too far," said the former South Korean foreign minister during a news conference in Andorra. "Things must begin to calm down; there is no need for the DPRK [North Korea] to be on a collision course with the international community. Nuclear threats are not a game."
Ban was reacting specifically to recent threats by Pyongyang and specifically its announcement on Tuesday that it was re-activating its nuclear complex at Yongbyon that US intelligence officials believe had extracted enough plutonium to produce as many as eight nuclear bombs, at least two of which are likely to have been used in underground tests in 2006 and 2009.
The complex also includes a uranium enrichment plant that could provide a second fuel source for building bombs. It was partially dismantled seven years ago in a denuclearization-for-aid deal negotiated under the auspices of the long-stalled Six-Party Talks that included the two Koreas, the US, China, Japan, and Russia.
"This work will be put into practice without delay," according to a statement released by the Korean Central News Agency, which also stressed that the complex would be used for the generation of electricity as well as "for bolstering up the nuclear armed force both in quality and quantity till the world is denuclearized".
For its part, the United States sent a second guided-missile destroyer to join the USS John McCain, whose systems are designed to shoot down ballistic missiles shortly after they are launched, which was ordered into the region's waters on Monday.
Those deployments came amidst ongoing annual joint US-South Korean maneuvers that have so far included, among other well-publicized features, fly-overs by B-52 bombers and mock bombing runs close to the North's border by two B-2 Stealth bombers that flew directly from the US.
The exercises, code-named ''Foal Eagle', appear to have provoked the latest escalation in tensions that were already at near-record highs after the UN Security Council imposed new economic and diplomatic sanctions against Pyongyang last month.
The Council, which included China, North Korea's closest ally and its main source of fuel and food assistance, voted unanimously to impose the sanctions in response to Pyongyang's February 12 underground nuclear test, its third since 2006.
Since the sanctions' approval, which coincided with the start of the "Foal Eagle" exercises, the regime headed by the 29-year-old Kim Jong-un, the grandson of the DPRK's founder, has claimed that Washington and Seoul were planning a nuclear attack against the North.
Since then, it has, among other measures, launched its own maneuvers, renounced the 1953 armistice that ended the Korean War, cut off "hot lines" between Pyongyang and Seoul, threatened a "pre-emptive nuclear strike" against South Korea, the US, and its bases in the Pacific, and, more recently, declared that it has entered a "state of war" with the South.
While the administration of President Barack Obama has stressed throughout the crisis that it has seen no specific preparations by North Korea to act on its threats, fears that hostilities could break out by accident with both the North and the South on high alert and the hot lines between them disconnected, have risen steadily.
"The concern is that there will be a stray shell from either side that could set in motion a chain of events that would be tragic," said Alan Romberg, a former senior State Department Asia expert who heads East Asia programs at the Stimson Center.
"This is not a purposeful march to war, but it could accidentally lead us into a very dangerous situation."
In an interview with IPS, Romberg said Tuesday's announcement by Pyongyang was not necessarily all bad news, although it appeared to make clearer than ever that Pyongyang is determined to be recognized as a nuclear-weapons state and will not consider denuclearization until the other nuclear powers agree to disarm.
He pointed, in particular, to the adoption by the North's Supreme People's Assembly Monday of a new law on "consolidating the position of nuclear weapons state for self-defense" which laid out the legal framework for the country's nuclear strategy.
Among other provisions, the new law states that the main purpose of the North's nuclear weapons is for deterrence and that they can be used only to "repel invasion or attack from a hostile nuclear weapons state and make retaliatory strikes''. It also provides for cooperation with international non-proliferation and disarmament efforts.
"They're doing two things at the same time - taking steps to show they're persisting in their nuclear program, but also that they're doing this in some orderly legal fashion," according to Romberg. "There's no hint of retreat from the nuclear program, but perhaps a standing down to some extent of the rhetoric which has had people so nervous."
The latest developments, he said, pose difficult problems for the Obama administration, which has repeatedly stressed its openness to dialogue with Pyongyang on a range of issues, including negotiating a permanent peace accord, but only if the North re-commits itself to de-nuclearization.
"At this point, North Korea says it will not address that issue any further, and, in the meantime, they're clearly moving in the opposite direction," he noted in a reference to Tuesday's order to resume operations at Yongbyon.
A growing number of analysts outside the administration are urging it to re-consider its refusal to fully engage Pyongyang and note that failure to do so risks driving a wedge between Washington and Seoul, whose new president, Park Geun-hye, has not made a denuclearization commitment a condition for North-South talks.
In one widely noted column published by the Washington Post this week, one expert, Mike Chinoy of the University of Southern California, urged Obama to send a high-level envoy to meet with Kim "to explore possibilities of reversing the recent downward spiral''.
"[O]nly face-to-face discussions with Kim Jong Un will enable the United States to judge whether there is any hope of dialogue and revived diplomacy," he wrote. "The alternatives are so bleak - at a minimum continued tension; at worst, a new Korean conflict or a frightening wave of proliferation - that it is worth Obama taking the political risk to test Kim's intentions."
[Jim Lobe is the Washington Bureau Chief of the international news agency Inter Press Service (IPS), Lobe has also written for Al Jazeera English, Foreign Policy In Focus, Alternet, Tompaine.com, and was featured in BBC and ABC television documentaries about motivations for the US invasion of Iraq.]
March 30, 2013
The American Friends Service Committee (AFSC) has long opposed military actions on the Korean peninsula that serve to deepen and prolong a conflict that has persisted since the Korean War. This spring another round of military actions and escalations by all parties are now underway in the region, including repeated simulated U.S. nuclear attacks against North Korea by B-2 and B-52 bombers in the midst of ongoing U.S.-South Korean war games. We call once again for an end to such provocative actions and a concerted effort to de-escalate and resolve the longstanding regional conflict that has taken a deep, generations-long toll on the region.
Such simulations and the history of U.S. nuclear threats during past Korean crises contributed to the development of North Korea's nuclear arsenal and its recent nuclear test, threatening to ignite a regional nuclear arms race. Military threats made routinely by North and South Korea as well as recent and possibly related cyber-attacks against North Korean media outlets and against South Korean broadcasters and banks further escalate the conflict. 
Provocations of this sort - routine or otherwise - can too easily lead to miscalculations, and generate fears and passions that make it difficult for political leaders to respond with necessary caution. We are sobered by the memory of how such miscalculations have triggered cataclysmic wars in the past and even brought nuclear powers to the brink of all-out war.
The escalation of tensions and confrontations needs to be halted:
AFSC urges all parties to step back from further provocations. 
AFSC further calls for the suspension of war games and military exercises on all sides. In particular, the U.S. should halt its provocative simulated nuclear attacks which are more likely to reinforce the DPRK's commitment to its incipient nuclear arsenal, rather than to open a constructive dialogue.
To set relations on a better course:
AFSC urges renewed diplomatic engagement and negotiations between the North and South Korean governments.
Echoing the views of former U.S. Ambassador to South Korea Donald Gregg, AFSC reminds the U.S. government that sanctions and military threats will not succeed in ending decades of militarized tensions. The Obama Administration should reach out to North Korea with the goal of negotiating a peace agreement to finally end the Korean War.
Contact:  Alexis Moore (215-241-7060)
American Friends Service Committee - 
1501 Cherry St. - Philadelphia, PA 19102   215-241-7000
[The American Friends Service Committee is a Quaker organization that includes people of various faiths who are committed to social justice, peace and humanitarian service. Its work is based on the belief in the worth of every person and faith in the power of love to overcome violence and injustice.]