Britain's Biggest Unions Put Weight Behind Plan for General Strike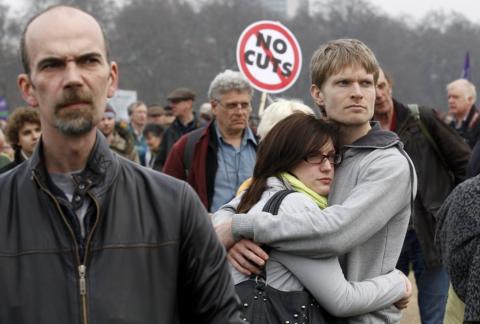 Anti-Austerity Protest,IBT
Plans for the first general strike in modern British history have been backed by the country's two biggest unions.
The proposed 24-hour walkout would be the first time since 1926 that private and public-sector workers have co-ordinated a nationwide mass action. The tactic, which would represent a significant escalation to the unions' protests against the Coalition's austerity measures, will be discussed at the meeting of the Trades Union Congress's general council this month.
The proposals were initially drawn up by Unite, with 1.4 million members, which argues that "such action is desirable" as it would put the Government on the defensive and boost the status of trade unions. And Unison, the biggest public-sector trade union with 1.3 million members, announced it also backed the principle of a general strike, although it stressed the move should be the culmination of a campaign against austerity measures.

Union leaders privately acknowledge considerable legal obstacles have to be overcome before any general strike can be called. More moderate unions are also known to be sceptical about the plans.
The plans threaten to embarrass Ed Miliband, the Labour leader, who has sought to distance himself from union militancy. Last year's TUC conference voted in favour of examining the feasibility of a general strike and individual unions have set out proposals to the TUC for putting the plan into action.
In its submission, Unite, whose leader, Len McCluskey, has been a vehement critic of Coalition policies, sets out its case for an "explicitly political strike". The union argues: "It would be a landmark in our movement's recovery of its morale, strength and capacity to play a leading part in a society crying out for credible and honourable leadership."
Unite insists the action would be legal under European human rights legislation. But it stops short of suggesting an early date for a national walkout and acknowledges it would take several months to build support across the union movement.
Unison struck a more cautious note, but a spokeswoman told The Independent: "A general strike – in principle, yes, we would support that, provided there was a legitimate trade dispute and it was legal.
"We believe that a general strike can only be the culmination of a campaign, not the beginning of a campaign."
Between them the two unions make up more than 40 per cent of the TUC's membership. Any action would also be backed by the Public and Commercial Services Union, which represents 280,000 civil servants.
A spokesman said: "If we as a union movement are serious about opposing what the Government is doing, then clearly the best weapon at our disposal is industrial action. The best way to deploy that weapon is co-ordinated action. If you want to call that a general strike, we would be more than happy to call it that."
However, other unions are sceptical about the chances of organising such action. The GMB, the country's third-largest union with 610,000 members, has yet to declare its position, while the shopworkers' union Usdaw and the Association of Teachers and Lecturers oppose the move.
One union source said the divisions within the movement – and the prospect of members voting against a national walkout – meant the idea of a general strike was highly unlikely to gain traction.
Another source said: "This is something that causes a great deal of debate and unions have very different views on it."
The Tory chairman, Grant Shapps, yesterday seized on the comments by Unite to challenge Labour not to accept any more money from the union, which donates several million pounds a year to the party.
Mr Shapps said: "Labour's single biggest union paymaster is threatening British businesses and hard-working people with mass strikes. Ed Miliband must refuse to take a single penny more of his union paymaster's cash until Len McCluskey withdraws Unite's threat to sabotage our economy."
A Labour spokesman said: "There is no consensus for a general strike across the trade union movement. Strikes should be a last resort, and we are not in favour of a general strike."
Under employment law, strikes have to relate to specific disputes and therefore co-ordinated industrial action echoing 1926 could be deemed illegal.
One way round that problem would be for separate unions to call parallel disputes with employers over pay and conditions. The antagonism between the Government and the unions has been inflamed by below-inflation increases to public-sector pay and benefit payments.
Miner threat: the original general strike
The phrase "general strike" will for ever be associated with the national walkout supported by 1.7 million workers for nine days in May 1926.
The action was prompted by attempts by colliery owners who wanted miners to work longer hours for less money.
When nearly one million pitmen were locked out, bus, rail and dock workers walked out in solidarity, as well as trade unionists in the gas, electricity, building, steel, printing and chemical industries.
There was an instant impact as the transport network was crippled, food deliveries were delayed, newspaper print presses stopped turning and factories lay silent.
The government deployed the Army to escort food lorries and set up its own newspaper, edited by Winston Churchill, to condemn the action. Volunteers and strike-breakers helped to get buses and trains moving again.
Following secret talks with the mine owners, the TUC suddenly called off the strike without winning a single concession for the pitmen.