labor
Bangladesh Garment Workers: Two Updates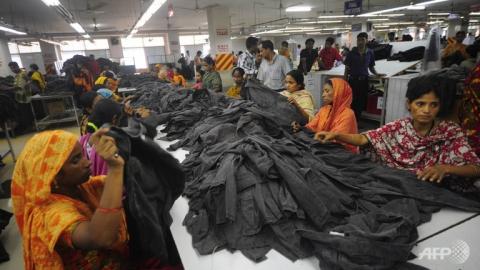 Bangladeshi workers sorting fabric in a garments factory in Ashulia. , AFP/Files/Munir Uz Zaman
May 20, 2013
DHAKA: Bangladeshi police fired rubber bullets and tear gas at thousands of garment workers Monday as they demanded a wage hike at a protest in a manufacturing hub outside the capital Dhaka.
Police said they reacted after workers blocked a key highway in the Ashulia industrial area, home to hundreds of factories which make clothing for Western retailers such as Walmart.
Factories in the hub only reopened last week following unrest sparked by the country's worst industrial tragedy, which killed more than 1,100 people.
"They were demanding higher wages. We fired rubber bullets and tear gas to disperse them after they became violent and occupied a road," Ashulia police chief Badrul Alam told AFP, saying that some of the protesters had hurled stones at police and attacked vehicles.
Alam said about 20,000 workers took part in the protest, but the area head of industrial police, Mustafizur Rahman, put the number at around 12,000.
Ekattor television, a private channel, said 50 people were injured in clashes between the workers and police.
Plants at Ashulia reopened on Friday after two weeks of unrest following the collapse of a nine-storey garment factory complex near Dhaka in which 1,127 people were killed.
Angry workers have been demanding the execution of the owner of the complex and a big rise in their basic monthly wage, which was fixed at $38 in November 2010, prompting Pope Francis to compare the pay to that of "slave labour".
Unions want the basic monthly rate to be raised to around $100.
There has been virtually no work at hundreds of factories at Ashulia since the April 24 building collapse which highlighted appalling safety conditions in the sector.
Most of Bangladesh's top garment factories, which make clothing for a string of major retailers including Walmart, H&M, Tesco, Inditex and Carrefour, are based at Ashulia.
Manufacturers reopened their plants following assurances of adequate security from the government. They said dozens of their factories had been vandalised during the unrest which cost them about $150 million in losses.
The government last week set up a panel to raise the salaries of the three million garment workers and has approved changes in labour laws, making it easier for them to form unions.
Bangladesh is the world's second-biggest apparel maker after China and the $20 billion industry accounts for up to 80 per cent of annual exports.
- AFP/sb
by Omar Rivero
Ma 18y, 2013
Ignoring the memory of the over 1,100 factory workers that passed away at the Rana Plaza Factory collapse in Savar, Bangladesh last month, at least 14 major North American retailers have declined to sign the
Accord on Fire and Building Safety
, an agreement that would have entailed a five year commitment from all participating retailers to conduct independent safety inspections of factories and pay up to $500,000 per year towards safety improvements.
The retailers worried that the agreement would give labor groups and others the ability to sue them in U.S. courts, but anybody that has paid attention to the last 30 years of global unfettered corporate greed knows the truth: these corporations care more about their bottom line than they do about the lives and safety of third-world workers, and their actions reflect it. They are so obsessed with reducing production costs that they couldn't care less about a few cheap lawsuits from cash-starved labor groups.
While the agreement has garnered overwhelming support outside of the United States, the American public is barely aware of its existence and significance, standing idly by and silently condoning these major multinational corporations as they neglect any semblance of Corporate Social Responsibility for the dangerous workplace conditions they establish for workers in third-world countries.
Several major European retailers like Marks & Spencer, Carrefour, Bennetton, and H&M deserve credit for having rightfully taken responsibility for their previous inaction and joined the agreement.
PVH, parent company to Calvin Klein and Tommy Hilfiger, also signed the agreement, along with Abercrombie & Fitch. However, that leaves 14 North American retailers that are shirking responsibility for any future workplace deaths by refusing to sign the accord.
If the American public doesn't awaken from its slumber and start to apply public pressure on these irresponsible North American corporations, they will have no incentive to put an end to their reckless evasion of Corporate Social Responsibility.
Here are their names, spread their shame:
Walmart
Gap
Macy's
Sears/Kmart
JCPenney
VF Corp.
Target
Kohl's
Cato Fashions
Carter's
Nordstrom
American Eagle Outfitters
The Children's Place
Foot Locker