Media Bits & Bytes – Tech Sector Barrels Along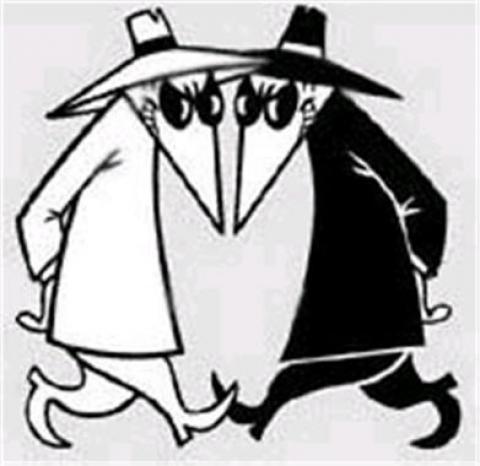 Government spying continues under Patriot Act - now against everyone.,spy-vs-spy-without-bombs
Did Google and Yahoo Help Get Government Snooping Off the Ground?
By Tory Newmyer
June 17, 2013
CNN Money
Google and Yahoo -- and the other tech giants stung by the recent news of their participation in government surveillance programs -- are in the midst of a public-relations offensive to steady suddenly wobbly reputations. They're insisting they're just as confounded and concerned as many Americans by the reported extent of the feds' reach.  

But if Google and Yahoo are as frustrated as they sound with the sprawl of the post-9/11 surveillance regime, at least they can say they got front-row seats to its launch.
U.S. Agencies Said to Swap Data With Thousands of Firms
By Michael Riley
June 15, 2013
Bloomberg.com
Thousands of technology, finance and manufacturing companies are working closely with U.S. national security agencies, providing sensitive information and in return receiving benefits that include access to classified intelligence, four people familiar with the process said. The role of private companies has come under intense scrutiny since Edward Snowden's disclosure that the NSA is collecting millions of U.S. residents' telephone records and the computer communications of foreigners. 
Many of these same Internet and telecommunications companies voluntarily provide U.S. intelligence organizations with additional data, such as equipment specifications, that don't involve private communications of their customers, and makers of hardware and software, banks, Internet security providers, satellite telecommunications companies and many other companies also participate in the government programs. In some cases, the information gathered may be used not just to defend the nation but to help infiltrate computers of its adversaries.
Google Flies Internet Balloons in Stratosphere for a "Network in the Sky"
By Jon Brodkin 
June 15, 2013
Arstechnica.com
Google this week launched 30 balloons into the stratosphere in the first step toward creating what it calls a "network in the sky" that could eventually bring "balloon-powered Internet [to] everyone."   Dubbed "Project Loon," Google's balloon-based wireless networks aim to bring 3G-like speed to what Google says are the "2 out of every 3 people on Earth" who lack a fast, affordable Internet connection.
Balloon-based communications are well established for military communications and have been proposed for public safety use in disaster areas. Google could be the first to make balloon-based networks widely used for commercial Internet access.  The solar-powered balloons are 15 meters in diameter when fully inflated and are being sent 20 kilometers into the sky.  They will fly untethered and be controlled from the ground.
How Upworthy Used Emotional Data to Become the Fastest Growing Media Site of All Time
By Anya Kamenetz
June 7, 2013
Fast Company
In a presentation at the Personal Democracy Forum, a New York City gathering on the intersection of tech and politics, Upworthy editorial director Sara Critchfield explained how the site, dedicated to resharing stories with social impact, is leveraging emotional data to become the fastest-growing media site in history. Upworthy, which MoveOn founder Eli Pariser started in March 2012, clocked 8.7 million monthly unique visitors within its first six months and now garners more than 10 million uniques a month.
Upworthy, which is kind of like a soulful Buzzfeed, grew out of Pariser's work in online organizing with MoveOn, as well as his book The Filter Bubble, which is about how Internet algorithms often insulate us from ideas and people we don't agree with. Like any media startup today, Upworthy is known for its use of data to drive growth, testing up to 16 different headlines for a single story.  But Critchfield highlighted another important source of data: emotion.
Nonprofit News Sites are Growing, But the Search for a Reliable Business Model Continues
By Justin Ellis
June 10, 2013
Nieman Journalism Lab
Even as the number of nonprofit news outlets continues to grow, many organizations are still struggling to find a model for long-term success. A new study from the Pew Research Center found that tending to the business of running a news nonprofit is among the chief concerns from journalists inside those organizations. The report represents one of the more nuanced examinations of the operations of nonprofit news outlets.
More than half the groups that provided financial data reported having at least three revenue streams. But Pew found that half the groups with multiple revenue streams are generating 75 percent of their income from grants — a revenue source whose longevity is still unproven. The financial outlook painted by the report is decidedly mixed. Even as nonprofit news sites flourish, many feel starved of the resources necessary to grow their operation and ensure some kind of financial security.
Who Needs Reporters?
By Frank Bruni
June 1, 2013
New York Times
Ben Wiseman
The New York Times
FOR her big announcement last week, Michele Bachmann neither convened a news conference nor waited for some other moment when she was in public, reporters and television cameras nearby. She went for something less extemporaneous than any of that, packaging the declaration that she wouldn't seek a fifth Congressional term in a lacquered online video. There was no risk of stammer or flop sweat, no possibility of interruption from reporters itching to challenge her self-aggrandizing version of events. Weird, no?
Well, no. Lately we journalists have been agitated, justifiably, by the Obama administration's prosecution of leakers and spying on the reporters and news organizations who set up or sop up those leaks. It's a serious threat to our ability to police government, which has shown time and again that it needs policing. But our role and relevance are arguably even more imperiled by politicians' ability, in this newly wired world of ours, to go around us and present themselves in packages that we can't simultaneously unwrap.   To get a message out, politician's videos are especially vivid examples of that YouTube is the public square and the fourth estate is a borderline obsolescent one.