Media Bits & Bytes - Shifting Terrain Edition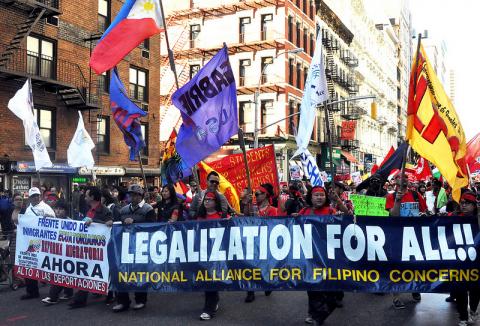 Protesters marched from Union Square down to City Hall on May 1, 2013 (May Day) over many issues, including, as shown here, immigration reform ,
Joint Editorial on Immigration Reform
By Staff, Voices of NY
July 11. 2013
Ethnic and community publications representing diverse readers and audiences throughout the nation are urging Congress to agree on a policy solution that will end legal limbo for millions of undocumented immigrants.
Beginning July 10, under the headline, "A message to Washington: There is no room for failure," and published also in Spanish, outlets started publishing the same editorial in their papers, an effort spearheaded by New York's El Diario-La Prensa. The list includes that paper's sister publication in Los Angeles, La Opinión, the New York weeklies Irish Echo and Bangla Patrika along with the Polish daily Nowy Dziennik and the Puerto Rican daily Primera Hora.
Welcome to the Fading Days of the Microsoft Empire
By Paul Krill 
July 11, 2013
The desktop PC, Microsoft's bread-and-butter technology for decades now, is no longer the only game in town. The company remains a formidable force and a software juggernaut, but its days of sheer dominance are over. Moves by enterprises and individuals to tablets and smartphones -- as well as the rise of Google, with its search engine, apps, and cloud services -- have thrown Microsoft off balance.
Technology, Not Law, Limits Mass Surveillance
By Ashkan Soltani
July 1, 2013
Improved technology enabled the NSA's mass surveillance programs. Future improvements will make collecting data on citizens easier and easier.
Recent revelations about the extent of surveillance by the U.S. National Security Agency come as no surprise to those with a technical background in the workings of digital communications. The leaked documents show how the NSA has taken advantage of the increased use of digital communications and cloud services, coupled with outdated privacy laws, to expand and streamline their surveillance programs.
The extent to which technology has reduced the time and cost necessary to conduct surveillance should play an important role in our national discussion of this issue. Each of the NSA programs recently disclosed by the media is unique in the type of data it accesses, but they all share a common thread: they have been enabled by a massive increase in capacity and reduction in cost of surveillance techniques.
Yet More Media Consolidation is Not the Cure to the Problems Caused by Media Consolidation
By John Bergmayer 
July 8, 2013
People are buzzing about possible new consolidation in the cable industry. The reason isn't hard to see: in a market that is already very concentrated, only the strong survive. But bigger is not better for the public. It would be unfortunate if, in response to problems caused by excessive concentration up and down the media landscape, yet more companies consolidate.
This "if you can't beat 'em, join 'em" approach might serve the short-term interests of shareholders but it would not be good for consumers or the market as a whole. Media consolidation inevitably leads to less choice and higher prices for consumers, and fewer outlets for independent and diverse creators.
Salons or Not, Cyberspace Is Still a Distant Place for Most Cubans
By Victoria Burnett
July 9, 2013
By the standards of many Cubans, Lazaro Noa García is an adept internaut. He e-mails his daughter in Mexico a couple of times a week at a cybersalon in an upscale suburb, and checks soccer scores and news on Yahoo.
Until last month, though, the closest Mr. García, 59, had been to cyberspace was the painfully slow e-mail service at his local post office. Then on June 4, Etecsa, the state telecom company, opened 118 Internet salons around the island, expanding public Web access - by a fraction, at least - in what is regarded as the least wired country in the Western Hemisphere. Mr. García, a retired military officer, immediately signed up.
But it is extremely expensive, he said. At $4.50 an hour, a session at one of the new cybersalons costs almost as much as the average state worker earns in a week, prompting many Cubans to wonder whether President Raúl Castro is serious about bringing the Internet to the masses, or just playing for time. Cuba's limited Internet access is a source of festering resentment among Cubans, millions of whom have never been online.
Most Adults Always Have Smartphone Close By, 1 in 10 Use It During Sex
By Salvador Rodriguez
July 11, 2013,
We already know many people are addicted to their smartphones, but a study released Thursday gives a clearer idea of just how much users can get attached to their device.
Nearly three in four American smartphone users surveyed said they are within five feet of their devices the majority of the time, according to the 2013 Mobile Consumer Habits study conducted by Harris Interactive for Jumio, a mobile verification and payments company.
More than a third said they use their device at movie theaters and 12% said they even use it while in the shower. But perhaps most unusual is the fact that almost 1 in 10 users, or 9% of respondents, said they have even used their smartphone during sex. "So it should be no surprise that 12% believe their smartphone gets in the way of their relationships," the press release for the study said.
Los Angeles Times