Clock Ticking on Bay Area Transit Strike Deadline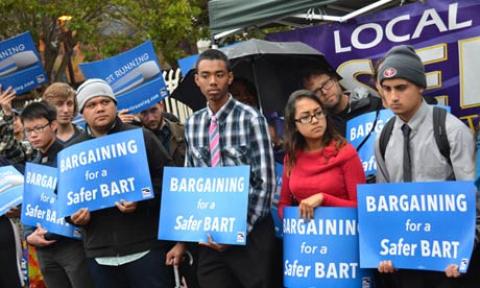 , The Guardian
Following in her mother's footsteps, Yuri Hollie applied and was hired as a station agent at the Bay Area Rapid Transit system (BART), the Bay Area's major transit network, in 1996. About 400,000 people ride BART daily, making it the nation's fifth busiest rapid transit system.
"It's a great job," she said, "and I hope it stays that way."
The station agents in her union, Amalgamated Transit Union Local 1555, eventually elected Hollie to represent them on the executive board. Now, she sits at the negotiation table, bargaining for a fair contract for the BART workers, whose unions gave BART authorities a 72-hour strike notice on Thursday. The strike is set to take place on Sunday, Aug. 4 at midnight if no deal is reached. It will be the second BART strike after the 30-day cooling off period [3] requested by California governor Jerry Brown. 
Hollie is a single mother, who is trying hard to figure out how she will be able to afford her daughter's college when she enrolls this year. She is also going through a loan modification process on her house because she is struggling to afford the mortgage. She also works a second job as a real estate agent. Hollie said she will continue to fight hard for BART workers to have decent wages and benefits. 
"We want to educate members of the union, as well as the working class, and bring them up to standard, where they can afford to work where they live. Because with what we make, we can barely afford to work where we live," she said. "A lot of our members have lost their homes already. Gas prices have skyrocketed....A huge number of our members are single parent families, and we're just barely getting by."
The Issues That Divide
The unions — ATU 155 and SEIU 1021, which together represent about 2,400 workers — and BART management are still divided on the huge sticking points of wages, healthcare and pension benefits. During the recession, workers sacrificed $100 million in wage increases and other benefits. They haven't received a raise in the past four years. Meanwhile, BART has seen a surplus from increased ridership. Unions say BART has projected [4] a surplus of $125 million each year for the next decade.
BART management has stated that station agents and train operators have an average salary of $71,000 a year. The unions say those numbers are inflated. Hollie said she doesn't even make that after 16 years of working for BART.
"The workers are very, very upset," Hollie said. "We're being persecuted with Karl Rove-like passion in the press. They put our wages out inflated...that we make these exorbitant salaries when we don't."
SEIU spokesperson Cecille Isidro said it's hard to calculate workers' average earnings. She said SEIU 1021 represents more than 79 different classifications of worker, from system service workers who clean the stations, to those who maintain the software for the system.
"To try to average them out…it's not really an accurate picture," she said.
Pete Castelli, SEIU's executive director of fields and programs, said people don't have an accurate picture of what a BART worker does each day.
"There's a lot of skilled workers at BART," Castelli said. "People make it sound like there's someone flicking a switch, standing there, yawning all day and the train just runs. "
He said the mechanics who work on BART trains have to understand the ins and outs of the trains, while train drivers sometimes have to manually switch tracks on the railways.
"Not enough focus has been put on the expertise and knowledge that the BART workers have to have," Castelli said.
Much focus has been placed on workers' wages as well as the money they make from overtime. BART management has claimed that in addition to their high salaries, workers make about $11,000 in overtime each year. Unions say this is a continued inflation of salary numbers, and the real problem is that BART is understaffed.
Hollie said only about 15 percent of BART workers work overtime on a regular basis. She said, "It's not because we want to work overtime. It's that BART doesn't want to hire the extra bodies because it's cheaper for them to staff without the benefits package."
The workers' benefits package is perhaps the most contentious point in negotiations. BART claims it needs workers to start contributing 5 percent to their pensions and pay more for healthcare. In a statement released Thursday, BART stated: "There is no question BART employees should get a raise, but contracts that continue to allow employees to pay nothing towards their pension and a flat rate for health care are no longer sustainable.…BART's medical costs have grown 251 percent in 12 years and our pension costs have grown 126 percent in 10 years."
BART workers, however, are not eligible for Social Security. Thus, the increased pension and healthcare costs, mixed with BART's current proposal of an unconditional 2 percent wage increase for the next four years, may have some workers seeing a very little salary raise.
Cecille Isidro said it would even leave some workers in the red. "Our system workers who make about $52,000 a year would stand to lose $1,900 a year under the [BART] district's current proposal," she said. "We don't hear about the cuts that would far exceed any wage increase."
BART spokesperson Rick Rice said the proposal gives everyone a raise.
He said, "Our calculations, and our offers are based on keeping every employee in the black in terms of pay increase. Some will do very well. Some may not do quite as well. And we're at the table trying to work out those details. "
Asked if workers will still be taking home a 2 percent wage increase, despite increased costs, Rice said: "When you do all the math and subtract the pension and subtract the benefits, probably more of a 1 percent pay increase."
This small pay increase would be on top of not having received a raise in the past four years. The unions' last public proposal asked for a 4.5 percent annual raise over the next three years.
Hollie said the message she's received has been that BART wants to align its workers with the rest of the nation. BART has stated in a press release, "We need to begin to normalize our benefits to better reflect what other public employers offer."
Hollie said that BART workers have great jobs, and transit workers nationwide should have higher, not lower, standards. 
"We should not be the anomaly, we should be the normal," she said. "And we shouldn't be on a race to the bottom." 
BART Lead Negotiator's Anti-Union History
Perhaps the largest barrier to compromise in the negotiations is BART's lead negotiator and strategist Thomas Hock, who has been paid $399,000 to negotiate this contract. According to union members, Hock was originally contracted months ago, for a salary of $99,000, which didn't need public consent because it was under the $100,000 mark. Then, in April, they did a change order to his contract and added an additional $300,000.
Castelli said, "It's kind of disgusting. The BART District is an elected body supposed to represent the riders and the public, and they had enlisted paying this guy this money. And actually made the process happen so it was not open to public scrutiny or public hearing. I mean I just can't believe the Bay Area progressives aren't in revolt over the way this has happened. This is one of the most dastardly moves by an employer that I've seen in a lot of years."
Hock works for Veolia Transport, a multi-billion, multi-national transit corporation. Hock and Veolia Transport have a long history of anti-union practices [5], including engaging in "regressive, bad-faith, and surface bargaining." According to the East Bay Express, records reveal that workers have filed 51 complaints about Hock's company in front of the National Labor Relations Board since 2001. In 1997, his company fired 30 workers who participated in union activities. NLRB sided with the workers, who were granted more than $900,000 in back pay after a 10-year battle.
Rice said Hock has had only "two unfair bargaining charges since 1974. One was withdrawn by the union that filed it. And the second one, there was no finding of unfair bargaining.…Mr. Hock is a very skilled negotiator, and has reached very fair contracts with any member of the union. We have complete confidence in him."
He said the numbers are, "Absolutely incorrect." He continued, "I have no idea where those came from. This is what I have from Veolia, the company he works for."
SEIU has also put out a report [6], detailing Hock and Veolia's unfair labor practices. It states that "since 2001, Hock has been involved in negotiations that have resulted in seven strikes."
Hollie said, "People don't know who [BART has] invited into the Bay Area."
Problems have already arisen during the current BART negotiations. On July 26, unions filed a conflict-of-interest complaint [7] after they found that Hock's Veolia Transport profited off the July BART strike. Rice said Veolia Transport only received $500 in brokerage service fees.
"It was minor," Rice said. "And Mr. Hock had nothing to do with making our contingency plans or implementing them."
But the most problematic concerns surrounding the BART contract are the stalled negotiations. Unions claim Hock has simply been "surface bargaining" —going through the motions of bargaining, with no intention of reaching an agreement.
He even took a vacation during the 30-day negotiation period. Rice explained that Hock had prior plans for July 24-28. But unions say Hock has been gone for 10 days. Castelli said that while unions have had less than 20 hours of face time with BART management on big issues, they have seen Hock for no more than an hour.
Castelli said the unions "never imagined" the BART district would hire someone who has a record of using an anti-union formula, which is, he said: "you hire a union buster, management hides behind this person, you force the workers to strike, you take a hardball/hard line at the table and bank that you will break the union."
Other Dubious Dealings
While Hock is viewed as the main obstruction to compromise, other factors may have also hindered the process.
Negotiations for the current BART contract began on May 13, when they traditionally have begun on April 1. Isidro said that from the get go, BART management worked to stall negotiations. She said, "We were ready to go. Our teams were there April 1. We exchanged proposals. But members of the bargaining team are BART workers, and it's been practice for decades that these members would be released from work so they can bargain a contract.…They are supposed to give us three months. And for some reason, the district decided that it wasn't a priority to release the workers and get started on this right away. From the onset of negotiations, they have just stalled and delayed and not really took this seriously."
Isidro said the unions filed a grievance so the workers could be released.
Union leaders have also been concerned with BART general manager Grace Crunican's lack of presence at BART negotiations. After receiving a $20,000 raise six months into her job, Crunican now makes a $320,000 salary.
Rice said Crunican attended negotiations on July 4, and "other than that she has been fully informed and at her office involved."
Castelli said that it's unusual for the head of a business to spend so little time at the table.
"In most bargaining, even if there is a consultant or attorney…at some point the general manager comes in because they're the person that is the glue of that entity who can connect with people over proposals," he said. "It's a status and a genuine need to have someone like her at the table. It doesn't mean we're going to get to an agreement if she's at the table, but bringing in a consultant like Thomas Hock… it's a barrier to the real management at BART."
Furthermore, SEIU's lead negotiator Josie Mooney alleged that the BART management violated a media gag order to not discuss contract details. On July 30, BART released an outline [8] of the current contract offers. 
"The district felt that it was time for the public, riders and the taxpayers to know what is on the table and what's different as we go into this last week," Rice said. "The numbers were not new, and we did not discuss what was going on at the bargaining table. I don't feel like we violated the gag order."
Additionally, during negotiations, BART has amped up its publicity of new train cars it says are needed. On July 23, BART set up a full-scale mockup [9] of the new train at Oakland's MacArthur Station. Meanwhile, BART says in order to meet unions demands, fares would increase by 18 percent over three years—5.8 percent each year. BART claims this is on top of the fare increase it would need to pay for new developments. 
"We want [the public] to understand that the district is working very hard to reach a fair contract for workers," Rice said. "But one where we can make investments in the future in the system that are necessary. We need new train cars. We need a new train control system. And we need a new maintenance facility."
The move implies that maintaining BART is thrown on the backs of workers. In an article for the East Bay Express, David Bond-Graham writes [10] that the money needed, should instead come from the wealthy corporations that profit from BART's service.
He wrote: "BART is funded almost entirely through regressive means— fees and taxes that impact low-income consumers the most.…Large corporations and real estate owners around the stations, especially in downtown San Francisco— have paid virtually nothing toward BART's costs during the past several decades. It doesn't have to be this way, though."
Fighting Back
In a statement released Thursday, following the unions' announcement of a 72-hour strike notice, Rice wrote: "A strike only stalls and delays the decisions that need to be made while using our riders as pawns. "
But the nearly 500 people who attended a labor rally on Thursday see things differently. Members of ATU, SEIU and members of the public gathered in downtown Oakland, while various Bay Area activists, including actor Danny Glover, spoke to show their solidarity with the BART workers and their disappointment in BART management. Workers marched through downtown Oakland to BART headquaters.
ATU Local 192 president Yvonne Williams said at the rally: "We love our community.…We respect everybody that lives here and works here. We want to keep this service moving. We do not want to see you stranded. We care about the disabled. We care about the poor. We care about the…people who don't have cars, the people that really need our service. And I say to these bosses, shame on you!"
Hollie said it's important for the public to understand that workers don't want to strike.
"Believe me, we did feel the pinch that one week off. None of our members are wealthy," she said. "So we've already been financially harmed that week."
Castelli said that this time around, he believes the public is more aware of what's going on, and the labor movement has woken up to the implications of this fight.
"We will get a fair contract," Castelli said. "And SEIU 1021 and I believe ATU as well, we're in this for the long haul, and we're willing to do what we have to do. This is our Wisconsin. This is our Michigan. And the progressives in the Bay Area ought to wake up and see that and join us because we're in this thing to win."
Speakers at Thursday's rally shared the sentiment that the struggles of BART workers are all workers' struggles. One speaker continuously reminded the audience: "If you're not on the table, you're on the menu."
Castelli said, "All workers have suffered so greatly, that I think sometime there's this resentment of those doing well. And I think BART is playing on the worst aspects of that and cultivating that. Whereas our message has been: a rising tide lifts all boats. If they come after the BART worker…you can't think that doesn't influence your employer."
Yuri Hollie said she hopes the public will see this connection and show suppport for the workers.
"We are just like you," she said. "Everything that you've experienced, and the hardship, economic downturn in the recession, we're right there with you. We lost our houses, we can't send our kids to college.…We're just like you. If you think that we're the greedy worker and we're sitting up here on our high horse? No, we're just like you."