Media Bits & Bytes - I Spy Edition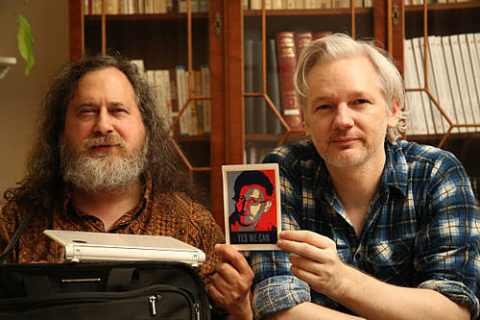 Richard Stallman (left), Julian Assange and photo of Edward Snowden, Credit: WIKILeaks
By Bruce Sterling 
August 3, 2013
Back in distant, halcyon 2010, I was asked to write something about Wikileaks and its Cablegate scandal. So, I wrote a rather melancholy essay called "
The Blast Shack
" about how things seemed to me to be going - dreadfully, painfully, like some leaden and ancient Greek tragedy.   In that 2010 essay, I surmised that things were going to get worse before they got any better. 
Sure enough, things now are lots, lots worse. Much worse than Cablegate ever was.  Cablegate merely kicked the kneecap of the archaic and semi-useless US State Department. But Edward Snowden just strolled out of the Moscow airport, with his Wikileaks personal escort, one month after ripping the pants off the National Security Agency.   This is the kind of comedic situation that Russians find hilarious. 
By Cory Doctorow 
August 5, 2013
Earlier today, Xeni blogged Bruce Sterling's latest essay, "The Ecuadorian Library." I thought this piece had a lot of merit, but was brought up short by one passage that made me think that despite Bruce's keen observations, he hasn't been paying very close attention to what groups like the Electronic Frontier Foundation has been doing since 2005. 
Indeed, when it comes to the view he presents of Internet activists, Bruce is just plain, flat-out, factually wrong. Historical revisionism be damned. Since day zero, the "civil liberties contingent" has been shouting as loudly and forcefully as they could about the dangers of technology without policies, rules, norms and code that enshrined liberty. The reality is that the world of civil libertarians and cyber-activists has been defined, since its very earliest days, by the fear that technology would be used for authoritarian purposes and crime.
By Jennifer Granick 
August 8, 2013 
Today,
Lavabit
, an email service provider that promised its customers better privacy and security than other publicly available services, shut its doors.  Reading between the lines of a cryptic message posted on the site's homepage, about six weeks ago the service was served with some kind of demand for user information, as well as a gag order preventing the company from disclosing both the details of that order as well as its very existence.  Rather than cooperate, owner Ladar Levison has decided to close the doors on his 10-year-old company.  
There are two sad lessons to learn from the (potentially temporary) demise of Lavabit. First, communications service providers are at a severe disadvantage when it comes to resisting even abusive or overbroad government surveillance demands. Second, the fact that neither Americans nor foreigners trust the U.S. government and its NSA anymore puts the U.S. communications companies at a severe competitive disadvantage. This mistrust of the U.S. government's relationship with Internet companies is
particularly damaging to cloud computing services
, a sector led by American firms like Microsoft, Google and Amazon.
By Paul Peachey
July 21, 2013
After more than two years of undisputed leadership, Silk Road - the one-stop shop for drugs, porn and dodgy documents described as an "amoral eBay" - is facing a challenge from a rival hungry for a slice of its multimillion-pound revenues.  Now a new start-up, Atlantis, has copied many of its features but changed the rules with an unexpectedly public promotional campaign and financial incentives to dealers to switch to its marketplace.
The site is set up like a typical online marketplace offering forgeries, porn, memorabilia, sports shirts and a deal to "buy" Twitter followers for the online narcissist. But its staple is drugs.  These operators use the cloaking anonymity of the Tor network - known as the hidden web - created by the US military and designed to hide the identity of users and sellers.
By Ernesto
August 11, 2013
The Pirate Bay celebrated its 10th anniversary yesterday. When The Pirate Bay was first launched in 2003 by the Swedish pro-culture organization Piratbyrån,
http://en.wikipedia.org/wiki/Piratbyr%C3%A5n
no one imagined it would turn into an Internet icon.  . It's fantastic that The Pirate Bay made it to its 10th birthday, but now it's time for something new. 
The site has secured a spot in Internet history and on this celebratory weekend we invite several early Piratbyrån members to share their thoughts on the site's accomplishments, their most memorable moments, and their ideas for the future. Marcin De Kaminski, Rasmus Fleischer, Tobias Andersson and Sara Sajjad moved on to other projects following their days on The Pirate Bay but all have played an important role in turning the Pirate Bay idea into reality.