Tidbits - September 19, 2013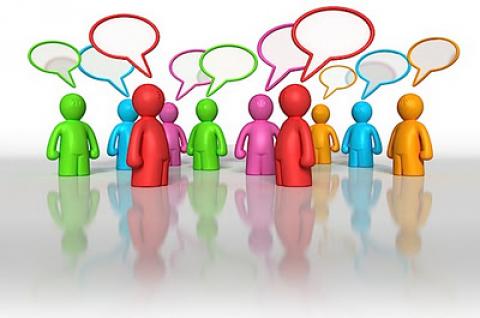 Reader Comments,http://bytesdaily.blogspot.com/
Re: In Honduras, Military Takes Over with U.S. Blessing
The two pieces, on Saul Landau and the machinations of Pinochet in Chile and the current situation in Honduras, pretty much summarize the story of U.S. corruption of the democratic process in Latin America, forty years apart. What disturbs me most, since none of this news, is the conclusion of Dana Frank's piece.
The Obama administration should heed the voices in Congress and stop funding Honduran state security forces immediately. It should denounce the militarization of the Honduran police, distance itself from the corrupt Honduran government that has promoted it, and do everything it can to ensure a free and fair election in November.
How can anyone assume this is possible? U.S. interests--the interests of corporate capitalism--say otherwise and have for our entire lifetime. Whatever "should" happen can't, under the current dispensation.
John Franklin Crawford
Re: Tens Of Thousands Protest Labor Reforms in Poland
Regardless of the many years ago overthrow of Polish Socialism, workers have a far better consciousness about their wages and working conditions. And, in general, European workers have a far better consciousness about "Labor" than those here in the US.
Phyllis Mandel
Posted on Portside's Facebook page
Re: The Rise of the New New Left
"Each generation comes to socialism in their own way" Lenin once said. Maybe that should have been used that for the title of the post?
What I found interesting were the stats showing that young people today, impacted by the economic crisis, may opt for more fundamental political conclusions than their parents.
A similar phenomenon occurred due to the impact of the depression, and the resulting coalition and united front politics.
The left of the 1930s was militant, internationalist and anti-racist. It both organized the unemployed councils, moving back furniture to fight evictions, and it also helped in the massive organization of the industrial unions. This left also became savvy, forming coalitions to win victories, to protect the gains of the unemployed and the newly organized unions, to elect representatives of these movement to public office, and to staff the agencies of government. The left of this period was both in your face and savvy about building coalitions that could impact change. This left built its own institutions and cultural centers, and also utilized the institutions and cultural centers that existed. Because it helped influence the consciousness of the country, the McCarthyite attack was used to wipe out all avenues in which the left contributed to the body politic.
My generation was impacted by the global movement against colonialism and imperialism, coming on the heels of the victory over fascism, and the upsurge for equality and the fight against racism and injustice. Part of this was overcoming McCarthyism and all that it represented - politically, socially and culturally, and the fight for the right to go to school, and with open admissions. Then came the war and the draft, tied to the denial of youth's right to vote. This is what impacted our generation.
Beinart's piece gives voice to the grouping of left public intellectuals, some of whom have been forced out of academia because of the financial crisis. In the 30s a similar grouping of left intellectuals helped fuel the massive people's movement of that time, and many also found jobs in the newly established agencies created by the legislation of the New Deal.
In the 60s, many left intellectuals also were forced from universities, this time by the vestiges of McCarthyism and its grip on academia. Many of them helped staff and give voice to the civil rights and anti-war movements. Many, trained by the universities and schooled in mass protest, went on to lead organizations, movements, and go into government, helping to shape further movements through the end of the last century.
Both of these generations forged political coalitions based on the reality of their times. These allied forces could win and move forward, and elect people to public office.
Left out of the article is any reckoning of the role of civic organizations and institutions in helping to forge the New New Left. Especially missing is recognition of the changing and evolving role of the labor movement. This was so evident in the New York City mayoral elections - the de Blasio campaign was energized, fueled and staffed both by the power of unions like 1199, but also by civic organizations and blogs. It was interested to note that at the election victory rally of de Blasio, speaking right before the children of de Blasio was George Gresham, president of 1199, and right up front on the victory stage was Bertha Lewis, the powerhouse grassroots activist and leader, and former head of ACORN.
The article was a contribution, showing that the GOP is out of touch and vulnerable if the right type of coalitions come into being. At the same time, it showed the contradictions within the Democratic Party. In that sense the article was a blast against Hillary. Some critiqued the article on different listserves and blogs, saying that Peter Beinart is a front for the Clintons. I disagree, the article is not a pro-Hillary article, nor is it a pro-Obama piece.
Jay Schaffner
     ====
Perhaps the "new new Left" needs a heavy dose of the old Left.  The absence of any discussion of the Cold War, anti-Communism is glaring.  Withal, it's an absolute reason why I, a leftist feminist can't behind Hillary.  Didn't like her old man and I don't trust her.
Claire Carsman
Re: Friday Nite Videos -- September 13, 2013 - Stephen Colbert Takes Exception to Vladimir Putin's Op-Ed
Colbert is often hilarious, but jingoism isn't funny. Putin's NY Times op ed may be hypocritical given his authoritarianism regime, but he does have a point attacking the claim that Americans are somehow exceptional compared to the rest of the world. That claim has licensed two centuries of US incursions, interventions, invasions, genocides, and attempts to bomb the unexceptional back to the stone age. Exceptionalism bases its claims on the idea that the US is a uniquely democratic society. But these days, US democracy barely exists.
Alan Wallach
Washington, DC
Re: 400 Richest Americans Worth More Than GDP of Canada or Mexico
This gap in income is truly disgusting! Have you never heard of graduated income taxes? Not only is this bad for the country and those who are not millionaires let alone billionaires, but I think it is bad for the billionaires. They lose connection and are totally in a bubble and not functioning in relation to normal society.
Tax them! Lots of people and programs need help. It is not as though they have earned the money by either great ideas or work. It is luck and skull duggery often. It only creates alienation on both sides.
Laurel MacDowell
Re: Stiglitz: Inequality Is Making Our Politics Sick
This is a good, straight forward analysis (story) of current economics, and current politics in US
Jim Ryder
More Reader Responses - Labels for GMO Foods Are a Bad Idea
I hope this editorial posted as some sort of troll to provoke a debate.  The assumption underlying the editorial, i.e. that hunger and malnutrition is fundamentally a technical problem with technological solutions, is fallacious.  The argument that "We, the big brains, have figured everything out and you shouldn't worry your pretty little heads about it." is fundamentally obnoxious and fascistic.
David Faust
     ====
Not to be too skeptical, but how much of the research was sponsored by agribusiness firms who are opposed to labels?
H. Berrien Zettler
     ====
The governments across the world from time to time have fostered the idea that hunger is a problem of fate and now they propagate the agenda that this  issue can only be overcome by technological means.
This is to be suspected as they have business ambitions behind it .We have enough food to feed all our population by natural means without depending on GMO foods .
This is also a method to destroy our indigenous agricultural practices and will in turn help the business to acquire monopoly over the farmers and the agriculture .
 
Sreenivas
India

Re: Readers Respond to Labels for GMO Foods are a Bad Idea
Thank you for the informative responses today to the surprising and just unbelievably absurd  article, Labels for GMO are a Bad Idea.  We look for the labels, which are too few,  on our food purchases.
Kathy Roberts
10 Arrests in 87 Minutes: The Anatomy of the NYPD's Protest Dispersal Process (video presentation)
The Sparrow Project
September 16, 2013
[Use the URL above to watch the video.]
10 Arrests in 87 Minutes: The Anatomy of the NYPD's Protest Dispersal Process
by Occupy Wall Street
On the eve of the second anniversary of the Occupy movement, two video activists have released a 10 minute short film providing perhaps the most detailed civilian account to date of the NYPD's process of crowd dispersion during mass mobilizations. The video, shot on September 17th, 2012, during Occupy Wall Street's first anniversary celebration action, details 10 arrests that took place over the span of 87 minutes. While at first glance many of the individual arrests appear to be arbitrary, careful analysis from the videographers illustrates a larger picture wherein the NYPD's actions are calculated and designed to derail the protestors ability to effectively assemble.
This video is a powerful resource for activists of all stripes in New York City. Please watch it, share it, carefully examine the NYPD's process in it, and use it to inoculate yourself from their coordinated attempts to stifle your first amendment protections."On the eve of the second anniversary of OWS it bears remembering that the occupations didn't simply fizzle and dissipate," says Paul Sullivan, who videotaped the police response, "this video, shot last year on the morning of the first anniversary, not only reminds us of how difficult it is to protest when the NYPD is determined to shut you down, but also how the NYPD continues to supress civil liberties in order to stamp out the movement."
"On the eve of the second anniversary of OWS it bears remembering that the occupations didn't simply fizzle and dissipate," says Paul Sullivan, who videotaped the police response, "this video, shot last year on the morning of the first anniversary, not only reminds us of how difficult it is to protest when the NYPD is determined to shut you down, but also how the NYPD continues to supress civil liberties in order to stamp out the movement."
"10 Arrests in 87-minutes" was shot by Paul-Henri Sullivan and edited by him and his brother, Justin. Each were arrested while filming this video and each have had their charges since dismissed.
Middle East Children's Alliance presents: Welcome to Hebron - Bay Area - Sept. 25
 
Seventeen-year-old Leila Sarsour, an observant Muslim, is strong, intelligent and outspoken, breaking the Western stereotype of the victimized Arab woman. Leila is a student at a Palestinian high school for girls in the West Bank city of Hebron. The school is surrounded by Israeli military installations and settlements populated by right-wing Jewish religious fundamentalists. "Welcome to Hebron" depicts everyday life for Palestinians attempting to lead normal lives in this volatile city surrounded by checkpoints and barbed wired. Directed by award-winning Swedish documentarian Terje Carlsson. Benefit for Middle East Children's Alliance, wheelchair accessible.
Wed, Sep 25, 7:00pm-9:00pm
Berkeley City College, 2050 Center Street, Berkeley
$10.00 general, $5.00 BCC Students.
MORE INFO:
Website: http://www.mecaforpeace.org
Email:   meca@mecaforpeace.org
Phone:   510-548-0542
Contact: Penny Rosenwasser
"The Lopsided Crisis: The Ongoing Impact of the Great Recession" Forum - New York - Sept. 27
Four years into the sluggish financial "recovery," persistent and unequal rates of unemployment, wage stagnation and home foreclosure mean that the damage caused by Great Recession continues mostly unabated among whole segments of the population.  Why have these effects proven so selective and intractable?  How and why do they vary from state to state and at the local level?  What can be done to improve the prospects of those most affected?  Are the new AFL-CIO community partnership initiatives announced earlier this month at the AFL-CIO convention likely to help alter these conditions?
Speakers:

James Parrott, Chief Economist, Fiscal Policy Institute
Algernon Austin, Director, Race, Ethnicity and Economy Program, Economic Policy Institute
Ruth Milkman, Academic Director of Labor Studies, Murphy Institute
Laura Gottesdiener, independent journalist and policy analyst
Moderator: Ed Ott, Distinguished Lecturer, Murphy Institute
Friday, September 27th, 2013
8:30 to 10:15 am
Murphy Institute, SPS, CUNY,
25 West 43rd St., 18th floor
Manhattan
RSVP to Eloiza Morales at 212-642-2029 or eloiza.morales@mail.cuny.edu.
The Murphy Institute is part of the School of Professional Studies and The Graduate School, CUNY

Immigration Reform Supporters Announce Major Concert and March for October 8, 2013 at the Nation's Capital
Following actions in 89 cities the weekend before, CAMINO AMERICANO: Washington's Concert and March for Immigrant Dignity and Respect, Will Feature a Headlining Performance from Latin Music Legends Los Tigres Del Norte
Washington, DC- Labor, religious, and community leaders gathered today to announce plans for a large-scale mobilization in Washington DC.  The October 8 Concert and March, will feature a Concert for Immigrant Dignity and Respect headlined by Los Tigres del Norte, a 6-time Grammy winning ensemble popularly considered "La Voz del Pueblo" for its support of immigrant rights and the crafting of songs that convey the struggles of undocumented people.  Additional acts are expected to be announced in the coming weeks.
"This is a crucial time in the continued fight for immigrant rights, and we looking forward to raising our voices alongside the thousands of our community that will come from across the nation," Los Tigres Del Norte.
The event at the nation's capital will close a weekend of actions currently projected in 89 cities and communities spanning the country from downtown Honolulu to Birmingham, Alabama; from the rivers of Spokane, Washington to the towers of downtown Manhattan.  Combined, the rallies of October 5 and the Concert and March on October 8 in Washington will demand dignity and respect for immigrant families and call on Congress to fix the broken immigration system.
"Each of our 43,000 members, and indeed everyone in this country, is impacted by the horror of family separation caused by the broken immigration system," said Gustavo Torres, President of CASA in Action, a co-host of Camino Americano at the National Mall.  "We will be at Congress' doorstep on the October 8 calling on representatives to stop delaying and solve this human rights crisis."
October is widely considered the month when the House will start votes on immigration reform, although contradictory remarks over the August recess has left some wondering whether house leaders are truly committed to resolving a crisis that has broad support and is a top priority for organizations from labor unions to business lobbies, faith institutions to law enforcement officials.  The Concert and March on October 8 will reflect these forces including a prayer led by over 100 religious leaders from across the country and hard-hitting targeted action at Congress to include union presidents and civil rights leaders.
"Our brothers and sisters in the church have suffered for too long because of congressional inaction," said Father Jos, Eugenio Hoyos, of Hispanic Diocese of Arlington.  "Passage of immigration reform is not just an economic necessity, it is a moral obligation."
The growing list of local and national organizations planning and supporting the event in Washington include 32BJ-SEIU, Alliance for Citizenship, the AFL-CIO, the American Federation of State, County, and Municipal Employees (AFSCME), the American Federation of Teachers, America's Voice Education Fund, the Baltimore/Washington Construction and Public Employees Laborers' District Council, CASA in Action, CARECEN, the Centreville Labor Resource Center, Church World Service, Communications Workers of America, DREAMers of Virginia, the Fair Immigration Reform Movement, Hispanic Apostolate of Arlington, the Labor Council for Latin American Advancement, LiUNA Local 11, the National Hispanic Foundation for the Arts, SEIU International, USAction, UNITE HERE, and Unidad Peruana de Virginia.
"It's not who we are as Americans to relegate men and women into a second-class group of people," said Jaime Contreras, Vice-President and Capital Area Director for 32BJ SEIU. "Congressional leaders must reject the handful of extremists who are ignoring the majority of Americans that support common sense immigration reform with a path to citizenship."
 
Susana Flores
Communications Manager
 CASA de Maryland / Communications & Political Action Office
Office: 240-491-5745 / cell: 240-706-2624 / www.casademaryland.org
 
Jobs with Justice-San Francisco's 3rd Anniversary Celebration -- Bridging Solidarity and Power Together - Oct. 10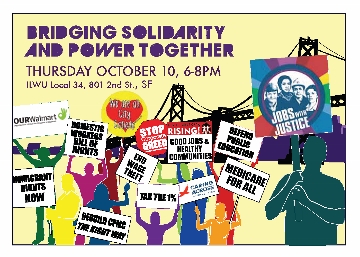 Thursday, October 10th, 2013
6:00pm Reception    6:30pm Program
ILWU Local 34, 801 2nd Street, San Francisco
(at King/The Embarcadero, next to AT&T Park)
Accessible by Muni N & T lines and bus #10, 30, 45 & 47
Map 
Honorees:
Ai-jen Poo & the California Domestic Workers Coalition
Assemblyman Tom Ammiano & the struggle to Save St. Luke's Hospital
Low Wage Workers Rising movement
Tickets:  $25 - $100 sliding scale
Click here to RSVP and purchase tickets online.
Click here for info about sponsorship packages and program ads.
For more info, email event@jwjsf.org or call (415) 994-2496.
THANKS TO OUR EARLY SPONSORS:
California Faculty Association - SF State University; National Union of Healthcare Workers; San Francisco Labor Council; IFPTE Local 21; AFT Local 2121; SEIU Local 1021; California Nurses Association; OPEIU Local 3; Unite Here Local 2; SEIU United Service Workers West; United Educators of San Francisco; Teamsters Local 853; UFCW Local 648; UFCW Local 5; CWA District 9; AFSCME Local 3299; Alliance of Californians for Community Empowerment; Senior and Disability Action; Coleman Advocates for Children and Youth; California Alliance of Retired Americans; Filipino American Development Foundation; Community Housing Partnership; Filipino Community Center; People Organizing to Demand Environmental and Economic Rights; Young Workers United; Mujeres Unidas y Activas; La Colective de Mujeres; Shoe Shine Wine; MacArthur Garage Brewery