labor
Two Election Articles; Socialists, Greens and Working Families Party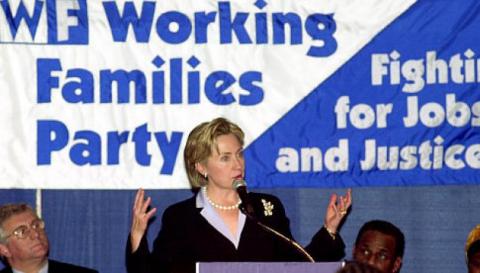 Huffington Post
(Moderators Note. In the latest count, Kshama is ahead by 1,148 votes.) SEATTLE (AP) — Voters in left-leaning Seattle, where police recently handed out snacks at a large marijuana festival and politicians often try to out-liberal each other, are close to electing a Socialist candidate to the City Counci
Following the latest ballot count Tuesday night, Kshama Sawant had a 402-vote lead over 16-year incumbent Richard Conlin.
Given Washington state's mail-in voting system, a winner won't be named for days or even weeks after the Nov. 4 election.
Still, the strong showing by Sawant, a college economics professor and prominent figure in Seattle's Occupy Wall Street movement, has surprised many people.

Scott Cline, the city's archivist, said research showed no Socialist candidate had won a citywide office in the past 100 years.
"This is new territory. There really isn't any precedent," said Stuart Elway, a longtime political pollster. "You think Seattle has a pretty liberal electorate, but you haven't seen someone who calls themselves a socialist win."
Sawant, 41, drew attention as part of local Occupy Wall Street protests that included taking over a downtown park and a junior college campus in late 2011. She then ran for legislative office in 2012, challenging the powerful speaker of the state House, a Democrat. She was easily defeated.
This year, she ran against Conlin, pushing a platform that appeared to resonate with the city. She backed efforts to raise the minimum wage to $15; called for rent control in the city where rental prices keep climbing; and supports a tax on millionaires to help fund a public transit system and other services.
"I think we have shown the strongest skeptics that the Socialist label is not a bad one for a grassroots campaign to succeed," said Sawant, who is on leave from her job as an professor at Seattle Central Community College.
During her campaign, she condemned economic inequality, contending that some people aren't benefiting from the city's declining jobless rate, ongoing recovery from the recession, and downtown building boom.
"This is one of wealthiest cities in the wealthiest country in the world," she said. "For people to struggle for basic needs is absurd."
City Council races are technically non-partisan in Seattle. Sawant, however, made sure people knew she was running as a Socialist, a label that would ensure defeat in many areas of the country.
Socialists have run for office in Seattle before. Before Sawant, the most successful candidate was Yolanda Alaniz, who in 1991 emerged from the primary in second place but was easily defeated in the general election.
"There were certainly populist candidates," said Cline, the city archivist. "I don't think any of them you could remotely call Socialist. Certainly there has never been anybody who has run as strongly as Sawant has."
by Ari Paul
Jacobin
"Vote Row E. Vote Working Families Party."
That's the mantra New York City's progressives have long chanted on their way to the polls. It's an ingenious solution for the conflicted partisan, someone who is pragmatic but can't stomach backing the Democratic Party. You can vote for a Democratic candidate on the union-backed Working Families line. You can have your vote matter and support a third party, who may not run its own candidates, but manages to pull mainstream Democrats leftward anyway.
On its website, the organization calls itself "a third party with a twist."  This might seem an impossible contradiction. And recent events are starting to prove that true.
The party may be pleased with the election of Bill de Blasio, an erstwhile ally over his career, but outrage has erupted among unionists and radicals over the Working Families Party's decision to send volunteers last month to run interference for Khalid Bey, a Democratic Common Council member in Syracuse. The electoral threat to this man wasn't a Koch brothers-backed Tea Partier or a Blue Dog Democrat, but a dues-paying Teamster, Green Party candidate Howie Hawkins.
This isn't the first time the party — whose stated goal is "to bring poor, working- and middle-class issues into public debate" — has tussled with Hawkins, a former Socialist Party candidate who got his start in activism opposing the Vietnam War. In 2010, most unions decided to stay neutral in the gubernatorial race, given that Democratic candidate Andrew Cuomo made clear his intentions to balance the budget through cuts to state employment.
Fearing that if a WFP candidate did not get more than 50,000 votes it might lose that coveted "Line E," it backed Cuomo anyway. The party was already in a weak position given the investigation of its for-profit canvassing operation for violating campaign finance codes. But Cuomo insisted the party endorse not just him but his entire neoliberal platform, which included a wage freeze for state workers and a property tax cap. The WFP agreed. Hawkins, the Green Party's candidate for governor, ran on a progressive platform.
In the end, Hawkins came in third — first among the alternative candidates — with nearly 10,000 more votes than what the WFP would have needed to keep the ballot line. Cuomo won in a landslide against Tea Party Republican Carl Paladino, and went on to make good on his anti-labor promises: He emerged from negotiations with the state's two biggest unions celebrating wage-freezes, furloughs and other cuts. And his right-wing agenda has never really changed — in October, Cuomo revealed that he was recruiting former Republican Governor George Pataki to aid with tax cuts.
While a WFP-endorsed governor imposes austerity on the state, the party still seems angry at Hawkins, who makes a living as a UPS worker. In 2011, Hawkins lost the race to represent Syracuse's fourth district to Democrat Khalid Bey, who had the WFP on his side, by 100 votes, and they faced off again this year. Bey's stated platform was a kind of ambiguous soup of support for public education and small businesses. The Syracuse Post-Standard endorsed Bey on his plans to crack down on brothels and impose fines on households and businesses that receive more than three citizen complaints. Complaint Keynesianism: Filling the city's coffers by ratting on your neighbor.
As Hawkins tells it, WFP support for Bey has to do with the fact that he's socially progressive. But the party turns a blind eye to his support for austerity measures in Syracuse and his parroting of mainstream Democratic Party fiscal rhetoric. The WFP has taken issue with Hawkins for disrupting a meeting it held about campaign finance reform, which the Post-Standard said "would give $6 of public money to match each $1 of money raised in small private donations (under $250)," and never saw him as a personality it could work with. For good measure, days before the election as supporters started raising ire about the party's support for Bey, an upstate WFP operative denounced Hawkins on Facebook, saying that if elected his antics would be harmful as those of any right-winger. Bey won by 500 votes, a margin that could have been smaller had Working Families support swung the other way.
The affair seems like a departure from the party's stated mandate to pressure the Democrats from the left, but the organization has long given deference to the Democratic establishment. The WFP finds its roots partially in labor and the community organizing group formerly known as ACORN, but also in the now-defunct New Party. Started in 1992, the New Party was co-founded by academic Joel Rogers and Sandy Pope — like Hawkins, active in Teamsters for a Democratic Union — and meant to act as a broad-based vehicle for social democratic political action.
Even then, there were doubts. The New Party started off cross-endorsing David Dinkins's failed reelection campaign for New York City mayor in 1993. Doug Henwood wrote in the Left Business Observer at the time,
Dinkins could never be considered a 'good' Democrat; in fact, he's an incarnation of precisely what's wrong with that party. He sustains illusions and disarms opposition while governing with perfect fealty to establishment convention. Despite bursts of progressive rhetoric, his administration has been one of budgetary austerity — with the exception of a big cops and jails program that was the centerpiece of his first budget.
On many key issues today, the WFP stays silent. The Atlantic Yards project, the use of eminent domain to build a basketball arena in central Brooklyn, was opposed by many activists, considering that it was a case of a rich developer getting help from the state to profit from kicking regular folks out of their homes. WFP had to stay silent because ACORN, one of the party's founders, staunchly supported the project — in large part because of the developer's promises of community benefits that have never come to fruition.
Yet the mythology of the WFP's ability to push the Democrats leftward pervades to this day. On Democracy Now!, the usually attuned Amy Goodman and Juan Gonzalez lobbed softball questions to WFP leader Dan Cantor the day after the election, allowing him to promote the party's message without mentioning its crusade against Hawkins or previous support for Cuomo and his anti-union, pro-austerity agenda.
As for the Cuomo endorsement, the argument could be that the WFP didn't want to back him but was in no position to negotiate, and couldn't know in advance that Hawkins could surpass the 50,000 vote mark, jeopardizing their relevance. Understandable, certainly, but by playing it safe with a Democrat promising austerity, it lost a great deal of currency as a brave party pushing economic justice. The WFP may have been in a tough position in 2010, but its pragmatism in the governor's race has compromised its claim to be a party pushing economic justice issues today.
By contrast, the Tea Party's ideological stubbornness has produced a strong stake in the Republican Party in just a matter of years. Tea Party activists didn't force the leadership into shutting down the federal government through backing moderate Republicans in the name of advancing a reactionary platform somewhere down the line.
WFP defenders can, indeed, invoke legitimate victories. In 2010, for example, it helped a relatively progressive Gustavo Rivera oust Pedro Espada, Jr., a high-ranking Democrat who came to embody Albany corruption. This year, it helped the feisty and progressive Letitia James win the primary for public advocate, defeating Daniel Squadron, a popular liberal state senator fueled by real estate money. Earlier this month, WFP organizing led to the ouster of Paul Vallas, the pro-privatization school board head of Bridgeport, Conn. The party is quick to point out that its candidates who have gained power in New York City are committed to pushing for affordable housing and advocating for public education.
Those points of hope are what make the WFP's betrayals so tragic. It actually could work as a viable progressive force, but only if it stayed consistent in its own agenda. In advance of the hotly-contested Democratic mayoral primary this year, the WFP could have organized to get labor behind a candidate, in order to inject the question of collective bargaining and labor rights in the center of the debate. Instead, the WFP stood on the sidelines, and labor endorsements were split among four candidates.
Pragmatists often recite a tired line when it comes to groups like WFP. Sometimes the group has to cut a deal with someone it doesn't like in order to be in a position to run a good campaign in the future. But this is reminiscent of a line from Homage to Catalonia, when George Orwell, fighting in the trenches against the fascists in the Spanish Civil War, asks when his unit will receive desperately needed supplies. He is repeatedly told "Mañana," tomorrow. "Needless to say," Orwell writes, "mañana never came." So it is with this grand strategy Working Families partisans hint at. Standing in support of austerity today will never put you in a better position to fight it tomorrow.
A basketball team wouldn't let the other team score all the points in the first half so it can come back and win the second. A real labor party wouldn't either.