Tea Party Roots in the Dallas of 1963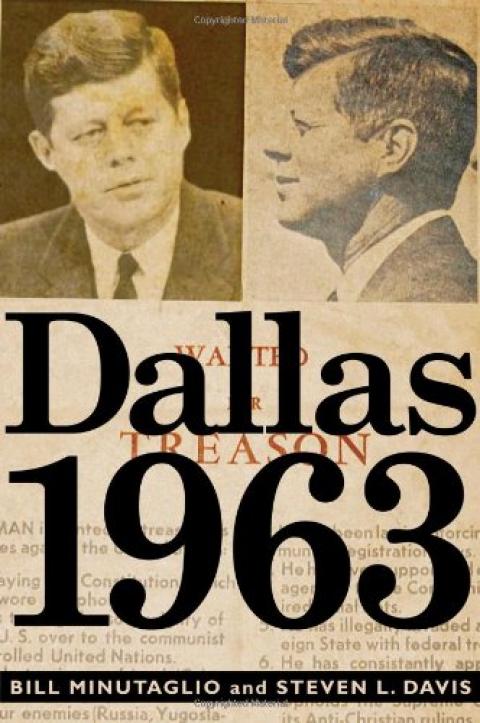 The president is a socialist. He is neutering the United States on the world stage. He is spending us into bankruptcy. He is hellbent on expanding national health care, which will surely lead to government death panels.
He is advancing big-government agendas everywhere from Main Street to Wall Street. And do we really know the truth about his personal history and religion?
Perhaps the man in the Oval Office should be impeached — even tried for treason.

If today's extremist rhetoric sounds familiar, that's because it is eerily, poignantly similar to the vitriol aimed squarely at John F. Kennedy during his presidency.
And just like today, Texans were leading what some of them saw as a moral crusade.
To find the very roots of the tea party of 2013, just go back to downtown Dallas in 1963, back to the months and weeks leading to the Kennedy assassination. It was where and when a deeply angry political polarization, driven by a band of zealots, burst wide open in America.
It was fueled then, as now, by billionaires opposed to federal oversight, rabid media, Bible-thumping preachers and extremist lawmakers who had moved far from their political peers. In 1963, that strident minority hijacked the civic dialogue and brewed the boiling, toxic environment waiting for Kennedy the day he died.
As he planned his trip to Dallas in November 1963, President Kennedy knew that hundreds of thousands across Texas adored him — or at least, respected the office he held. But he also knew that there was an increasingly hysterical fringe.
As Kennedy approached Dallas, he turned to his wife, Jacqueline. "We're heading into nut country today," he said.
Dallas Morning News publisher Ted Dealey had a loathing that became particularly deeply personal. At a social luncheon for Texas news executives in the State Dining Room of the White House, Dealey berated Kennedy to his face: "We need a man on horseback to lead this nation — and many people in Texas and the Southwest think that you are riding Caroline's tricycle."
Back in Dallas, Dealey ordered his reporters to investigate whether Kennedy had been married to another woman and whether the Kennedy dynasty had somehow erased evidence of that marriage.
Not far away in downtown Dallas, oil billionaire H.L. Hunt was pouring millions into a ceaseless anti-Kennedy radio campaign; it was the dawn of extremist radio in the nation. Hunt's program, "Life Line," reached 10 million listeners a day with its scorching attacks against "the mistaken," the term Hunt's announcers used to describe the president's supporters.
When Kennedy proposed Medicare to provide health care for the elderly, Hunt's shows warned that government death panels would follow: "a package which would literally make the president of the United States a medical czar with potential life-or-death power over every man, woman and child in the country."
Hunt's pastor in Dallas was the thundering W.A. Criswell, head of the largest Baptist congregation in the country. Criswell was deeply suspicious of the president's Catholic religion, and he assailed Kennedy's candidacy as a possible plot that would undermine America's true Christian values.
Dallas was represented in Congress by an eloquent, Ivy League-educated ideologue regarded by some as the most extreme politician in Washington. Bruce Alger had cast the lone "no" vote against a federal program to provide free surplus milk to needy children. Even among his conservative peers, Alger was considered on the outer edge.
There was also Maj. Gen. Edwin A. Walker, the commander who had been hailed as a hero for breaking the grip of segregation in Arkansas' capital; he led the bayonet-carrying troops who escorted African-American students to the doors of a Little Rock high school and kept order in the streets afterwards. Within four years, Walker had been relieved of his command by Kennedy's defense secretary, Robert S. McNamara, after he was accused of trying to brainwash his troops with ultra-right-wing propaganda. The defrocked Walker moved to Dallas and was welcomed by the mayor in a grand public ceremony.
Walker promoted anti-federal agendas as well as what were once quaintly called "Southern traditions." He made national headlines by instigating bloody riots against James Meredith's brave attempts to integrate the University of Mississippi.
Many historians now agree that the blind absolutism of these powerful men of Dallas in the early 1960s has been discredited.
But here we are in 2013 and the echo is painfully clear:
The ad hominem attacks against a "socialist president." The howling broadcasters. The mega-rich men from Texas funding the political action campaigns. There is even another charismatic, Ivy-educated ideologue: Sen. Ted Cruz would have been quite comfortable in Dallas 1963.
In the days leading to Kennedy's fateful hour in Dallas, the city experienced one dark moment after another. Swastikas were plastered on the high-end emporium Neiman Marcus. A bomb threat was made during a visit by the Rev. Martin Luther King Jr. A cross was burned on the lawn of a Holocaust survivor. U.N. Ambassador Adlai E. Stevenson II, in town for a speech, fled for his life after being surrounded by a spitting mob.
It all occurred in a place where a few powerful people had marched far from the political center and erected a firewall against reasoned debate.
Fifty years after Kennedy's death, it is as if nothing has changed. As the nation continues to sift for meaning in his tragedy, this is the most aching lesson of all.
Bill Minutaglio is a University of Texas journalism professor and the author of "First Son: George W. Bush and the Bush Family Dynasty." He and Steven L. Davis are the authors of "Dallas 1963" (2013, Twelve Books), from which this article is adapted.