labor
MGM Vegas Casino Workers Approve Union Contract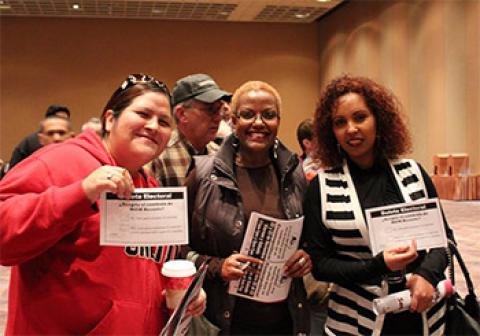 Culinary Union members vote,UNITE HERE
LAS VEGAS (AP) — Union workers at Las Vegas Strip casinos owned by MGM Resorts International overwhelmingly approved a five-year contract Wednesday that will affect some 26,000 waiters, bartenders, housekeepers and other employees and staves off fears of a strike at the resort giant.
The agreement, which keeps health benefit costs flat for union members and aims to bring back workers laid off from shuttered eateries during the recession, passed with about 97 percent approval from participating members of Culinary Union Local 226 and Bartenders Union Local 165.
"This contract protects our benefits and will help bring back jobs. It's a good contract," said Carlos Almazan, a kitchen steward at Mandalay Bay, in a statement. "I'm especially thankful to know my health care will be protected."

Wrapping up the deal is a major step for the Culinary Union, which counts MGM employees as about half of its 55,000-person membership. The contract covers about 21,000 union positions at Aria, Bellagio, Circus Circus, Slots A Fun, Excalibur, Luxor, Mandalay Bay, The Mirage, Monte Carlo and the New York-New York Hotel, while some of the terms would apply to about 5,000 additional workers at the MGM Grand Las Vegas, Signature and Vdara hotels.
MGM is the first Las Vegas company to settle with the union since contracts expired citywide June 1. Culinary is still in negotiations with all other casino companies except Wynn Resorts Ltd.; about 20,000 members still do not have a new agreement with their employers.
As part of the deal, MGM agreed to pay employees an extra 35 cents per hour in the first year of the contract. That rises to 50 cents in the second year and 55 cents in the third.
During the first year of the contract, the 35 cents will go toward the rising costs of a union-administered health benefits program. The growing amounts in future years may be absorbed entirely by the benefits program or could show up as increased take-home pay for workers, depending on whether the union's program can keep health care costs under control.
Amounts in the fourth and fifth years will be determined in further negotiations.
"It's a reflection of the economy," said MGM spokesman Gordon Absher, explaining why the last two years' amounts are undetermined. "We're sitting at the end of the largest recession any of us have ever experienced and we're trying to predict the future. We cannot anticipate what's going to happen in the future."
Another change adds more flexible scheduling in MGM's food and beverage sector, which has experienced business closures and shed 1,900 jobs. Under previous contracts, restaurants couldn't close for partial shifts but had to shut down for an entire shift when business lagged. New provisions allow shorter, longer and split shifts as needed.
"We need the flexible scheduling to make these outfits profitable," Absher said. "This is a really big step for both sides."
Among other provisions, the contract allows housekeepers extra time to clean trashed hotel rooms, raises tips at banquet events from 18 percent to 19 percent by mid-2017, and requires that the company give more advance notice when a worker's immigration papers are about to expire.
Representatives from the union and MGM described the discussions as long but successful.
"Both sides have crafted an agreement that, despite difficult economic times, addresses the needs of union workers and their families as well as those of the company," said Corey Sanders, MGM's chief operating officer, in a statement. "We believe that's what the unions and the company have achieved here: a smart contract, one that charts our company's future growth with the unions."