Media Bits & Bytes - Bay Area Blues edition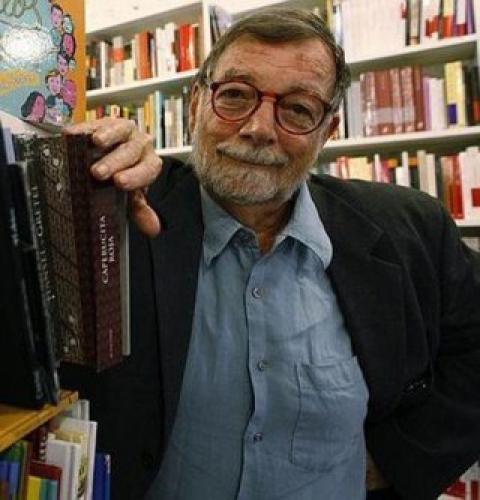 Andre Schiffrin, 1935-2013,Melville House
Hail & Farewell: Andre Schiffrin
by Dennis Johnson
December 2, 2013
Melville House blog
Andre Schiffrin would have been really pissed off by his obituary in the New York Times yesterday - although I can imagine him first chortling over the fact that the paper he criticized so vehemently for decades covered his death within scant hours, as if they couldn't wait to see him go.
And indeed, the Times piece does seem rather maniacally intent on getting across that ANDRE SCHIFFRIN WAS FIRED BECAUSE PANTHEON LOST MONEY, as opposed to detailing the remarkable and undeniably historic accomplishments of the man's life. It comes back to the claim again and again, in increasing awkwardness, barely mentioning a fabled career save for a quick listing of some of the authors he published: "Jean-Paul Sartre, Günter Grass, Studs Terkel, Michel Foucault, Simone de Beauvoir, Noam Chomsky, Julio Cortázar, Marguerite Duras, Roy Medvedev, Gunnar Myrdal, George Kennan, Anita Brookner, R. D. Laing and many others."

Backlash by the Bay: Tech Riches Alter a City
By Erica Goode and Claire Cain Miller
November 24, 2013
New York Times
If there was a tipping point, a moment that crystallized the anger building here toward the so-called technorati for driving up housing prices and threatening the city's bohemian identity, it came in response to a diatribe posted online in August by a young Internet entrepreneur.
The author, a start-up founder named Peter Shih, listed 10 things he hated about San Francisco. Homeless people, for example. And the "constantly PMSing" weather. And "girls who are obviously 4s and behave like they're 9s."
The backlash was immediate. Readers responded that what they hated about San Francisco were "entitled" technology workers like him.  But a nerve had been struck. As the center of the technology industry has moved north from Silicon Valley to San Francisco and the largess from tech companies has flowed into the city, income disparities have widened sharply, housing prices have soared and orange construction cranes dot the skyline. The tech workers have, rightly or wrongly, received the blame.
Oakland Moves Forward with Plans for Orwellian Surveillance Complex
From RT
November 21, 2013
Plans to finalize construction on a controversial high-tech surveillance hub in Oakland, California will continue as planned.  Lawmakers in Oakland voted 6-to-1 at the gathering to move forward with plans pertaining to the city's Domain Awareness Center (DAC), an all-seeing intelligence-analysis complex that when completed will link data captured by surveillance cameras, gunshot detectors, license plate readers, Geographic Information Systems mapping and social media feeds to provide law enforcement personnel and emergency responders with 24/7 access to seemingly all public activity within the town of 400,000.
The city intends on having the DAC fully operational by July 2014, much to the chagrin of privacy advocates who have campaigned adamantly in recent months to try and halt officials from moving forward with the project. This week, the City Council indicated they have no plans to let those who object to the DAC thwart its opening.
Publish or Perish: Academic Publishing Confronts its Digital Future
By Bret McCabe
September 10, 2013
Johns Hopkins Magazine
Project MUSE was created in 1995 as a collaboration between academic presses and research libraries, and it is one of the earliest online distribution platforms for academic content. Today, subscribing libraries have access to more than 580 titles from more than 200 worldwide academic publishers. In January 2012, MUSE partnered with the University Press e-book Consortium to launch the University Press Content Consortium, which provides a similar distribution model for e-books. By the end of 2013, 91 presses will be participating with the service.
Historically, academic presses publish books and monographs, which lose money, and journals, which make enough money to support the book/monograph enterprise. But those objects are artifacts of a different era.
NSA Infected 50,000 Computer Networks with Malicious Software
By Floor Boon, Steven Derix and Huib Modderkolk
November 23, 2013
NRC (Netherlands)
The American intelligence service - NSA - infected more than 50,000 computer networks worldwide with malicious software designed to steal sensitive information. Documents provided by former NSA-employee Edward Snowden and seen by this newspaper, prove this.
The NSA computer attacks are performed by a special department called TAO (Tailored Access Operations). Public sources show that this department employs more than a thousand hackers. As recently as August 2013, the Washington Post published articles about these NSA-TAO cyber operations. In these articles The Washington Post reported that the NSA installed an estimated 20,000 `implants' as early as 2008. By mid-2012 this number had more than doubled to 50,000.
Cyber operations are increasingly important for the NSA. Computer hacks are relatively inexpensive and provide the NSA with opportunities to obtain information that they otherwise would not have access to.
Turning to Public to Back Investigative Journalism
By Leslie Kaufman
December 1, 2013
New York Times
Uncoverage, a website that will be announced on Monday, will test whether the public cares enough about investigative journalism to pay for it. The site, to be at Uncoverage.com, will allow journalists and nonprofits to seek crowdsourced funding for both articles and topics like, for example, the Syrian war. Money for general topics will be split up among projects by the site's editors.
The nonprofit investigative group the Center for Public Integrity has signed on as a partner whose projects will be featured on the site.