Media Bits & Bytes - The Lazy and the Dead edition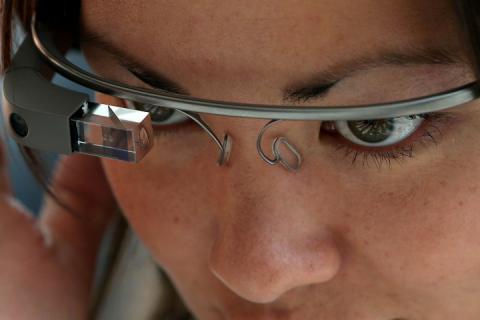 Google Glass, New York Post // Photo: Getty Images
Black Twitter: A Virtual Community Ready to Hashtag Out a Response to Cultural Issues
By Soraya Nadia McDonald
January 20, 2014
Washington Post
Black Twitter is part cultural force, cudgel, entertainment and refuge. It is its own society within Twitter, replete with inside jokes, slang and rules, centered on the interests of young blacks online - almost a quarter of all black Internet users are on Twitter.
There's no password. The only entry fee is knowledge. If you've spent time steeped in black culture, whether at a historically black college or university or in the company of friends or family, you will probably understand the references on Black Twitter.
The Tyranny and Lethargy of the Times Editorial Page
By Ken Kurson
February 4, 2014
New York Observer
IT'S WELL KNOWN AMONG THE SMALL WORLD of people who pay attention to such things that the liberal-leaning reporters at The Wall Street Journal resent the conservative-leaning editorial page of The Wall Street Journal. What's less well known-and about to break into the open, threatening the very fabric of the institution-is how deeply the liberal-leaning reporters at The New York Times resent the liberal-leaning editorial page of The New York Times.
One current Times staffer told The Observer, "Tom Friedman is an embarrassment. I mean there are multiple blogs and Tumblrs and Twitter feeds that exist solely to make fun of his sort of blowhardy bullshit." (Gawker has been particularly hard on Mr. Friedman, with Hamilton Nolan memorably skewering him in a column entitled "Tom Friedman Travels the World to Find Incredibly Uninteresting Platitudes," as a "mustachioed soothsaying simpleton"; another column was titled "Tom Friedman Does Not Know What's Happening Here," and the @firetomfriedman Twitter account has more than 1,800 followers.)
Knight Foundation, Investigative News Network Supports Nonprofit News with Micro-grants
By Alan Krawitz
February 3, 2014
10,000 Words blog/Mediabistro
If not for enterprising and investigative-minded journalists, the recent George Washington Bridge lane closure scandal in New Jersey might never have been brought to light.
Same goes for that stubborn NY1 reporter, whose recent relentless questioning of Staten Island Congressman Michael Grimm about campaign finance irregularities led to an on-air blowup that revealed the congressman as something of a bully. In short, we need even more and better investigative reporting to keep government, organizations and businesses honest.
That's why it's heartening to report that the Knight Foundation, this time in partnership with the Investigative News Network, is stepping up once again by way of its INNovation Fund to provide $1 million to support about 30 projects during the next two years with micro-grants of up to $35,000.
The basic mission of the fund is to encourage innovation and experimentation in nonprofit news and public media organizations. Founded in 2009, the INN is a nonprofit collaborative organization comprised of more than 90 nonprofit investigative journalism outlets. The INN will select fund recipients as well as handle the management of the overall program.
NYPD Testing Google Glass as Potential Crime Fighting Tool
By Jamie Schram and Daniel Prendergast
February 6, 2014
New York Post
The NYPD is taking a page out of the RoboCop playbook - outfitting cops with Google Glass so a suspect's life story can flash right before their eyes, law enforcement sources told The Post. Department bosses bought a few pairs of the futuristic eyewear and are beta testing them with the hopes of using them out in the field.
The high-tech glasses - which integrate a computerized interface into the wearer's field of vision - could allow cops to instantly see a suspect's arrest record, mugshot and other key information.
"If it works, it could be very beneficial for a cop on patrol who walks into a building with these glasses on," the source said. "It would be like the Terminator. You walk past somebody and you get his pedigree info if he's wanted for a warrant right on your eye screen.
"You can identify the bad guys immediately within seconds."
By Frank Rich
January 26, 2014
New York Magazine
In truth, Fox News has been defeated on the media battlefield-and on the political battlefield as well. Even the 73-year-old wizard of Fox, Roger Ailes, now in full Lear-raging-on-the-heath mode as portrayed in my colleague Gabriel Sherman's definitive new biography,  The Loudest Voice in the Room, seems to sense the waning of his power. The only people who seem not to know or accept Fox's decline, besides its own audience, are liberals, including Barack Obama, whose White House mounted a short-lived, pointless freeze-out of Fox News in 2009, and who convinced himself that the network has shaved five points off his approval rating.