labor
Labor Long Intertwined with Civil Rights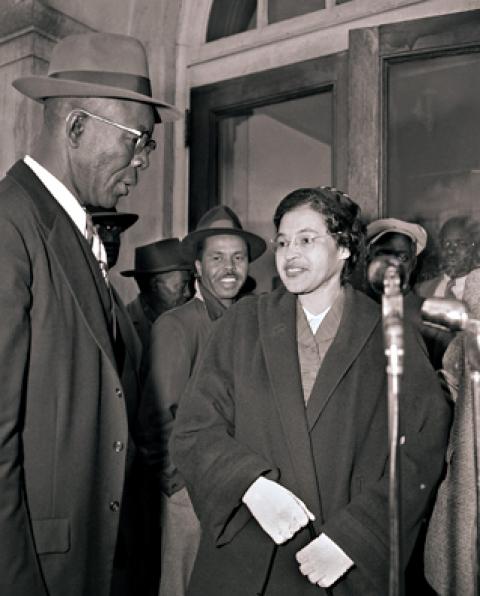 E.D. Nixon, a member of the porters union and former president of the Alabama NAACP, helped organize the 1955-56 Montgomery bus boycott in Alabama. Here, Nixon is with Rosa Parks, who initiated the boycott.,Associated Press
The black labor movement continues to build its legacy, decades after it helped lead the push for civil rights reforms, experts say.
The percentage of white workers in unions has declined in recent years, making black workers more important to labor groups. In 2012, more than 13% of all black workers were in a union, compared with 11% of non-black workers, according to the University of California-Berkeley Labor Center.
As service workers such as McDonald's and Walmart employees, many of them black, fight for better working conditions, it's worth noting that generations of black workers have been down this road before. In the past, though, they were more likely to be affiliated with industrial unions, says Heather Thompson, a Temple University history professor who studies labor movements.
"Black workers are just as determined today as they were decades ago to unionize," Thompson says. "This remains the place where some of the most exciting organizing still goes on."
In the 20th century, industrial laborers in groups such as the United Auto Workers pushed for more leadership positions and a chance for advancement into skilled jobs that paid more, Thompson says. Blacks had historically been relegated to the worst jobs, including those on assembly lines and in toxic paint shops and cement rooms. It was the kind of work that whites left the moment they had enough seniority.
Though the unions held themselves up as civil rights advocates, Thompson says white workers often saw their black counterparts as a threat because they competed for the same jobs. In response, she says, black workers formed coalitions to change unions from within. The Coalition of Black Trade Unionists, for example, was founded in 1972.
"When it was formed, 1,200 black union members met in Chicago to talk about the importance of blacks in the labor movement," Thompson says.
Membership in unions such as the UAW has always been integrated, even as overt racism existed within the groups. The father and grandfather of Clayborne Carson, a Stanford University history professor, struggled for equal opportunity as UAW members. Detroit auto companies helped divide workers by hiring blacks from Southern states to replace white union members, he says.
"The biggest task within the UAW was to bring white and black workers together who didn't trust each other," says Carson, director of Stanford's Martin Luther King Jr. Research and Education Institute. "That struggle probably continues today, making sure that the hiring process and promotion process is fair."
One union stood out when it came to opportunity and access for black workers: the Brotherhood of Sleeping Car Porters, the only major union with a significantly black membership.
The porters union's power waned by the late 1960s because automobiles and airplanes replaced trains as preferred ways to travel — but not before the union helped spark the civil rights movement. E.D. Nixon, a member of the porters union, helped organize the 1955-56 Montgomery bus boycott in Alabama.
"That's one thing that allowed (Martin Luther) King to be a national figure rather than a local protest figure," Carson says. "There probably would not have been a Montgomery bus boycott if not for E.D. Nixon and the support from the Brotherhood of Sleeping Car Porters."
Nixon would later recall the influence of the porters union and its founder, A. Philip Randolph: "Nobody in all my years influenced me or made me feel like A. Philip Randolph did," he said in an interview archived by the Stanford institute.
Randolph first pushed for a civil rights march on Washington in 1941. He led efforts to organize the march more than two decades later, in 1963.
King often acknowledged labor's role in his work. On Dec. 11, 1961, he told AFL-CIO members, "Our needs are identical with labor's needs: decent wages, fair working conditions, livable housing, old-age security, health and welfare measures, conditions in which families can grow, have education for their children, and respect in the community."
When King was assassinated in 1968, he was in Memphis to support an estimated 1,300 striking sanitation workers — all of them black, Thompson says.
Despite progress, Thompson says African Americans continue to struggle to achieve economic equality. The unemployment rate among blacks has been about twice that of whites for the past 50 years, according to the Bureau of Labor Statistics. Blacks have an unemployment rate of about 12% now, compared with about 6% for whites and 6.7% for the overall population.
"It's kind of a consistent story of constantly struggling to unionize," Thompson said.