High Minimum Wage Equals Jobs Growth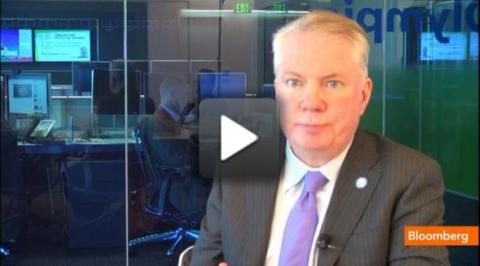 Seattle Mayor Ed Murray speaks about proposals to raise the minimum wage to $15 an hour in the city. He spoke with reporters and editors in Bloomberg's Seattle bureau on Feb. 25. ,Source: Bloomberg
When Washington residents voted in 1998 to raise the state's minimum wage and link it to the cost of living, opponents warned the measure would be a job-killer. The prediction hasn't been borne out.
In the 15 years that followed, the state's minimum wage climbed to $9.32 -- the highest in the country. Meanwhile job growth continued at an average 0.8 percent annual pace, 0.3 percentage point above the national rate. Payrolls at Washington's restaurants and bars, portrayed as particularly vulnerable to higher wage costs, expanded by 21 percent. Poverty has trailed the U.S. level for at least seven years.
The debate is replaying on a national scale as Democrats led by President Barack Obama push for an increase in the $7.25-an-hour federal minimum, while opponents argue a raise would hurt those it's intended to help by axing jobs for the lowest-skilled. Even if that proves true, Washington's example shows that any such effects aren't big enough to throw its economy and labor market off the tracks.
"It's hard to see that the state of Washington has paid a heavy penalty for having a higher minimum wage than the rest of the country," said Gary Burtless, an economist at Brookings Institution who formerly was at the U.S. Labor Department.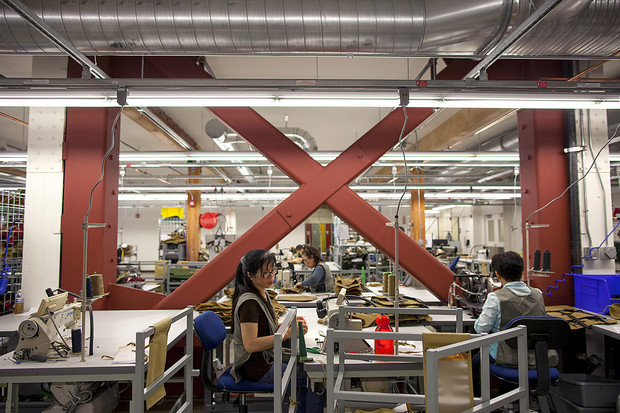 Employees at the Filson Co. production facility in Seattle, Washington, on June 13, 2013.
(Photographer: Mike Kane/Bloomberg)
Costs, Benefits
Raising the U.S. minimum wage to $10.10 in three steps, as Obama proposes, would reduce employment nationally by about 500,000 workers, or about 0.3 percent, according to a Congressional Budget Office report published Feb. 18. At the same time, the increase would lift 900,000 people out of poverty and add $31 billion to the earnings of low-wage Americans, the report found.
While debate persists on the employment effect, "CBO is as qualified as anyone to evaluate that literature, and I wouldn't argue with their assessment," Federal Reserve Chair Janet Yellen said Feb. 27 to the Senate Banking Committee.
Looking past the effect on jobs, increasing the minimum hourly wage to $10.10 would also reduce food stamp expenditures by about 6 percent, or nearly $4.6 billion a year, according to a report today from the Center for American Progress. The Washington-based research institute, which was founded by Obama adviser John Podesta, released its report as the president reiterated his call for a higher wage floor.
Washington voters in November 1998 approved increasing the state's minimum wage in two stages to $6.50 and tying future annual changes to inflation as measured by the consumer price index.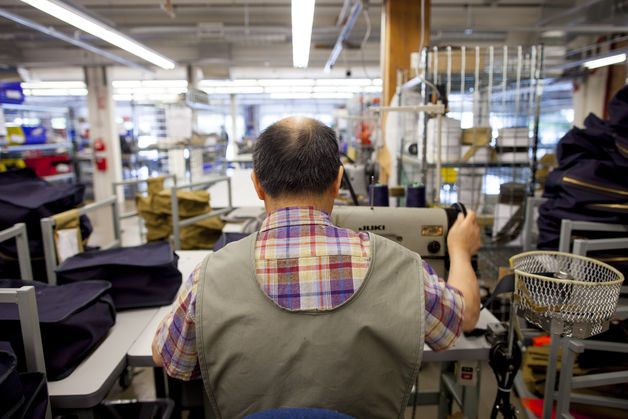 Employee Chinh To clean finishes the inside of luggage at the Filson Co. production.
(Photographer: Mike Kane/Bloomberg) 
Groups representing retailers, restaurants and hotels opposed the measure, according to a voters pamphlet on the 1998 election published by Washington's Office of the Secretary of State. Employment in those industries has increased in the state of Washington since then, Labor Department data show.
Shock Absorbers
One possible explanation: Businesses have plenty of ways besides job cuts to absorb the costs of a minimum-wage increase, according to Arindrajit Dube, an economist at the University of Massachusetts at Amherst, whose research found no significant effects on employment. Price increases, reductions in profits and savings from lower turnover can help soak up the shock.
"When you put all of these together, then the finding that moderate increases in minimum wages do not appear to have much of an effect on employment is less surprising," Dube said in an interview.
Not everyone buys that argument. Minimum-wage laws not only reduce employment opportunities and earnings for low-wage workers, they also reduce demand for their labor as it's replaced by other forms of capital, according to research published in 2008 by David Neumark, an economist at the University of California at Irvine, and William Wascher, an economist at the Federal Reserve Board of Governors in Washington.
Boehner, Reid
The federal minimum-wage legislation is opposed by business groups such as the National Retail Federation, along with many Republicans, including House Speaker John Boehner of Ohio.
In the Democratic-controlled Senate, Majority Leader Harry Reid of Nevada on Feb. 25 postponed a vote on the legislation, a centerpiece of the party's election-year focus on income inequality. The delay until senators return March 24 from a week-long break gives labor unions more time to organize support for the proposal, said a Senate Democratic leadership aide who requested anonymity to discuss strategy.
Gridlock in Congress may mean the debate is waged more immediately by states and cities instead of at the federal level.
State Minimums
As of January, 21 states and the District of Columbia had a higher minimum wage than the federal floor. Cities including San Francisco and Santa Fe, New Mexico, require even higher hourly earnings than the proposed federal level, at $10.74 and $10.66 respectively.
New Jersey voters in November approved increasing the minimum wage by $1 an hour to $8.25, tying future increases to the consumer price index. In January, after the raise took effect, private employers added 8,320 jobs in New Jersey, according to ADP Research Institute. That was the fastest pace of job growth since December 2012.
Raising Prices
Joe Olivo, the chief executive officer of Perfect Printing, a Moorestown, New Jersey, company that makes materials such as marketing brochures for businesses, was among those who opposed the state's minimum-wage increase. Since it began, he hasn't cut his 48-person staff. Instead, he's looking to pass on the costs by raising prices, a step that he said could impede his business's ability to grow and hire in the future.
"If I am losing work and I have less money to grow, what good does it do for those employees that are looking for future work?" said Olivo, 47. "The people that are looking for jobs find it harder."
Those kinds of long-term costs leave economists including Charles Brown undecided in the debate. Brown is a professor of economics at the University of Michigan in Ann Arbor who reviewed the CBO's analytical approach.
"The report does a very careful job of trying to make the best use of the available literature," Brown said in an interview. "If I balance short-run gains against short-run losses, this looks like a reasonable thing to do. The problem is, we don't have a good handle on how large those long-run effects are likely to be."
$15 Minimum
Washington's relatively benign experience with a higher minimum has encouraged some communities in the state to push for even more.
SeaTac, Washington, a Seattle suburb where the major employer is the region's international airport, voted in November to raise the hourly minimum by more than 60 percent to $15 for 6,300 people who work at the airport, hotels and nearby businesses.
Companies including parking lot operator MasterPark LLC had said the higher pay might lead to job losses. Since it passed, 140 MasterPark employees have received raises and the company hasn't cut jobs because that might compromise service, managing partner Roger McCracken said.
"we're in the valet business -- that means employees," he said. Instead, the company responded by tacking on a 50-cent daily "living-wage surcharge" to prices.
Seattle's Mayor
Now, Seattle Mayor Ed Murray, a Democrat elected in November, is following SeaTac's lead as he also promotes raising the city's minimum to $15. A task force of business and labor representatives, advised by academics from the University of California at Berkeley and the University of Washington in Seattle, is meeting monthly and hopes to produce a proposal in April, Murray said in an interview.
The Seattle-Tacoma-Bellevue metropolitan area ranks 14th in a list compiled by Bloomberg of 50 cities where it's hard for fast-food workers to gain upward mobility, based on median pay compared with rent, tuition and health-care costs. Advocates such as Murray say a higher minimum would help change that.
"We can't rebuild this economy if it's just people who buy 94-foot yachts and play in the derivatives," Murray said. "You build an economy when a middle class is buying microwaves or flat-screen TVs or the next set of clothes for their kids."
[To contact the reporters on this story: Victoria Stilwell in Washington at vstilwell1@bloomberg.net; Peter Robison in Seattle at robison@bloomberg.net; William Selway in Washington at wselway@bloomberg.net
To contact the editor responsible for this story: Carlos Torres at ctorres2@bloomberg.net ]