Media Bits & Bytes - Urge to Merge edition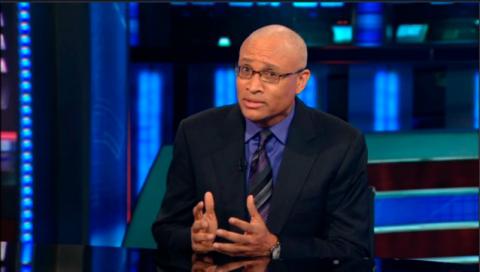 Larry Wilmore making his patented "let me patiently explain racism to white people" face,CREDIT: Screenshot from The Daily Show // Think Progress
Sen. Al Franken: Media Mega-Mergers and FCC Rollback of Net Neutrality Threaten Democracy
By Amy Goodman and Aaron Matè
May 20, 2014
Democracy Now!
Major developments in recent days could shape the nation's media landscape for years to come. Last week, the Federal Communications Commission advanced a proposal that critics say threatens net neutrality, the concept of a free and open Internet. The new rules could allow Internet "fast lanes" where companies pay providers for faster access to consumers. That sparked a wave of protest from opponents who say the rules hand too much power to the major companies who can afford to shell out, consolidating their control at the expense of smaller competitors and consumers' monthly bills. Similar concerns have been raised about a merger deal struck over the weekend. The telecom giant AT&T has agreed to buy satellite television operator DirecTV in a nearly $50 billion deal. The move comes just months after Comcast announced plans to merge with Time Warner Cable. We are joined by one of the leading voices on Capitol Hill challenging media consolidation, Democratic Sen. Al Franken of Minnesota.

Why the death of net neutrality would be a disaster for libraries
By Andrea Peterson
May 16, 2014
Washington Post
One of the big questions that gets left unasked in the debate between Silicon Valley and the big ISPs is the bigger issue about how this affects the public interest and public institutions. This has not been addressed in the debate on net neutrality through the years: What are the costs to public libraries, to state colleges, to K-12 schools, to local governments and other not-for-profit organizations that provide significant public services?
And what we as librarians and as educators in our communities see is that subtle differences in these speeds can make a great difference in how a user receives and uses the information. Even slight slowdowns will have an impact and can potentially limit public access to public schools, to public libraries, to public education.
NPR To End 'Tell Me More,' Eliminate 28 Positions
By David Folkenflik
May 20, 2014
NPR
Tell Me More's demise is the third for programs expressly designed to have a primary appeal for African-American listeners and other people of color. Tavis Smiley took his show to a rival public broadcaster after clashes with NPR brass over how much money the network spent to market his program, and News and Notes went off the air in 2009. In an interview after the news was announced, host Michel Martin sounded shaken, saying her program had exceeded expectations in terms of the number of stations carrying it and had drawn a more diverse audience to NPR.
"To be honest with you, I think we've been casualties of executive churn," Martin said. "Every CEO who has been at this network since I've been here - and how many are there now? Six? Seven? - all of them have supported this program, but none of them have stayed around long enough to institutionalize that support."
Whistleblower Says Dean Baquet Had A 'Lame Excuse' For Killing NSA Story
By Ryan Buxton
May 19, 2014
Huffington Post
Days after Glenn Greenwald blasted Dean Baquet for being "subservient to the American national security state," a man who blew the whistle on AT&T told HuffPost Live about his own experience with what he described as Baquet's reluctance to publish damning information about the government. Back in 2006, former AT&T employee Mark Klein revealed information that proved the communications giant was allowing the NSA to monitor Internet traffic "without any regard for the Fourth Amendment." Klein initially brought the story to The Los Angeles Times, but it never made it to print under Baquet, who recently replaced the fired Jill Abramson as executive editor of The New York Times.
Meet Comedy Central's New Host, Larry Wilmore, In 5 Very Funny `Daily Show' Clips
By Jessica Goldstein
May 12, 2014
ThinkProgress
Larry Wilmore, The Daily Show's "Senior Black Correspondent," will be getting a show of his very own. The Minority Report With Larry Wilmore will air during Stephen Colbert's old timeslot when Colbert takes over for Letterman on The Late Show in 2015. According to Comedy Central, Minority Report, created by Jon Stewart, will aim to bring some much-needed non-white voices onto the late night scene: expect "a comedic look at news, current events and pop culture from unique perspectives not typically on display in late night television."
As Jill Abramson exits the NY Times, a look at how women are faring in newsrooms
By Monica Anderson
May 16, 2014
FactTank/Pew Research Center
Our data analysis finds that overall there has been little significant change in the share of women newsroom employees and news managers in recent years. Female journalists are generally paid less than their male counterparts, an issue that may have played a role in Abramson's exit, according to some media accounts, although the New York Times has denied that.
In the past 15 years, the percentage of women who work in newspaper newsrooms has barely budged. Women made up 36% of all newspaper staff in 2012 (the last year for which data are available), nearly unchanged from 37% in 1998, according to The American Society of News Editors' annual census.