labor
New York City Teachers Vote for Raise and a Nine-Year Contract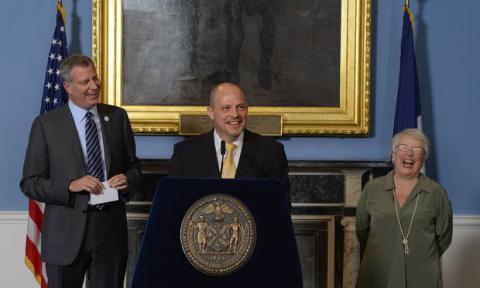 United Federation of Teachers President Michael Mulgrew, New York City Mayor Bill de Blasio and and Schools Chancellor Carmen Farina announce the deal for a 9-year contract on May 1.,www.wnyc.org
New York City teachers have approved a nine-year labor contract, their union announced on Tuesday, a deal that raises pay by 18 percent but leaves questions about the future of their health benefits.
The agreement, which includes billions of dollars in back pay, is likely to set the standard for several other municipal unions that, like the teachers' union, were left without contracts in the final years of Mayor Michael R. Bloomberg's administration.
The contract, brokered between city and union officials, passed with more than 77 percent of the roughly 90,000 votes cast, union officials announced Tuesday night. Michael F. Mulgrew, the president of the United Federation of Teachers, spent the last month lobbying hard for his members to accept the deal, saying it was the best they could expect.
He faced the most skepticism over two facets of the deal: that the retroactive raises, which total about 8 percent, would be paid out over several years, instead of immediately; and that it promised to reduce health care costs by $1.3 billion. The union said that it could reach that goal by finding more efficient ways to deliver care.
But many teachers said they worried about a provision in the contract that could require them to contribute to their premiums for the first time should the savings come up short.
But few expected the deal would be voted down. The union has rejected a contract only once before, in 1995, when they were asked to accept a two-year wage freeze. After some modifications, teachers approved that deal.
On this contract, teachers mostly agreed with Mr. Mulgrew that this was the best they could get. Some who voted yes also described it as an embrace of Mayor Bill de Blasio, whom they consider friendlier to labor than Mr. Bloomberg, whose emphasis on test scores and pay freezes had raised their ire.
"The last mayor was not very pro-teacher and wasn't interested in our well being," said Suzette Freedman, a third-grade teacher at Public School 75, on Manhattan's Upper West Side, who voted for the contract. "There's not really another option," Ms. Freedman, in her 24th year of teaching, said of her yes vote. "You better be pro-contract."
A fourth-grade teacher at the school, Elizabeth Jarrett, said she voted no, as a sort of protest, because there seemed to be so many outstanding questions, particularly about the financing. "But do I think we're going to get anything better?" she said. "Absolutely not."
The financial aspects of the deal also worried some observers, including Moody's, the bond-rating agency, which warned that the uncertainty over the health savings could imperil city budgets. The city comptroller also questioned whether the de Blasio administration had undercalculated some costs of the contract.
The results of the vote were tabulated by the American Arbitration Association, which collected anonymous ballots that had been distributed to 106,000 unionized workers, including 80,000 teachers.
"We are going to help good educators stay and grow in this profession, and usher real reform that will lift up kids across the whole system," the mayor said in a statement after the results were announced. "At the same time, we are securing unprecedented health care savings, which make this a fiscally responsible contract that protects our budgets and our taxpayers."
The contract holds the workday to 6 hours and 20 minutes, and raises the starting salary to $56,709 by the end of the contract, from $45,530, the union said. It raises the top salary to $119,471 from $100,049. Teachers nominated by principals to be mentors for other teachers are eligible for bonuses of $7,500 to $20,000.
The contract allows some schools, with teachers' consent, to adopt more flexible work rules, an attempt to mimic successful charter schools. It also replaces time set aside for tutoring struggling students with time for more teacher training and parent-teacher communication, a change the administration says will improve student and teacher performance over all. It will also give the Department of Education more authority to fire some of the 1,200 teachers who draw full salaries but have no permanent positions, from the so-called absent teacher reserve, the bulk of whom are casualties of the Bloomberg era's moves to close and reorganize schools.
"The new agreement gives teachers and parents a larger voice in how their schools are run, and how they can better serve their students," Mr. Mulgrew said in a statement Tuesday. "We now have to work together — teachers, parents and the D.O.E. — to make these innovations successful."
In its review of the contract, Educators 4 Excellence, an advocacy group of teachers that often was aligned with the Bloomberg administration's goals, gave the contract a barely passing grade and said it "overlooked several critical issues," such as class sizes and a tenure-granting process that the group believes ought to be more closely linked to teacher performance.
Still, the review said, the contract "leaves room for optimism," for a work force thirsty for a new deal.