labor
TUC LBGT Makes a Stand Against Harassment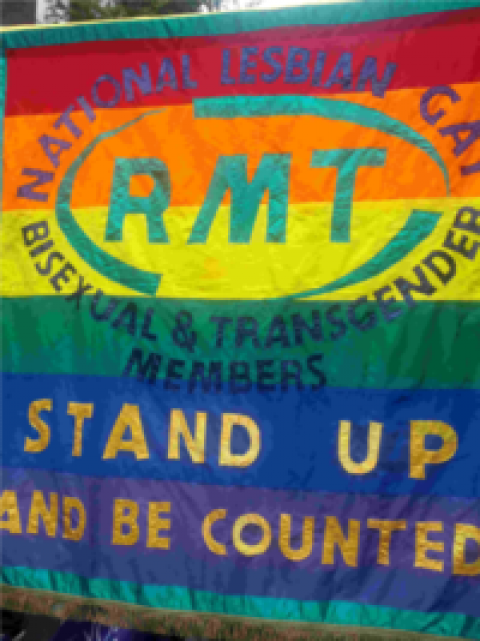 RMT Stand Up Banner, Submitted by rmtlondon on 8 July, 2013
Trade unionists took a stand against homophobic slurs yesterday as a study showed how workplace harassment was still commonplace for LGBT workers in Britain.  Delegates to the TUC LGBT conference heard how research by Manchester and Plymouth universities found that one in three bisexual people were still regularly bullied at work.   Opening this year's event, TUC assistant general secretary Paul Nowak said: "We know that LGBT workers are two and a half times more likely to face workplace bullying and discrimination and that hate crime remains a huge problem." 
First-time Unison delegate Jo Beill told conference about her own daunting experience, coming out as bisexual and being the victim of persistent sexual pestering from a male colleague.  "Bullying and harassment is still endemic in workplaces," she said.  The conference had the opportunity to vote on two motions around the impact of prejudiced language and lack of understanding of homophobic behaviour in public spaces. 
Delegates from teachers' unions spoke at length on the consequences using the word "gay" as a derogatory term in schools.   Association of Teachers and Lecturers delegate Vincent Usher added how "seemingly harmless ignorance and well-meaning, narrow-minded attitudes" can also often cause much damage. 
Comparing homosexuality to a traumatic upbringing, for example, was helping spread misunderstandings about being gay, said Mr Usher who was asked to mentor a child with a violent family history because they had "much in common."   Mr Usher's family, in comparison, had always been supportive of his life choices and sexuality.  National Union of Teachers representatives also commented on he need for further staff training. 
One of the union's first time speakers Matt Evans told of how his presentation on gay rights was cancelled by the school's headteacher after someone complained Mr Evans was trying to "convert students."  Recounting how his story had a happy ending, Mr Evans said that once he confronted school management with the Equal Rights Act he conducted sessions with both staff and students.  But "prejudice and ignorance continue to scar the lives of far too many people," Mr Nowak told conference. 
The odds on fighting back against bigotry have been shortened by the government's incessant cuts to legal aid and changes to employment tribunal fees. " Thousands of LGBT workers are having to suffer in silence, priced out of justice," he concluded.