Global Left Midweek - January 13, 2021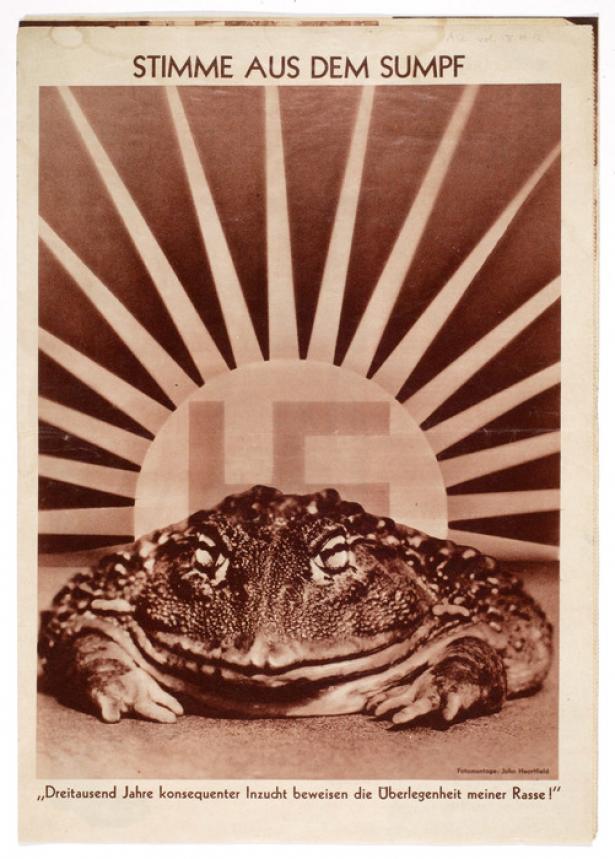 "Voice From the Swamp!" A photomontage from Arbeiter-Illustrierte-Zeitung, published in exile in 1936. Credit,John Heartfield, International Center of Photography
In light of the events of January 6, Global Left Midweek is breaking from format to share some articles that take on the danger of fascism as a political movement worldwide. We also feature two important new essays, one a warning, one a forecast. – Portside moderator
__________
Walden Bello, Amy Goodman and Juan Gonzáles: Weimar America

Democracy Now! (New York)
This is the end of American exceptionalism. Since the demographic balance is going against the white population, since the political balance is going against the Republican Party, the political, electoral weight is shifting over to the left, to the broad left, to this coalition of progressives, liberals and minorities. Expect more street warfare being waged by the right.
__________
Valerio Arcary: Jair Bolsonaro's Neo-Fascism
Brasil de Fato (São Paulo)
During Brazil's electoral process, Bolsonaro used a rental political party which he later discarded. This organic deficiency was compensated by the radicalization into fascism of a mass political movement, which has its biggest following online. 
__________
Basav Sen: Narendra Modi and the New Axis
Foreign Policy in Focus (Washington DC)
The Trump-Modi friendship is about a shared far-right ideology. The U.S. and India are part of a growing number of authoritarian far-right governments in the world, whose members include Brazil, the Philippines, Hungary, and more.
__________
Georgios Samaras: Bringing Down Golden Dawn
The Conversation (Waltham MA)
It is important to recognise the years of antifascist activism in Greece, during Golden Dawn's rise. It was a fight that, at times, seemed like a lost cause. Democracy managed to pass an important test in the prosecution and sentencing of this criminal organisation. 
__________
Frances O'Grady: Unions Resist
LabourList (London)
We must leverage our industrial power to tackle the influence of the far-right in the workplace. That's why the TUC and Unite, alongside our sister German unions DGB and IG Metall, are developing a programme of practical workplace action to counter the far-right, working with companies that have sites in both the UK and Germany.
__________
Mariano Aguirre: Trumpism and Global Authoritarianism
openDemocracy (London)
Trump has generated a paradigm, a far-right ideological frame of reference that, at the same time, is part of a global authoritarian trend in the discrediting of democracy and attack on inclusive societies.
__________
Samir Gandesha: Posthuman Fascism
Los Angeles Review of Books
The pandemic has constituted an opening for a further authoritarian consolidation of power built around extractivism, endocolonization, and human beings actually becoming superfluous.
__________
Ugo Palheta: Fascism, Fascisation, Antifascism
Historical Materialism (London)
The challenge for antifascism is not simply to forge alliances with activists of other causes that leave each partner unchanged, but to redefine and enrich antifascism from the perspectives that emerge within the trade-union, anti-capitalist, anti-racist, feminist or ecological struggles, while nourishing the latter with antifascist perspectives. 
__________
Warning From Chomsky and Prashad
Asia Times (Hong Kong)
Nuclear annihilation and extinction by climate catastrophe are twin threats to the planet. Meanwhile, for victims of the neoliberal assault, the short-term problems of sustaining their mere existence displace fundamental questions about the fate of our children and grandchildren. Global problems of this scale require global cooperation.
__________
Alain Badiou: Planetary Movementism
Verso Books (London)
We are in a world awash with mass mobilisations and assemblies. In this general conjuncture, there is a widely shared conviction that significant popular assemblies will achieve a change in the situation, from Hong Kong to Algiers, Iran to France, Egypt to California, Mali to Brazil, India to Poland, as well as in many other places and countries.