labor
Atlantic City Workers Stunned As Casino Economy Begins to Crash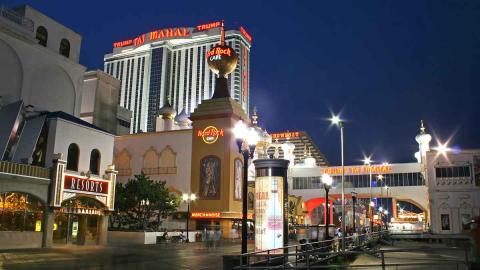 Atlantic City at night, Shutterstock file photo
More than 1,000 workers at Atlantic City's Trump Plaza received notices July 14 that the hotel-casino planned to close its doors in just 65 days, eliminating all of their jobs. The news was not unexpected, though that fact doesn't make it any easier to handle for the workers whose livelihoods depend on a local gambling economy in danger of an historic crash.
"It's not surprising. A lot of people knew that eventually a shakeout would come," says James Karmel, an author, college professor and consultant who has studied Atlantic City closely. The city's gambling industry "is just not sustainable in its current form," he says, mainly because newer casinos in Pennsylvania, New York, Maryland and elsewhere are luring New Jersey's gambling customers away. Total annual gaming revenue has crashed, Karmel says, from an all-time peak of $5.2 billion in 2006 to $2.9 billion last year.
Indeed, the Trump Plaza is not the first local casino to close due to the crash, nor is it expected to be the last. Early this year, the Atlantic Club Casino Hotel closed, resulting in the loss of 1,600 jobs. Caesars Entertainment Corporation-owned Showboat Atlantic City has already announced that it expects to close Aug. 31, eliminating the jobs of another 2,100 workers. And the Revel Casino Hotel, currently employing about 3,000 workers, is currently in bankruptcy court, and is said to be in danger of closing before the end of the year.
Bob McDevitt, President of UNITE HERE Local 54, the city's largest casino union, tells Working In These Times that a total of about 7,000 Atlantic City workers have received WARN notices, or job loss notifications, from their employers. "That's about 1 in 4 casino workers. ...We don't think that all of these will actually lose their jobs. The obituaries for Atlantic City are way premature," he says.
UNITE HERE Local 54 is the largest of the unions on the historic Atlantic City Boardwalk, which currently has 11 large casinos. Other unions with contracts at local gambling establishments include the International Brotherhood of Teamsters, International Union of Operating Engineers, International Union of Painters and Allied Trades, United Brotherhood of Carpenters and Joiners of America, International Alliance of Theatrical Stage Employees and United Auto Workers. Most of these unions are active in an informal alliance organized by the New Jersey State AFL-CIO, which has been active on casino workers' issues.
Karmel agrees with McDevitt that obituaries are premature, but nevertheless says that it is unlikely that local unions or political leaders can do much to revive the flagging casino business. Atlantic City's gambling dens thrived when nearby Mid-Atlantic and New England states sharply restricted legal gambling, he says. But Pennsylvania, New York, Maryland, Massachusetts and Delaware have legalized casino gambling within their borders in recent years, and the competition has taken a brutal toll on Atlantic City. And it only promises to get more intense in the future, Karmel adds, with new casinos set to open in Maryland in the next two years, and a major expansion also planned in New York.
Atlantic City needs to diversify its economy away from casinos if it wants to continue attracting large numbers of visitors, Karmel says. "Atlantic City went has been through boom and bust cycles before. Years ago, before gambling, it was a huge beach resort. That declined and they came up with the idea of legalized gaming to revive it. Now that gaming is in decline, they need some new ideas if they want to prevent Atlantic City from going into decline again," he says.
McDevitt agrees, adding a sharp note of criticism of many of the current casino operators. Caesars Entertainment Corporation, for example, has been "lazy" in developing its four different casinos in the city, he says, without planning for the future. Declines in gambling revenue have been predicted for years, he says, so none of the recent developments should have been a surprise. Furthermore, the company is in a rush to contract in Atlantic City, and is threatening to close the Showboat even as that particular property continues to be profitable.
A second union leader—who asked not be named because his union is in delicate contract negotiations—was also critical of Caesars. The Showboat is strongly profitable, he asserts, and is only suffering in competition with other Caesars-owned gambling properties. "Caesars have three other casinos in Atlantic City besides the Showboat. How can they complain about competition when they are competing against themselves?" he asks.
Local unions are eager to see Atlantic City diversify its visitor base, particularly through greater efforts to attract conventions, McDevitt says. Las Vegas has been successful using this strategy, he says, and Nevada gambling capital is far less dependent on gambling revenues than it was 10 years ago. "At the end of the day, Local 54 is a community organization. So it's [the decline of gambling], not a Local 54 problem, but a community problem. ... Nobody wants to hear the Wall Street bullshit that 'there is nothing we can do.' There is plenty we can do."
Atlantic City unions intend to call on New Jersey elected officials to play an active role in preventing massive job losses, McDevitt adds. The Trump Plaza has been for sale for a while, he says, and there were widespread local reports last year that there was a buyer in hand. But no deal was consummated, leading to the closure announcement last week, he says. "In a case like this, it makes perfect sense for the state to step in and force a sale. If Trump cannot, or will not, keep the casino open, the state has every right to force them to sell to somebody who can," he says. Similar sales ought to be forced in other cases where the current owners are unable to continue operations, McDevitt says.
McDevitt says that UNITE HERE Local 54 is geared up to fight casino closures, and has strong alliances with other unions and elected officials to insure the continued vitality of Atlantic City. Local 54 has already suffered some memberships losses (he estimates current membership at around 12,000, down from a high of about 15,500) but the union can continue to thrive even in a less vibrant local casino economy, he says. "Atlantic City still has a lot going for it and it is going to continue to be a major gaming destination. We just need to add to the mix."