The Ravages of War in Gaza - Humanitarian and Environmental Crisis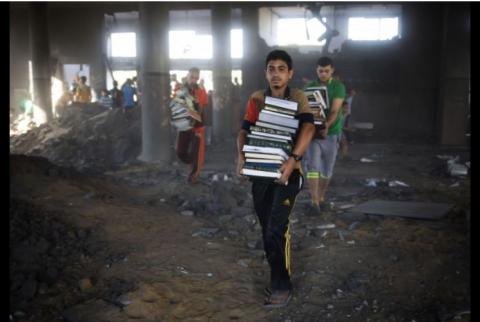 Palestinians carry religious books they salvaged from the Martyr Imam Hassan al-Banna mosque in the Zeitoun neighborhood in Gaza City after it was hit by an Israeli airstrike. (Aug. 9, 2014 ).,Dusan Vranic/AP // Washington Post
Month-long War in Gaza has Left a Humanitarian and Environmental Crisis
By Sudarsan Raghavan
August 6, 2014
Washington Post
RAFAH, GAZA STRIP - Everywhere you look there is destruction: mosques, factories, schools, hospitals, universities and thousands of houses, many shattered into piles of bricks, glass and metal. Roads mangled by military tanks and bulldozers. Cities without electricity, pitch black at night. The main sewage plant disabled, polluting the turquoise waters of the Mediterranean.
And amid the ruins, more tragedy looms. Caught between Israeli airstrikes and Hamas mortars and rockets, entire families have been wiped out and their social safety nets destroyed. Nearly one-third of Gaza's 1.8 million people have been forced to flee their houses, and many are now homeless. Tens of thousands of children are believed to be suffering from psychological trauma, according to the United Nations.
As a temporary cease-fire held for a second day, Palestinians are coming to grips with a deepening humanitarian and environmental crisis that threatens to affect Gaza for years. The scale of destruction and loss over nearly a month of war, Gazans and international aid workers say, is far more devastating than that left after the two previous Israel-Hamas battles, in 2009 and 2012.
"I am 70 years old, and I have not witnessed a war anything like this one," Muhammed al-Astal said as he inspected the remains of his cream-colored house, which had been devastated by Israeli shells. "This is not war. This is eradication."
As negotiations began in Cairo on Wednesday to secure a broader truce between Israel and Hamas, the rebuilding of Gaza emerged as a key element of a solution to the current conflict. Under discussion is an international donor conference to raise funds and the reconstruction directed by the Western-backed Palestinian government of Mahmoud Abbas, which lost control of the coastal enclave when Hamas seized power in 2007.
Billions were also spent on reconstructing Gaza after Israel's 2008-2009 Operation Cast Lead offensive against Hamas. Back then also, schools, factories, bridges, mosques and more than 6,000 homes were badly damaged or destroyed, according to the United Nations. But five years later, many of the structures haven't been fully rebuilt. Now, the current conflict has brought even more wreckage.
Speaking Wednesday in front of the U.N. General Assembly, Secretary General Ban Ki-moon said, "The massive deaths and destruction in Gaza have shocked and shamed the world."
"We will build again, but this must be the last time to rebuild," the U.N. chief said. "This must stop now. We must go back to the negotiating table."
Palestinian officials estimate that airstrikes and shelling have wrecked at least 10,000 houses and seriously damaged 30,000 more. As many as 80 mosques have been damaged or destroyed. Many farming areas and industrial zones, filled with the small manufacturing plants and factories that anchored Gaza's economy, are now wastelands.
"Most of the life has been destroyed," said Mofeed Al-Hasayneh, the Palestinian government's Gaza-based minister of public works and housing, adding that it could take "seven to eight years" to rebuild the houses and other structures without assistance from the world.
Even international relief organizations, accustomed to working in hard-hit war zones, have expressed shock at the scale of the damage.

"I've never seen such massive destruction ever before," Peter Maurer, the president of the International Committee of the Red Cross, said in a tweet Tuesday after visiting Gaza.
With the lull in the conflict, aid agencies are scrambling to assess the damage and determine how best they can help, if the cease-fire holds.
On Tuesday, aid worker Mathieu Ebbesen-Goudin arrived with his team in the eastern Showka enclave of Rafah, near the Israeli border, where vegetable and fruit farms have been obliterated. Israeli tanks were visible across the border, throwing up dust. Israeli forces pummeled the area last week when they searched for a soldier apparently abducted by Hamas fighters but who Israel later said had died in battle.
"The harvest for this year is lost. We have to rehabilitate all the lands," said Ebbesen-Goudin, head of mission of Première Urgence, a French relief agency. First, though, the farms needed to be cleared of unexploded ordnance, he added, which could take months, even a year. The farms produced potatoes, tomatoes, zucchini, olives and oranges, mostly for domestic consumption.
Even before the war, Gazans lived precariously, particularly since Israel imposed an economic blockade of the strip after Hamas took control. Now, many families have fallen over the precipice, losing farms, livestock and their homes.
"There is going to be a strong economic impact," said Ebbesen-Goudin.
Moussa Abu al-Rous, 45, could already see his future as he stood in the rubble of his flattened house near Rafah. His one-acre farm, where he had olive and orange trees, is now a field of bulldozed dirt. Rous, who has six children, said he doesn't know how he will pay for his son's college education or take care of his family.
"How am I going to feed them?" Rous said. "The winter is coming. Where are we to live?"
In Gaza City, Ali al-Hayek, the head of the Palestinian Businessmen Association, went to inspect dozens of factories, particularly those in the border areas where most bombardments and clashes occurred. He said that 100 to 120 factories, including some that produced medicine, were destroyed.
"Thousands of workers used to work in these factories," said Hayek, shaking his head.
Gazan children are also facing a grim predicament. The United Nations says 138 schools have been damaged by shelling. More than 250,000 Palestinian evacuees are sheltering in U.N.-run schools, making it unlikely classes will be able to start this fall. The U.N. Children's Fund estimates that about 400,000 children are in need of psychological therapy.
The knock-on effects of the conflict are visible everywhere. An Israeli strike on the enclave's primary power plant caused electrically driven water pumps to stop functioning, forcing people to wait in lines to get potable water for domestic use. Fuel prices have shot up, driven in part by Palestinians with generators seeking fuel that was already in short supply.
And then there is the serious damage to Gaza's main sewage treatment plant, threatening to bring diseases caused by poor sanitation and an environmental disaster.
On Tuesday, the stench was overpowering. Flies were everywhere. There were only two technicians at the desolate plant, which needs electricity to treat wastewater and pump it into the sea.
In addition, airstrikes also damaged a pipeline, the technicians said. Even if the electricity returns, the German-built plant will take months to repair, say aid workers.
"Now, 55,000 cubic meters of sewage is being sent every day into the sea without treatment," said Saeed al-Heeki, one of the technicians.
Aid workers warn that even if the international community funnels in the billions of dollars needed to rebuild Gaza, the money will not make a long-term difference unless there is a durable peace between Israel and Hamas.
"If there's not a political solution, we will reconstruct and in two years you will have another war," said Ebbesen-Goudin. "And Gaza will be destroyed again."
[Sudarsan Raghavan has been The Washington Post's bureau chief in Africa since 2010. He began his career as a foreign correspondent in Africa, and covered the Iraq war as Baghdad bureau chief.]
Gaza's Wounded: Living Reminder of Ravages of War
By Hamza Hendawi
August 10, 2014
The Associated Press - The Big Story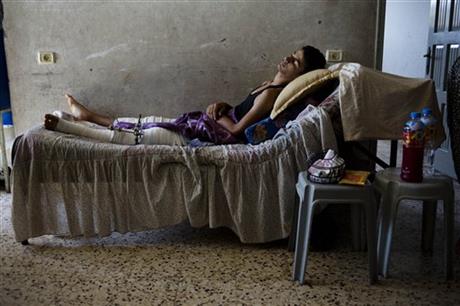 This photo made on Wednesday, Aug 6, 2014 in Gaza City, shows Bahaa Eilewah, 16, a student wounded in both legs in the Shijaiyah neighborhood who tried to help people wounded in a previous shelling on July 30, 2014. More than 9,000 Palestinians, the majority of them civilians and nearly a third among them children, have been wounded in the month long Gaza war.
credit - AP Photo/Dusan Vranic
GAZA CITY, Gaza Strip (AP) - When an Israeli airstrike hit the Gaza home for the handicapped where she was staying, Sally Saqr was left shattered. Her pelvis, both legs and an arm were broken, her skull fractured, much of her body burned. In the hospital, doctors couldn't put her limbs in casts because multiple other wounds had to heal first.
But after a week, her mother had to take the 20 year old home because Gaza's main Shifa Hospital needed the bed as more broken bodies flowed in every day from the bombardment.
Saqr has been severely handicapped since birth because of complications during delivery. She can't speak, her body never developed beyond the size of a child. She was able to walk - with difficulty - but after her wounds in the July 12 airstrike, she couldn't walk at all, and had to be put in diapers because she couldn't reach the bathroom.
Her mother has been overwhelmed. Saqr is in excruciating pain and screams in her sleep.
"My burden is heavy," said her 36-year-old mother, Soumah Abu Shanab. "Now I must feed her, bathe her and change her diapers." She spoke as three visiting nurses changed Saqr's dressings. Saqr clutched a box of medicine. Just holding it distracts her from the pain.
Much of the world's attention has focused on the Palestinian death toll in the Gaza war, with more than 1,900 killed, including at least 450 children, Palestinian health officials say. But a longer-term trauma may be the large number of wounded - more than 9,800, mostly civilians, including at least 3,000 children, officials say.
The dead have been quickly and often unceremoniously buried even as fighting raged. The wounded are a living reminder of the ravages of war. Their numbers have overwhelmed Gaza's medical system, already dilapidated after seven years of blockade on the tiny territory by Israel and Egypt, as well as the diversion of resources to build up Hamas' military capabilities.
Gaza's 25 hospitals have a total of 2,047 beds, or 1.3 beds per 1,000 people, among the lowest ratios in the world, according to United Nations figures. Nearly a third of the hospitals have been damaged in the fighting, according to UNRWA, the U.N. agency that looks after Palestinian refugees.
The thousands discharged - many with severe wounds patched together temporarily - are then left to the care of already devastated families who are grieving for dead loved ones and struggling to get by in the devastation of the war.
Some of the wounded return not to home but to U.N.-run schools packed with displaced people. Some crowd into the houses of extended families along with other relatives with nowhere else to go. Most homes are without electricity or running water.
Around 250,000 of Gaza's 1.8 million residents have been displaced, while some 65,000 lost their home in the fighting, according to U.N. figures.
In the crowded households, the wounded become a center of attention as relatives try to provide small comforts. Most are immobile, or can move very little. Families often put the wounded's mattress or bed by a window to get air in stifling rooms amid the power outages.
Though nurses can sometimes visit homes, many wounded have to make daily trips back to the hospital for treatment, risking complications from the exertions of the trip and the summer heat.
"Some of them don't have the basic needs of life at home," Dr. Sobhi Skaek, head of surgery at Shifa Hospital, told The Associated Press. "We have a serious problem."
Neighbors have lent a helping hand, but it is a drop in the ocean. Egypt took 220 wounded from Gaza, the West Bank 29, Jordan 43, and Israel arranged for 87 to be admitted to hospitals in east Jerusalem.
The large number of wounded speaks to the ferocity of Israeli shelling - nearly 5,000 strikes since the war began on July 8, according to the Israeli military.
Israel says its campaign aims to stop rocket fire into Israel by Gaza militants and that it targets sites of rocket launchers and militants' command and control, which were tightly interwoven with the population. Israel says it does its utmost to avoid hitting civilians, warning them to leave areas about to be attacked.
But repeatedly during the war, entire families have been devastated by strikes, killing multiple members at once and leaving others torn by shrapnel, burned or crushed in rubble.
This week in Shifa Hospital, 10-year-old Abdul-Qader Sahweel grimaced in pain and clenched back tears as medics changed the dressings on his wounds. He has to be brought back and forth to the hospital every day for the treatment.
The boy was sleeping with his family in a classroom in a U.N.-run school when three Israel artillery shells hit the building on July 30. His eldest brother died instantly - decapitated in the blast, his mother says. Another brother is in a coma in an Israeli hospital. His mother, Yasmeen, and 4-year-old brother were lightly wounded.
Abdul-Qader was sprayed by shrapnel in his chest, right eye and leg.
The daily trips to the hospital - plus visits every three days to an eye clinic - cost about $10 each, a considerable expense, said his father, Mohammed Sahweel, who is unemployed like around 50 percent of Gaza's population.
After the hospital's visit Wednesday, the boy and his father returned to the home of relatives where his family is now staying. Exhausted and uncomfortable, Abdul-Qader said he has recurring headaches, a high temperature and can't sleep. His right eye was red and swollen.
His family is worried about long term damage - his vision in the eye is severely impaired.
"Before the war began, I was enjoying my summer holiday. I went to the park, played football and went to the beach," the boy said. "Now I cannot do any of that."
Fahd Abu Sultan, a 25-year-old laborer, paid dearly for an act of courage on July 16. He rushed to help when an Israeli navy boat shelled a group of boys playing soccer on a Gaza beach, killing one and wounding others. As Sultan tried to carry away the wounded, the shelling resumed, killing three others.
Abu Sultan has five gaping shrapnel wounds. He lay on a sofa in his home while male nurses changed the dressing, causing him so much pain he had to pause as he described how the rocket hit only meters (yards) away from him.
"I kept on screaming to the ambulance people to come to rescue me but no one heard me," he recalled. "I was the last one to be taken to hospital."
Bahaa Eilewah, 16, was trying to help the injured in the Gaza district of Shijayiah on July 30 when he himself was hit by shrapnel. Both his legs were broken and are now in casts. He may not be able to walk unaided again for a year.
He thinks about how he used to play table tennis at a mosque recreation center.
"Now I don't know when I will do that again."
[Veteran journalist Hamza Hendawi, reported for The Associated Press from Baghdad during the 2003 U.S. invasion and then chronicled Iraq's bitter struggle through insurgency and sectarian conflict to elected government, was later FOX News Chief of Bureau in Cairo, covering Egypt, Libya and Sudan,]