Working Anything but 9 to 5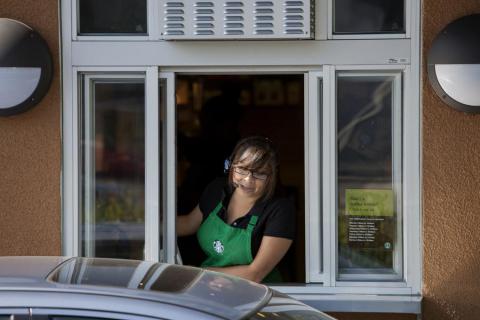 Jannette Navarro at Starbucks.,
San Diego - In a typical last-minute scramble, Jannette Navarro, a 22-year-old Starbucks barista and single mother, scraped together a plan for surviving the month of July without setting off family or financial disaster.
In contrast to the joyless work she had done at a Dollar Tree store and a KFC franchise, the $9-an-hour Starbucks job gave Ms. Navarro, the daughter of a drug addict and an absentee father, the hope of forward motion. She had been hired because she showed up so many times, cheerful and persistent, asking for work, and she had a way of flicking away setbacks — such as a missed bus on her three-hour commute — with the phrase, "I'm over it."
Newly off public assistance, she was just a few credits shy of an associate degree in business and talked of getting a master's degree as some of her co-workers were. Her take-home pay rarely topped $400 to $500 every two weeks; since starting in November, she had set aside $900 toward a car — her next step toward stability and independence for herself and her 4-year-old son, Gavin.

But Ms. Navarro's fluctuating hours, combined with her limited resources, had also turned their lives into a chronic crisis over the clock. She rarely learned her schedule more than three days before the start of a workweek, plunging her into urgent logistical puzzles over who would watch the boy. Months after starting the job she moved out of her aunt's home, in part because of mounting friction over the erratic schedule, which the aunt felt was also holding her family captive. Ms. Navarro's degree was on indefinite pause because her shifting hours left her unable to commit to classes. She needed to work all she could, sometimes counting on dimes from the tip jar to make the bus fare home. If she dared ask for more stable hours, she feared, she would get fewer work hours over all.
Read more here