Justice Dept. to Probe Ferguson Police Force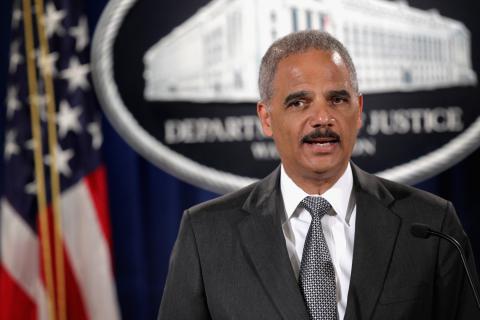 Under Attorney General Eric Holder, the Justice Department has initiated reviews of police departments for possible constitutional violations at a rate twice that of any of his predecessors., (Alex Wong/Getty Images)
Attorney General Eric H. Holder Jr. this week will launch a broad civil rights investigation into the Ferguson, Mo., Police Department, according to two federal law enforcement officials.
The investigation, which could be announced as early as Thursday afternoon, will be conducted by the Justice Department's civil rights division and follow a process similar to that used to investigate complaints of profiling and the use of excessive force in other police departments across the country, the officials said.
The move follows the shooting last month of Michael Brown, an 18-year-old African American, by a white Ferguson police officer who claimed he acted in self-defense. Brown, who was unarmed, was shot at least six times on the afternoon of Aug. 9.

Holder's decision will represent the Obama administration's most aggressive step to address the Ferguson shooting, which set off days of often-violent clashes between police and demonstrators in the streets of the St. Louis suburb.
The federal officials said the probe will look not only at Ferguson but also at other police departments in St. Louis County. Some, like Ferguson, are predominantly white departments serving majority-African-American communities, and at least one department invited the Justice Department to look at its practices. The officials spoke on the condition of anonymity to discuss the pending inquiry.
The investigation is in addition to a Justice Department probe into whether Officer Darren Wilson, who fired the fatal shots, violated Brown's civil rights. The new probe will look more broadly at whether the department employed policies and practices that resulted in a pattern of civil rights violations.
The Washington Post reported Saturday that five current and one former member of the Ferguson police force face pending federal lawsuits claiming they used excessive force. The lawsuits, as well as more than a half-dozen internal investigations, include claims that individual officers separately hog-tied a 12-year-old boy who was checking his family mailbox, pistol-whipped children and used a stun gun on a mentally ill man who died as a result.
In addition to the investigations, a St. Louis County grand jury is hearing evidence that could lead to charges against Wilson.
The number of police department reviews the Justice Department has initiated under Holder for possible constitutional violations is twice that of any of his predecessors. At least 34 other departments are under investigation for alleged civil rights violations.
In April, for example, the Justice Department issued a scathing report concluding that the Albuquerque Police Department had repeatedly used deadly and excessive force in violation of citizens' constitutional rights when there was no imminent threat to them or the community. The assistant attorney general with the department's civil rights division said at the time that the Albuquerque department suffered from "inadequate oversight, inadequate investigation of incidents of force, inadequate training of officers to ensure they understand what is permissible or not."
In certain cases, such as with the New Orleans and Seattle police departments, the Justice Department under Holder has conducted a civil rights investigation parallel with a criminal investigation.
A 1994 federal law gave the civil rights division the authority to probe whether police departments are engaging in a "pattern or practice" of violating constitutional rights or federal rights. The law was enacted after the videotaped beating of African American motorist Rodney King by Los Angeles police officers.
The investigations can be collaborative arrangements, with police chiefs encouraging the thorough reviews, training recommendations and reform ideas the civil rights division proposes. One of the earliest investigations came when then-D.C. Police Chief Charles Ramsey invited the Justice Department to help him in the wake of a Washington Post investigation that found his officers shot and killed more people in the 1990s than any other large police department in the country.
Federal investigators look at patterns of excessive force, complaints against officers, and department training to help officers avoid racial profiling and unnecessary use of force.
An investigation often ends up in a lawsuit brought by the Justice Department against a local police department. Justice Department officials could also reach a settlement with the police department, which includes a consent decree and federal monitoring, as was the case with police forces in New Orleans and San Juan, Puerto Rico.
Brown was stopped by Wilson in Ferguson as he walked down the middle of a neighborhood street with a friend. Wilson has told investigators that Brown reached for his gun while they had a scuffle at his car, law enforcement authorities have told The Post.
Community witnesses say Brown was assassinated in the street. They say he had run from the officer after an argument at the policeman's car, then turned around to surrender after being shot at and being frightened. The six shots in his body all appeared to enter his body from the front, including two in his head, according to an independent autopsy.
Justice Department spokesman Brian Fallon could not be reached for comment. Calls to Ferguson Mayor James Knowles were not immediately returned Wednesday. E-mails to the Ferguson Police Department's public-relations firm were not immediately returned.
News of the expanded probe comes as community leaders in Ferguson say the Brown case has brought scores of new allegations of local police brutality to their attention.
"I've literally had to pull my staff from Jefferson City and put them in Ferguson because of the number of people who are saying they've had past issues with the police," said state Sen. Maria Chappelle-Nadal (D), whose district includes Ferguson. She said she is "fully supportive" of an expanded probe into the department.
"Because of the Michael Brown situation, I have been getting other e-mails and phone calls and tweets about other individuals who have allegations of police brutality," Chappelle-Nadal said. "The expansion of an investigation is by all means a great thing. I absolutely welcome this."
Julie Tate, Wesley Lowery and Alice Crites contributed to this report.