Ferguson Grand Juror Sues Prosecutor To Lift Gag Order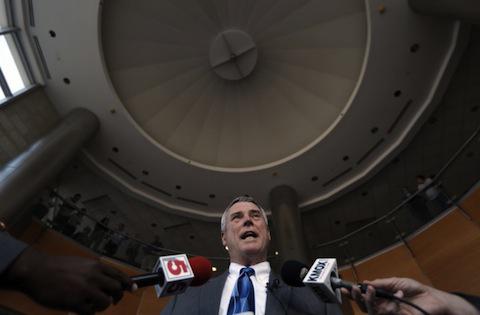 St. Louis County District Attorney Robert P. McCulloch, AP Photo/Jeff Roberson
A Ferguson grand juror who heard the case of Darren Wilson previewed potentially scathing criticism of St. Louis County Prosecutor Robert McCulloch, in a lawsuit alleging that McCulloch skewed the views of jurors when he delivered a lengthy public presentation to announce that the jury wouldn't file any charges against Wilson for killing Michael Brown.
The juror filed a federal lawsuit Monday anonymously to challenge a gag order that prevents him from talking about the grand juror proceedings at all. But even in this lawsuit seeking more permission to speak publicly, the juror dubbed "Grand Juror Doe" reveals a host of significant concerns about the case, and asserts he would have a whole lot more to say if permitted.
Among Grand Juror Doe's concerns are that Wilson's case was treated dramatically different than hundreds of other cases he heard during his grand jury service. In addition to prosecutors devoting exponentially more time to the case than most, Grand Juror Doe also believes McCulloch made the "insinuation that Brown, not Wilson, was the wrongdoer" and placed much more emphasis on the victim than in any other case he heard.

He also questions "whether the grand jury was clearly counseled on the law." And he believes the skewed picture of grand jury deliberations to the public was exacerbated by how evidence was released. With "heavy redactions and the absence of context, those records do not fully portray the proceedings before the grand jury," the lawsuit filed by the American Civil Liberties Union of Missouri asserts.
"Plaintiff would like to speak about the experience of being a grand juror, including expressing Plaintiff's opinions about the evidence and the investigation, and believes Plaintiff's experience could contribute to the current public dialogue concerning race relations," the complaint states. "In Plaintiff's view, the current information available about the grand jurors' views is not entirely accurate—especially the implication that all grand jurors believed that there was no support for any charges. Moreover, the public characterization of the grand jurors' view of witnesses and evidence does not accord with Plaintiff's own."
The issues raised by Grand Juror Doe have been raised by others before. As McCulloch delivered his grand jury announcement in an ill-timed evening press conference, many balked at the lengthy presentation of evidence that not only felt to many like a defense of Darren Wilson rather than an attempt to file charges against him; it also purported to explain the grand jurors' decision even though McCulloch was not a part of grand jury deliberations. As Grand Juror Doe points out, a decision not to indict simply means an insufficient number of jurors wanted to file charges; it doesn't mean that jurors could not have vehemently disagreed in their decision, let alone about the reasons why.
Grand Juror Doe's concern that jurors were not properly briefed on the law is also grounded in some facts that have already emerged. Among the issues that have come to public light: Assistant prosecutor Kathi Alizadeh instructed grand jurors on how to decide the case based on a statute that was invalidated by the U.S. Supreme Court two decades ago. Months later, she handed corrected instructions to the jury without ever explaining what the error had been in the first ones.
And the notion that this grand jury case was not treated like the vast majority of others in the criminal justice system was among the first evident differences in this case and other recent cases involving police officers. Most grand jury cases involving defendants without the power or influence of police officers last a few days at the most. Prosecutors often present 40 indictments in a day, albeit not necessarily in homicide cases. That's because the prosecutor's burden is merely to establish that probable cause exists such that jurors can decide whether to indict — not to try the case.
But some legal experts pointed out that the grand jury presentation was treated more like a trial than an indictment, which makes it a particular problem that the process was shrouded in secrecy, because trials are inherently public proceedings. As University of Illinois criminal law expert Andrew Leipold told ThinkProgress, "If my client killed someone tomorrow and claimed it was in self-defense, he would be arrested and required to post bond while awaiting a grand jury decision. Then, the prosecutor would not be allowed to bring both sides of the story into the building."
Other problems have been raised that are not even the subject of Grand Juror Doe's lawsuit, including that McCulloch admitted to putting a witness on the stand whom he knew was lying. But Gov. Jay Nixon said he won't exercise his power to appoint a new special prosecutor to file new charges; and no one expects McCulloch to exercise his own option to do so. There is one other avenue that could yield new charges against Darren Wilson: Under Missouri law, the presiding judge in that district could appoint a new special prosecutor at any time if she determines that the case was tainted by bias or conflict.
Grand Juror Doe's lawsuit suggests there may have been other problems with the case that could be illuminated if a court lifted the gag order. In several other racially charged cases that have been the subject of public scrutiny, jurors who participated in actual trials have had the freedom to come forward after the trial was over. And they spoke publicly how Stand Your Ground and other expansive self-defense provisions played a role in the deliberations in the trials of George Zimmerman, Michael Dunn, and others. Behind the cloak of grand jury proceeding secrecy, we know much less about the proceedings that yield indictments in almost every single case.