Labor Movement Malpractice: Relinquishing the Fight for Workplace Health and Safety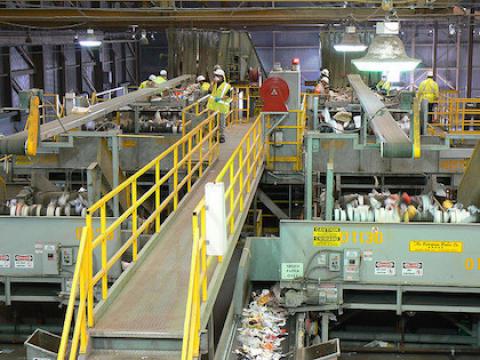 Health and safety issues have been critical to labor organizing drives in California, including recycling workers such as these. ,Walter Parenteau
An underlying theme of California's most prominent union organizing campaigns in recent years-among warehouse workers east of Los Angeles, carwasheros in Los Angeles proper, and recycling workers in Oakland and southern California-has been worker concerns about unsafe and unhealthy conditions at work.  As labor visionaries like Tony Mazzocchi predicted, workers are deeply concerned about and can be successfully organized around workplace health and safety issues.  Rank-and-file concerns about health and safety, however, have not been taken up by union officials or lobbyists who view health and safety as a lower priority than labor legislation or gubernatorial appointees.
As a result, labor officials in California have passively watched as Democratic Governor Jerry Brown put California's state workplace health and safety agency-Cal/OSHA or DOSH-on a starvation diet. Since 2011, the agency has employed fewer field inspectors and has counted on lesser enforcement resources than under Republican Governor Arnold Schwarzenegger. The unions also stood quietly by (with a couple of notable exceptions) when Ellen Widess, appointed as chief of Cal/OSHA in April 2011, was forced to resign in September 2013 following an intense employer campaign against her.
Cal/OSHA under Widess worked with Warehouse Workers United to identify the many hazards facing warehouse workers (heat, forklifts, falls) and to cite both the warehouse operators and the temporary staffing agencies as the workers' employers.  Cal/OSHA seriously investigated hotel workers' ergonomic complaints (UNITE HERE); health care workers' concerns about workplace violence and assaults (SEIU and CNA); and recycling workers' exposure to chemicals, biological, and mechanical hazards in the "green" industry (Longshore and Teamsters unions).  Yet the state's labor officials' and lobbyists' strategy of maintaining access and friendly relations with Brown and his appointees-at all costs-has undermined the resources at Cal/OSHA and led to the weakening of enforcement and worker protections.

New Paradigm for Cal/OSHA
In September 2013, then-Labor Secretary Marty Morgenstern and Department of Industrial Relations (DIR) Director Christine Baker forced the resignation of then-Cal/OSHA Chief Ellen Widess, saying a "new direction" was needed at DOSH, after a determined campaign against Widess by the California Chamber of Commerce. This new paradigm, as Baker has described it, is really just the standard Republican approach to regulatory enforcement.  It is the notion that the vast majority of employers either do the right thing, or would do the right thing if they only knew how.  So Cal/OSHA's priority should be compliance assistance, partnerships, and consultation for these responsible employers.
For the small layer of "low road" or "bad actor" employers, regulatory enforcement is required to eliminate "unfair competition" and establish a "level playing field" for "high road" employers.  But with "responsible" employers who make a good-faith effort while making an honest mistake, Cal/OSHA should not be bothering them with "gotcha" citations and fines. Under this new paradigm, DIR's Labor Enforcement Task Force (LETF) will conduct enforcement actions against small "underground economy" employers, but large, politically-connected "responsible" employers will get kid-glove treatment.
Cal/OSHA Enforcement in Decline
When Jerry Brown succeeded Arnold Schwarzenegger in January 2011, Cal/OSHA had 195 compliance safety and health officers (CSHO) in the agency's six enforcement regions.  In July 2014, DOSH had only 175 CSHOs in the six enforcement regions, with critical vacancies (filled temporarily by Acting staff) in key managerial positions including the Cal/OSHA Chief, the two Deputy Chiefs, and Chief Medical Officer.
In August 2014, Federal OSHA issued its annual FAME-Federal Annual Monitoring and Evaluation-report for California, and the Executive Summary noted:
Cal/OSHA remains understaffed and, as a result, is challenged to fulfill its important mission.  The lack of staffing affects the citation lapse time, the number of inspections conducted, and the response time to complaints.  In particular, the number of inspections conducted by current Cal/OSHA staff is well below the federal average.  To compound this problem, there has been a steady decrease in inspectors since FY 2011.  Although steps are being taken to fill positions, there are still significant numbers of field compliance staff vacancies.Many of these serious concerns have been raised in the 2012 and earlier FAMEs, as well as directly with Cal/OSHA's leadership by federal OSHA officials."
Cal/OSHA's inspector-to-worker ratio-the standard measurement of staffing used nationally and internationally-stood at 1:109,000 in December 2013, as compared to a ratio of 1:66,000 for Fed OSHA, a ratio of 1:33,000 for Washington State's OSHA, and a ratio of 1:28,000 for Oregon OSHA.
The lack of adequate staffing means a significant weakening of worker protections.  Fewer inspections are done overall, fewer worker complaints are investigated with the limited staffing because accident investigations take priority, and fewer planned or "programmed" inspections of high hazard industries and workplaces are conducted.
When inspections are done, they are less thorough and narrower in scope so as to close them as rapidly as possible to deal with the ongoing backlog of complaints and accidents.  Time-consuming "health" inspections of worker exposures to chemicals, noise, and infectious agents-or ergonomic repetitive motion hazards-are done less frequently, if at all, in order to address the ever-growing backlog of pending inspections.  Rushed, incomplete inspections mean that harmful exposures to high levels of noise or chemicals are not evaluated, and control measures to eliminate or reduce these exposures are not implemented.  Uncontrolled hazardous exposures lead to both acute and chronic illness and disease.
At the same time, worker fatalities, injuries, and illnesses at work remain a significant problem in California.  In the last year for which there is official, confirmed data-calendar year 2012-375 California workers were killed on the job and never came home. This is a worker dying every day of the year at work, and thousands more are killed annually by occupational diseases they got on the job.
In 2012, California had 40,220 cases of lost work days (median days lost = 21 days), and more than 14,000 hospitalizations.  Workers' compensation insurance data indicate that there were 646 amputations, with only 470 of these reported by the employers.
Response by Labor Officials and Lobbyists
With the honorable exceptions of the International Longshore and Warehouse Union (ILWU), the national United Food & Commercial Workers union (UFCW), and the Los Angeles County Federation of Labor, no labor protest was lodged against the dismissal of Chief Widess in 2013. In fact, the LA County Fed was privately rebuked by California Labor Federation lobbyists in Sacramento for gathering signatures of county council members expressing concern about Widess' removal and what this meant for the direction of the safety agency, thereby angering DIR Director Baker.
Occupational health and safety advocates like WorkSafe and the SoCalCOSH (Southern California Coalition for Occupational Safety and Health) groups have repeatedly raised questions at the Cal/OSHA Advisory Committee about the lack of staffing and enforcement resources.  But the representatives of the California Labor Federation and California State Building & Construction Trades Council who sit on the Advisory Committee have remained silent about the Brown administration's management of DOSH.
Jerry Brown is a "small government" Democrat who is committed to austerity.  In Cal/OSHA's case, this austerity is completely unnecessary as DOSH draws not one penny from the state's General Fund, but rather is funded by federal OSHA grants and a small surcharge on employers' workers' compensation premiums.
Like other corporate Democrats in California and nationally, Brown is heavily funded by corporate enterprises and is careful to protect their interests while recognizing that labor officials and their organizations are useful for campaign contributions and campaign workers.  In practice, after strenuous labor lobbying, Brown typically makes concessions to needs of working people, such as the approval of a domestic workers' "bill of rights," to keep labor officials in his campaign corner.  While labor has been willing to fight for wage and hour issues, or efforts to have temporary workers treated the same as full-time, permanent workers, union officials and lobbyists have been unwilling to expend their political capital on worker health and safety issues.
Other elected Democrats-including progressive San Francisco Bay Area legislators-have also been unwilling to push the Brown administration for a stronger Cal/OSHA.  In the spring of 2014, Senate and Assembly Budget and Labor committee hearings did not address the lack of adequate staffing and resources provided by the Governor's proposed budget.  The legislators also declined to officially file a complaint to the State Auditor about financial misuse of Cal/OSHA funds by DIR, which later was submitted as an individual ex-employee's "whistleblower" complaint.  The complaint, still under investigation by the State Auditor, charged that DIR misused funds designated for Cal/OSHA work for other purposes, and also left unused several million dollars of funds collected specifically for Cal/OSHA's enforcement activities.  One legislator's staffer explained that while the lawmaker was concerned about the state of Cal/OSHA, "it is not wise for a Democratic legislator to embarrass a Democratic Governor who is about to be handily re-elected and whose signature we need on our bills." All this in a California where Democrats hold a two-thirds majority in the legislature and there is a Democratic Governor.
Passive Acceptance of DOSH's Decline
Since labor cannot get everything it wants, the theory goes, priorities have to be made, with some issues relegated to the bottom of the list.  Health and safety has not been a labor priority for more than two decades.  The once significant union health and safety departments have been closed or have a tiny staff.  In 2014, many issues were simply deemed more important than health and safety, such as specific legislation, government appointments, or nominal policy directives.  For example, the California Chamber of Commerce boasted that it had successfully eliminated 37 of 38 "job killer" legislative bills in 2013.  The only survivor was a labor-backed increase in the state minimum wage that will increase wages starting in July 2016 to a level lower in real terms than the minimum wage in 1968, 45 years ago.  Several workplace health and safety bills died in the Legislature as labor lobbyists and officials focused their attention on the minimum wage legislation and a couple of other "top-priority" bills.
The problems Cal/OSHA faces - lack of resources, staffing, and political will-are national problems that affect many other state plans as well.  There are state plans with even fewer resources and even more business-friendly attitudes.  Those states will hardly be motivated by California's example to raise their own bar, while states like Washington and Oregon will come under even more pressure to follow Cal/OSHA's downward trajectory.
How to Protect Workers on the Job
What DOSH (along with the Fed OSHA and other state plans) needs is the political will on the part of politicians and their appointees to make worker health and safety a priority, ensure worker safety agencies have the staffing and resources they need to enforce the law, and withstand inevitable employer campaigns against effective worker protection regulations and their implementation.  Creating this political will depends on the labor movement making workplace safety a "non-negotiable demand," along with its other priorities in both contract talks and political campaigns.  The labor movement needs to return to the campaigning of the 1960s and 1970s that made worker health and safety a cause célèbre-and established the Occupational Safety and Health Administration and Mine Safety and Health Administration under Republican President Nixon-not only for unions, but also for OHS professional organizations, for the environmental movement concerned that toxic exposures inside the plant will generate toxic exposures outside the plant, and for the working public as a whole.
Among the campaigns labor could lead, and win support from other working-class and community organizations, are efforts to ensure OSHA agencies have the staffing and resources necessary to effectively protect workers on the job; protect particularly vulnerable workers such as immigrants and Latino workers in general who suffer higher rates of injury, illness and death; and reduce or eliminate the use of toxic chemicals that poison workers, surrounding communities and even consumers.
[Garrett Brown is a Certified Industrial Hygienist and has worked in the occupational safety and health field for more than 25 years. In January 2014, he retired from the California Division of Occupational Safety and Health (Cal/OSHA) after 18 years as a field compliance officer in Oakland and 2.5 years as the Special Assistant to the Cal/OSHA Chief.]
This article appeared in the Winter 2015 issue of New Labor Forum. Thanks to the New Labor Forum for sharing this with Portside and our readers.