labor
The GOP's Extreme Bills: Rolling Back Worker Protections, Union Rights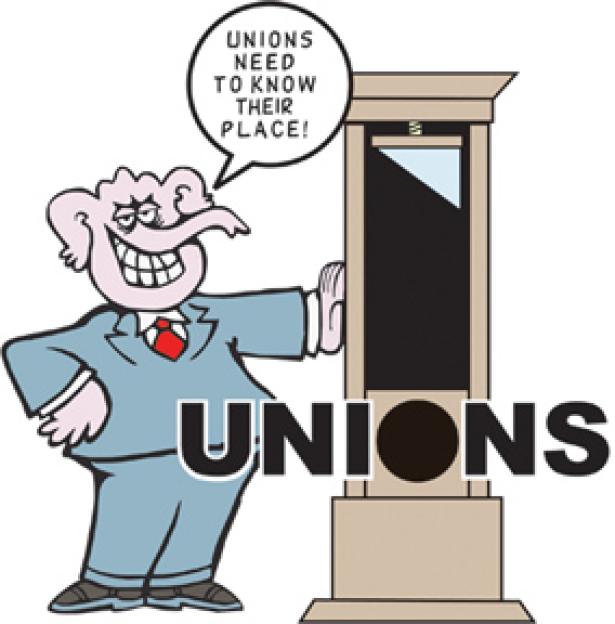 Huck/Konopacki Cartoons via www.ueunion.org
Congressional Republicans have tried to rebrand themselves over the past few years as the party of workers, rather than of the rich elite and country clubs. But, they have filed more than 10 bills to attack labor unions and roll back workplace safety and wage protections since the start of 2023.
House Ways and Means Committee Chair Jason Smith made a similar claim on Monday telling the Congressional Institute, "I know that the Republican Party is the party of the working class," and in a Feb. 28 Fox News interview.
In February 2021, Punchbowl News reporters asked then-House Minority Leader Kevin McCarthy about comments by then-House Republican Conference Chair Liz Cheney that former President Donald Trump did not represent the GOP's future. Rather than address the question, the California Republican said his party has "always been about conservative ideas, promoting opportunity, and the uniqueness of this party today is we're the workers party, we're the American workers' party."

But McCarthy's record paints a different story. Statements on his campaign website say he aims to "produce a business-friendly environment" and "allow American businesses to compete in a global marketplace" by freeing them from high taxes and "regulatory red tape." He has just a 13% rating from the AFL-CIO for supporting workers during his House career
Since McCarthy became House speaker in January, members of his Republican caucus and their Senate counterparts have introduced several bills that would attack workers and their rights.
South Carolina Rep. Joe Wilson and Kentucky Sen. Rand Paul have introduced the National Right-to-Work Act, a bill that would make it harder for workers to unionize and collectively bargain for better salary, benefits, and workplace conditions.
Several states have adopted similar laws, which allow employees to avoid joining or contributing to unions even if a majority of their colleagues choose to unionize. Multiple academic studies show that states with these laws see a significant drop in union membership and in wages. Many business groups support them, as it allows them to pay workers less.
"The real purpose of right to work laws is to tilt the balance toward big corporations and further rig the system at the expense of working families," the AFL-CIO says on its website. "These laws make it harder for working people to form unions and collectively bargain for better wages, benefits and working conditions."
Labor advocates also note that Dr. Martin Luther King Jr. fiercely opposed such laws, arguing in a 1961 speech:
In our glorious fight for civil rights, we must guard against being fooled by false slogans, such as 'right to work.' It is a law to rob us of our civil rights and job rights. Its purpose is to destroy labor unions and collective bargaining by which unions have improved wages and working conditions of everyone… Wherever these laws have been passed, wages are lower, job opportunities are fewer and there are no civil rights. We do not intend to let them do this to us. We demand this fraud be stopped. Our weapon is our vote.
Other GOP bills would also similarly undermine the work of unions and protections for working people.
The NOSHA Act, a bill, filed by Arizona Rep. Andy Biggs in January, would repeal the Occupational Safety and Health Act of 1970 in its entirety. Doing so would eliminate OSHA, the federal agency tasked with ensuring safe and healthy working conditions for American workers. In a press release announcing identical legislation in November 2021, Biggs said that such issues "are more appropriately handled by state governments and private employers."
Additionally, Biggs has proposed a Small Business Flexibility Act to allow restaurants to pay less than the federal minimum wage to non-tipped workers by forcing employees to pool their tips.
Virginia Rep. Bob Good is sponsoring the Davis-Bacon Repeal Act, which would eliminate the 1931 law, which requires that federal and federally assisted contractors pay their laborers and mechanics at minimum the local average wage for similar workers in that field. This means contractors cannot rely on an underpaid labor force to win contracts with the lowest bid.
Bills sponsored by Indiana Sen. Mike Braun and New York Rep. Elise Stefanik would reinstate a Trump-era program that granted amnesty to businesses that underpaid their workers as long as they voluntarily self-correct now. The legislation, named the Ensuring Workers Get PAID Act, restricts workers' rights to sue their employer if they were not adequately paid.
President Joe Biden's administration terminated the program days after his inauguration.
"Workers are entitled to every penny they have earned," said Wage and Hour Division Principal Deputy Administrator Jessica Looma at the time in a press release. "The Payroll Audit Independent Determination program deprived workers of their rights and put employers that play by the rules at a disadvantage. The U.S. Department of Labor will rigorously enforce the law, and we will use all the enforcement tools we have available."
Other GOP proposals would weaken those prevailing wage protections.
The Laborers' International Union of North America (LiUNA!), a union that represents half a million workers in construction, energy, and public sector jobs, opposes these efforts, arguing, "Members of Congress should protect public investments by standing strong against weakening Davis Bacon prevailing wage rules. Corporations do not pass the money they save from cuts in labor costs on to taxpayers."
The union notes in its fact sheet that the law guards against "unethical contractors undercutting the local workforce," "shoddy construction," "construction site accidents due to an unskilled and untrained workforce," and "cost over-runs and delays."
In a statement to the American Independent Foundation, AFSCME President Lee Saunders said: "Working people aren't going to take attacks sitting down. Across the country, AFSCME members are actively engaged in holding elected officials accountable. Attacks on public services are attacks on working families. And we intend to ensure that our communities stay strong, healthy and safe."
"While there are still those who seek to erode workers' freedoms, we believe that we can continue the progress we've made over the past two years," Saunders added, "With President Joe Biden at the helm and pro-worker allies in Congress, we've been able to lower costs for working families, invest in our infrastructure and get our economy back on track. That's the work we're focused on."