To Translate Humanity: Remembering Gaza and the Summer of 2014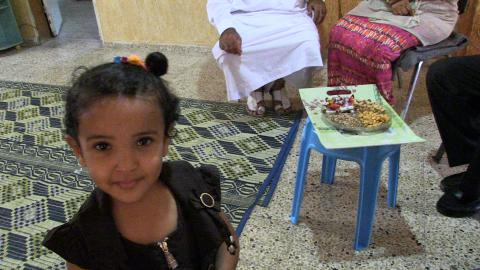 A glimpse into everyday life in Gaza. ,Hadeel Assali
The summer of 2014. Children were appearing en masse at the US/Mexico border, the news was abuzz about a passenger jet crash in the Ukraine, and once again, Gaza was under attack, filling many TV screens and social media feeds with images of mangled nameless Palestinian bodies. But like the previous seemingly endless stream of bombardments of Gaza – in 2012, in 2009, in 2008, in 2006 – it fell quickly out of the media spotlight and will most likely be melded into a general history of dehumanizing violence for which no state powers or international organizations will be held accountable. It's sad to say, but the general public's image of Gaza, and perhaps of Palestine in general, is one of conflict and violence, of dead bodies and terrorists, of hopelessness and despair. And it seems to me that this "imagined Palestinian" is part of what keeps us fixed firmly in a place of continuous dispossession.
One day in July of that summer, my cousin in Gaza City sent me an audio recording of a journalist in crisis in the Shuja'iyah neighborhood. The journalist was witnessing the massacre of Palestinians by Israeli airstrikes and was begging for someone to help, to send the message out to the world. He described "blood running like water in the streets," listed the name of families that needed assistance, and demanded to know why the Red Cross stopped answering their phones. He repeated the family names of the victims, and despairingly implored fellow Palestinians to show the humanity of the people of Gaza. My cousin sent me the recording as the height of the massacre was happening, asking me to do whatever I could, anything to help news of the current crisis travel beyond the boundaries of the Gaza Strip and beyond the Arabic speaking worlds. I reacted as quickly as I could and several friends and family members came together to help me with quickly translating the recording from Arabic into English.
But the act of editing and adding a visual element against which the words could be read was a solitary one. After the group effort for speedy translation was complete, everyone left and I was alone in my Harlem apartment, facing a long night of editing and decision-making on what images to include. Given the gravity of the situation, the decision felt heavy, but I could not bring myself to add images of destruction and dead bodies. One reason for this is that they were not my images or my bodies to include, so acquiring the rights would have added another step to the process of getting the message out quickly. But I would be kidding myself if I said that was the real reason. I agreed with the journalist that we needed to show the humanity of Palestinians, especially those in Gaza who have been cut off from the world by an Israeli siege for so many years. But can one really empathize with a dead body?

I made the decision to use footage of my own family in Gaza, whom I had visited just a year prior. My relatives had been incredibly open and generous with me and my video camera despite our barely knowing each other, the product of decades of an Israeli-imposed siege that restricted their movement out and my movement into the Gaza Strip. An example of their generosity was displayed one day on Eid, the festival at the end of Ramadan, when three of my great uncles agreed to take me and my camera along with them as they made the traditional visits to all of the relatives, giving out Eid moneys to all. Think of it like Santa Claus delivering Christmas presents. These jolly and generous men might well resemble the Western imaginary of "terrorists" – they are bearded, hardened Arabic-speaking men who are obviously devout Muslims.
But my camera captured something quite the opposite of that Western imaginary: I saw intimate moments of tenderness as they begged toddlers for kisses, as they paid their respects to elders, and as they insisted on taking me for ice cream. They displayed immense pride in the physical beauty of Gaza, which is lined by the dazzling Mediterranean Sea. But perhaps what touched me most was their hunger for the recognition of their humanity and their moments of resilience and resistance in the face of a crippling occupation. Their will to live a beautiful and meaningful life in the face of such extreme conditions is indeed worthy of celebration. This is the humanity that crosses borders and tongues, and that was the reason I chose to share these moments of kindness and tenderness and strength as the harrowing audio recording played uncut.
Back to the summer of 2014, when Israel bombarded the Gaza Strip killing well over 2,000 people: that summer was  marked with a heavy sense of helplessness for Palestinians around the world. It seemed no matter what we exiled Palestinians did, nothing was enough. In addition to this sense of helplessness in the face of absolute power – Israel is supported by the United States financially, militarily and ideologically – I was and still am trying to make sense of this idea of "humanity."
This was the moment of crisis we were in when I quickly spliced together some of my footage, the audio and literal translation which I respected in its entirety and threw it out into the world by posting on social media. Such an action felt minuscule and inadequate, but it was what I could do.
The video was quickly picked up by Electronic Intifada, which gave it a huge boost in viewership and circulation. Around the same time, an article was published by Orouba Othman in al-Akhbar newspaper that was also critical of the Red Cross for abandoning the victims of the massacre. It was perhaps that combination of the video and the articles that sparked several phone calls and emails to the Red Cross offices. Some Palestinians in Gaza confronted Red Cross workers in their offices in the Gaza Strip. The Red Cross came out with a response on their website and a press conference essentially saying, "it's not our fault." Yet they continue to play a complicit role, meeting with Israeli officials, and avoiding taking any stance in the face of such horrendous crimes – all in the name of neutrality.
While the focus of my work is to shed light on the humanity and nuance of Palestinian people and stories, I also intend to continue to probe the true depth of meaning when they/we too often say, "the world doesn't care about us." I hope to illustrate what "care" means beyond rhetoric and conferences and occasional blood splattered headlines on the nightly news. In both my academic and filmmaking work, I hope to continue shining a critical light on not only the obvious perpetrators of these crimes against humanity such as the bombardments of Gaza, but also on what Eyal Weizmann has described as "the least of all possible evils" and what others have described as a cloak of empire: humanitarian violence such as that of the Red Cross in Gaza.
At the time I was not sure how to make sense of the "film's" circulation – what began as a clip sent to friends and colleagues has become a minor media sensation. The clip has been posted on several websites, featured in six film festivals, and the vimeo link has over 16,000 views. Perhaps it was the rare glimpse into everyday life in Gaza displacing the images of suffering and despair. Perhaps it was the disorienting juxtaposition of the audio versus the video. Perhaps for some it was the first time to consider looking at the Red Cross and other humanitarian organizationswith a critical eye. Perhaps it troubled the fetishization of suffering and disabled the brushing off of all Palestinians with the totalizing image of destruction. Six months later I am still not entirely sure.
All I could hope for is that the video contributed some humanizing effect to the people of Gaza who strive to maintain a sense of normalcy in their daily lives despite their inhumane conditions. And I think those everyday pleasures – family, love, ice cream, toddler kisses – are things with which we can all identify.