Justice for Janitors: A Misunderstood Success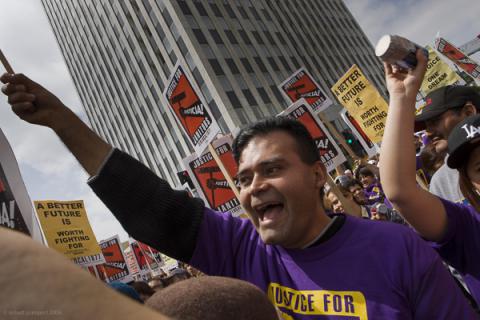 Founded in 1921, the Building Service Workers was a Chicago-based janitors, window washer and doormen's union. George Hardy, the predecessor to John Sweeney as International President, was a San Francisco native and organizer who took his comrades from Hayes Valley to Southern California after World War II to organize janitors in Los Angeles. From his base at Local 399 in Los Angeles, Hardy launched the campaign to organize Kaiser and health care that would transform the Building Service Workers into the Service Employees International Union.(2)
By the 1980s, much of the union's market power among urban janitors had eroded as the industry restructured to a cleaning model that relied on outsourced contract cleaners instead of permanent staff. When Justice for Janitors was launched in the late 1980s however, the union still retained tremendous power and thousands of members in its traditional strongholds of New York City, Chicago and San Francisco.
In these cities, the union had excellent contracts with good wages and benefits for doormen and cleaners. These were the "fortresses" that played such a crucial role in the success of the janitor's campaigns in Los Angeles, San Jose, Oakland, Denver and San Diego where the battle was to reorganize weak and degraded bargaining units and organize thousands of new members.

The early janitor organizers in Los Angeles recognized the importance of first rebuilding and re-energizing their base. One of the first campaigns undertaken was the contract campaign for downtown janitors. Cecile Richards(3) skillfully directed a winning contract fight for the approximately 1,000 janitors in the core market of LA. The contract struggle gave the union a new core group of supporters; many of whom became the front line soldiers in the campaign to organize the vast non-union market outside of downtown.
A key to the membership mobilization was "market triggers" that Local 399 inserted into its collectively bargained agreements. The triggers provided for automatic increases in wages and benefits if the janitors union succeeded in organizing 50 percent or more of the commercial buildings in mutually agreed upon geographic areas. Thus, when rank and file union janitors marched for "justice for the unorganized janitors" it meant marching to increase their own wages and benefits and to gain a more secure future.
In Los Angeles long-time union signatory contractors like International Service Systems (ISS) were operating non-union or in the case of American Building Maintenance (ABM) double breasting by creating new entities like "Bradford Building Services" to clean non-union in LA.(4) On May 29, 1990 the SEIU janitors boldly struck non-union ISS buildings in the entertainment high rise complex called Century City. When the Daryl Gates-led police department brutally attacked the striking Los Angeles janitors on June 15, the shocking news footage traveled around the country.(5) With some prompting, SEIU Local 32 B-J leader Gus Bevona threatened ISS with a shutdown in New York City if the company didn't settle in LA. That strategic solidarity contributed to victory and the nearly immediate organization of thousands of new members for SEIU Local 399.
Most successful organizing is not done in a vacuum, existing members have to be front line apostles.
The campaign even had a movie made about it; "Bread and Roses" directed by the Scottish filmmaker Ken Loach.(6) It did a fine job of presenting SEIU's strategy to organize industry-wide and build a campaign that resonated broadly in the community particularly among Latinos. It also portrayed the challenges organizers always face in holding the unity of the working class. The deep divisions and contradictions among workers are often the biggest obstacle that needs to be overcome in order to have a shot at beating the boss.(7)
The Justice for Janitors campaign was often showcased by New Voice supporters as a premier example of "new" organizing. But what many union leaders and key staff strategists have missed is the fact it was not a "blank slate" campaign disconnected from the sources of SEIU's membership and contract power. As we have shown above, it was a campaign (as William Finnegan also pointed out in an excellent New Yorker article) deeply rooted in the existing power, base and history of SEIU.(8)
Herein lies an important lesson: It takes members to organize members! While obvious and hardly a new concept, it was embraced as part of the New Voice strategy of "bargaining to organize" in 1996. But sadly the importance of worker-to-worker organizing, building strong committees and using our bargaining power with employers got lost. As a result, we've seen a multitude of costly "Hail Mary" passes being thrown in the labor movement with little chance of success because there is not the power of the market or the members in play.
Justice for Janitors was a brilliant campaign that wisely by-passed the NLRB election process and leveraged better contracts and growth through an industry-wide strategy that relied heavily on creative confrontation and community alliances. It was not however a campaign out of whole cloth. It had the power of the existing membership in major markets, leverage with many of the employers who were operating non-union in new markets and the loyalty of many members who had seen the union's power in making a better life for themselves and their families. Bargain to organize remains a successful starting point for real organizing, member-to-member.
Most successful organizing is not done in a vacuum, existing members have to be front line apostles. Can United Food and Commercial Workers (UFCW) supermarket members be expected to support the organization of Wal-Mart workers if national supermarket chains are weakening their labor contracts, and the union is not responding with a national bargaining strategy?
This is the dilemma so often faced by trade unionists in thinking about bold new initiatives. For example, in the aftermath of the success of the Janitors campaign in Los Angeles the union succeeded in organizing many new janitors, raising their wages and in some markets, winning health insurance. The contractors responded by cutting staffing to recoup their margins. SEIU Local 399 engaged in several dramatic strikes against staffing cuts. These were strikes by workers under contract. One strike led to the arrest of all 55 janitors in the largest office building in Los Angeles in 1993. While the strike led to victory in the staffing conflict in that building, it created tension with the external organizers who saw any deviation from focus on new organizing as problematic and any disruption of union signatories as a problem. Never an easy dilemma, but if existing members are not confident in the union's power to deal with their lives then their support for external campaigns becomes more limited.
Several years ago, the new "Our Walmart" campaign was rolled out and previewed at a strategic organizers retreat in California with an impressive power point presentation on Walmart's markets, finance and vulnerabilities. The presentation projected the organization of one percent of Walmart's workforce by the end of the campaign's first year: 12,000 workers. As the presentation came to a close, a veteran organizer from the Hotel Employees and Restaurant Employees Union (HERE) very respectfully made two points with respect to his organizing experience:
•It has taken HERE 20 to 25 years to build an organizing culture in some of its locals among its existing membership base
•In the hotel industry the "big dog" is Marriot and the union did not think it had the power and resources at this moment to take that company on.
The HERE organizer had just effectively deconstructed the Our Walmart effort. This from an organizer with a union that successfully waged a "bargain-to-organize" campaign with the Hyatt Hotel chain that resulted in organizing rights in new Hyatt's in selected markets. This is another example of the effective use of the "union fortress" to grow.
The urgency of organizing millions of workers to reclaim the union density levels of post-World War II led the ambitious "New Voice" apostles to steer the labor movement away from emphasis on long, patient organizing drives and deep worker-based organizing. What an irony that a campaign whose very success was based on the strength of its existing membership base was — and continues to be — misconstrued into an example of how large scale organizing can take place without the fundamental imperative of engagement with our existing membership.
Footnotes
(1) "Justice For Janitors: A look back and a look forward: 24 years of organizing janitors"
(2) For information about George Hardy and for the history of the Building Service Workers
(3) Richards is the daughter of Texas Governor Anne Richards and now director of Planned Parenthood.
(4) International Service Systems and American Building Maintenance
(5) "Janitors Suit Settled," Sonia Nazario, Los Angeles Times, September 4, 1993
(6) "Bread and Roses"
(7) Scottish screenwriter Paul Laverty came to Los Angeles in the early nineties to march and hang out with the janitors and their organizers. His screenplay was made into "Bread and Roses" staring a young unknown actor named Adrien Brody cast as the SEIU organizer. George Lopez, later of TV sitcom fame, played a vicious cleaning company supervisor.
(8) Finnegan's showed remarkable insight in his article, "Dignity" about the "Fight for $15″ in the September 15, 2014 issue of The New Yorker where he points out the fundamental difference between the Justice for Janitors campaign and Fast Food organizing: "The Justice for Janitors campaign of the nineteen-nineties offers a good precedent for the current fast-food campaign, [SEIU President Mary Kay] Henry said. The janitors were fissured by the broad move of commercial property owners to subcontracting, much as fast-food workplaces are fissured by franchising. Their nominal employers, small cleaning companies, had no power and thin profit margins. The tactics of the janitors were unorthodox, and included mass civil disobedience: closing freeways in Los Angeles; blocking bridges into Washington, D.C. Their goal was to get building owners to the table, and in time they succeeded, in some cases nearly doubling with their first contract the compensation they had been earning. The movement was largely Latino, and crucially strengthened by undocumented immigrants who stepped up, risking deportation. But big-city janitors had been unionized, historically—and in some cities, like New York, still were—so the fight was really to reorganize and rebuild. There is no comparable history in fast food. More important, the fast-food workforce is just under four million and growing, and the main companies are so rich and powerful that the stakes are higher than in any labor struggle in recent memory." (Emphasis added)
Previously in the series looking back on the 20th anniversary the AFL-CIO's New Voice movement
Part One: Just a whisper now: a look back at the AFL-CIO New Voice after 20 years
Peter Olney is retired Organizing Director of the ILWU. He has been a labor organizer for 40 years in Massachusetts and California. He has worked for multiple unions before landing at the ILWU in 1997. For three years he was the Associate Director of the Institute for Labor and Employment at the University of California.
Rand Wilson has worked as a union organizer and labor communicator for more than twenty five years and is  currently an organizer with SEIU Local 888 in Boston. Wilson was the founding director of Massachusetts Jobs with Justice.  Active in electoral politics, he ran for state Auditor in a campaign to win cross-endorsement (or fusion) voting reform and establish a Massachusetts Working Families Party.  He is President of the Center for Labor Education and Research, and is on the board of directors of the ICA Group, the Local Enterprise Assistance Fund and the Center for the Study of Public Policy.