Can Women End Korean War?; Continuing the Centennial Work of Women and Citizen Diplomacy in Korea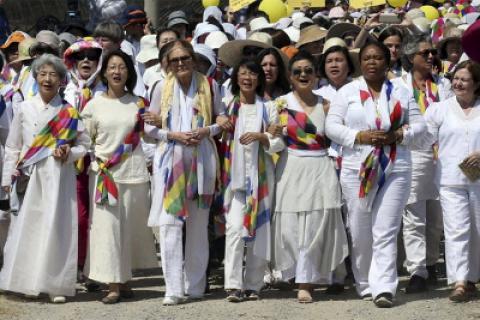 Members of the WomanCrossDMZ group march with South Korean peace activists along a barbed wire fence near a military check point in Paju on May 24, 2015, after the group crossed the heavily-fortified Demilitarised Zone (DMZ) between North and South Korea., Lim Byung-Shik/Yonhap/Reuters // Christian Science Monitor
Can Women End Korean War? After DMZ Crossing, Gloria Steinem says 'Yes'
By John Power
May 25, 2015
Christian Science Monitor
 Paju, South Korea - International women activists who crossed the border dividing North and South Korea capped a controversial campaign for peace Monday by presenting the unresolved war as partly a women's and a feminist issue.
Some 30 activists, including American women's rights activist Gloria Steinem and two Nobel laureates, joined local peace campaigners in Seoul to discuss the role women could play in officially ending the Korean War.
While an armistice ended hostilities in 1953, the divided neighbors have yet to sign a peace treaty, leaving them technically in conflict.
"I feel as if I have just come from visiting a kind, hard-working and loving family who are doing their best to survive under a controlling, totalitarian head of household," Ms. Steinem told an audience in Seoul about her experience for several days in North Korea, prior to Sunday's crossing of the demilitarized zone that has separated the two Koreas for more than six decades.
Extending an analogy between victims of domestic violence and the citizens of the divided Koreas, Steinem said women could use their experience of life as mothers and nurturers to give Koreans "proof of a humane alternative" to the status quo.
Women, she said, have a special ability to make connections between people because they are not burdened by male needs to show aggressive masculinity.
Steinem pointed to two Nobel Peace Prize-winning members of the delegation - Northern Irish activist Mairead Maguire and Liberian campaigner Leymah Gbowee - as examples of the power of women to inspire reconciliation.
"They prove to the world that women can make peace, on their own without governments, when sometimes governments cannot," she said.
Later in a program that took place Monday at the city hall in downtown Seoul, Christine Ahn, the Korean-American who played a leading role in organizing the group, gave an emotional speech in which she vowed to "continue walking until the war is over."
On Sunday the women crossed the Unification Bridge on the border by bus after a six-day trip to North Korea.
Their plans to walk through the symbolic "truce village" of Panmunjom on the border were dropped after opposition by South Korea's Unification Ministry. While the border sees a limited amount of regular traffic to and from a jointly run industrial complex in the North's city of Kaesong, general travel between the countries is mostly banned.
"We appeal to the UN Secretary General, to President Obama, to the North and South Korean leadership [for] a peace treaty to end the war and normalize relationships between the wonderful people of North and South Korea," Ms. Maguire, the 1976 recipient of the Nobel peace prize, said at the DMZ shortly before the group crossed.
After disembarking from their bus in the South, the women, dressed in white with rainbow-patterned sashes and scarves, walked to a nearby peace park outside the border city of Paju. They celebrated with crowds of South Koreans with a concert in what was unusually warm weather.
Yet nearby, several hundred mostly older demonstrators accused the organizers of whitewashing North Korea's human rights abuses, which include the torture and execution of dissidents, or criticized them for statements in recent days that appeared to support the Kim family regime in Pyongyang, now headed by youthful Kim Jong-un.
Days ago a North Korean state-run media mouthpiece had quoted Maguire and Ms. Ahn as praising Kim Il-sung, the country's founding dictator. That elicited a wave of negative publicity in the South Korean press. The group later said the women had been misquoted.
"I don't like the way these ladies, Steinem and so-called Nobel Prize laureates, are participating in this one-sided propaganda event," said Lee Dong-bok, a former South Korean lawmaker who attended Sunday's protest.
Mr. Lee, who served as part of a number of inter-Korean delegations in the 1970s and 1990s, described the marchers as "useful idiots in the service of North Korea's political interests."
Protest against the women continued Monday in Seoul with defectors from the North Korean regime shouting loudly outside the city hall symposium. They held signs saying "Down with N. Korea!" and "WomenCrossDMZ go to hell!"
Inside, Medea Benjamin, co-founder of the US anti-war activist group Code Pink, who is usually demonstrating outside the US Congress, defended the feminist peace campaign, saying they had started an important discussion about conditions on the Korean peninsula that she said were largely ignored.
"I've had very educated people say to me: You mean there hasn't been a peace treaty between North and South Korea?" she said
Peace activists make rare crossing of North-South Korea border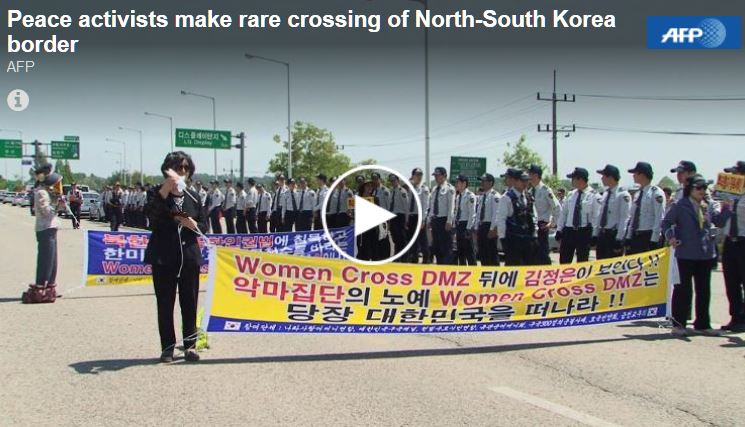 watch here.
Opinion: Continuing the Centennial Work of Women and Citizen Diplomacy in Korea
By Christine Ahn
April 28, 2015
Inter Press Service (IPS)
A century ago, the suffragist Jane Addams boarded a ship with other American women peace activists to participate in a Congress of Women in The Hague.
Over 1,300 women from 12 countries, "cutting across national enmities," met to call for an end to World War I. That Congress became the Women's International League for Peace and Freedom (WILPF), which is now gathering in The Hague under the theme Women Stop War.
Just as Addams met women across national lines to try and stop WWI 100 years ago, from May 19 to 25, a delegation of 30 women from 15 countries around the world will meet and walk with Korean women, north and south, to call for an end to the Korean War.
As WWII came to a close, Korea, which had been colonised by Japan for 35 years, faced a new tragedy. After Japan's surrender in 1945, the United States proposed (and the Soviets accepted) temporarily dividing Korea along the 38th parallel in an effort to prevent Soviet troops, who were fighting the Japanese in the north, from occupying the whole country.
Japanese troops north of the line would surrender to the Soviets; those to the south would surrender to U.S. authorities. It was meant to be a temporary division, but Washington and Moscow failed to establish a single Korean government, thereby creating two separate states in 1948: the Republic of Korea in the south and the Democratic People's Republic of Korea in the north.
 

We are walking on May 24, International Women's Day for Disarmament and Peace, because we believe that there must be an end to the Korean War that has plagued the Korean peninsula with intense militarisation.
This division precipitated the Korean War (1950-53), often referred to in the United States as "the forgotten war", when each side sought to reunite the country by force. Despite enormous destruction and loss of life, neither side prevailed.
In July 1953, fighting was halted when North Korea (representing the Korean People's Army and the Chinese People's Volunteers) and the United States (representing the United Nations Command) signed the Korean War Armistice Agreement at Panmunjom, near the 38th parallel.
This temporary cease-fire stipulated the need for a political settlement among all parties to the war (Article 4 Paragraph 60). It established the Demilitarized Zone, two-and-a-half miles wide and still heavily mined, as the new border between the two sides. It urged the governments to convene a political conference within three months, in order to reach a formal peace settlement.
Over 62 years later, no peace treaty has been agreed, with the continuing fear that fighting could resume at any time. In fact, in 2012, during another military crisis with North Korea, former U.S. Defence Secretary Leon Panetta acknowledged that Washington was, "within an inch of war almost every day."
In 1994, as President Clinton weighed a pre-emptive military first strike against North Korea's nuclear reactors, the U.S. Department of Defence estimated that an outbreak of war on the Korean peninsula would result in 1.5 million casualties within the first 24 hours and 6 million casualties within the first week.
This assessment predates North Korea's possession of nuclear weapons, which would be unimaginable in terms of destruction and devastation. We have no choice but to engage; the cost of not engaging is just too high.
The only way to prevent the outbreak of a catastrophic confrontation, as a 2011 paper from the U.S. Army War College counsels, is to "reach agreement on ending the armistice from the Korean War"-in essence, a peace agreement-and "giv[e] a formal security guarantee to North Korea tied to nonproliferation of weapons of mass destruction."
Recent history has shown that when standing leaders are at a dangerous impasse, the role of civil society can indeed make a difference in averting war and lessening tensions. In 1994 as President Clinton contemplated military action, without the initial blessing of the White House, former President Jimmy Carter flew to Pyongyang armed with a CNN camera crew to negotiate the terms of the Agreed Framework with former North Korean leader Kim Il Sung.
And in 2008, the New York Philharmonic performed in Pyongyang, which significantly contributed towards warming relations between the United States and DPRK.
Christiane Amanpour, who traveled with CNN to cover the philharmonic, wrote that U.S. Secretary of Defence William Perry, a former negotiator with North Korea, explained to her that this was a magic moment, with different peoples speaking the same language of music.
Armanpour said Perry believed that the event could positively influence the governments reaching a nuclear agreement, "but that mutual distrust and fear can only be overcome by people-to-people diplomacy."
That is what we are hoping to achieve with the 2015 International Women's Walk for Peace and Reunification of Korea, citizen-to-citizen diplomacy led by women. We are also walking on the 15th anniversary of the passage of U.N. Security Council Resolution 1325, which calls for the full and equal participation of women in conflict prevention and resolution, and in peacebuilding.
Women from Cambodia, Guatemala, Liberia and Northern Ireland all provided crucial voices for peace as they mobilised across national, ethnic and religious divides and used family and community networks to mitigate violence and heal divisions among their communities.
Similarly, our delegation will walk for peace in Korea and to cross the De-Militarized Zone separating millions of families, reminding the world on the tragic 70th anniversary of Korea's division by foreign powers that the Korean people are from an ancient culture united by the same food, language, culture, customs, and history.
We are walking on May 24, International Women's Day for Disarmament and Peace, because we believe that there must be an end to the Korean War that has plagued the Korean peninsula with intense militarisation. Instead of spending billions on preparing for war, governments could instead redirect these critically needed funds for schools, childcare, health, caring for the elderly.
The first step is reconciliation through engagement and dialogue. That is why we are walking. To break the impasse among the warring nations-North Korea, South Korea, and the United States-to come to the peacemaking table to finally end the Korean War.
As Addams boarded the ship to The Hague, she and other women peace activists were mocked for seeking alternative ways than war to resolve international disputes.
Addams dismissed criticism that they were naïve and wild-eyed idealists: "We do not think we can settle the war. We do not think that by raising our hands we can make the armies cease slaughter. We do think it is valuable to state a new point of view. We do think it is fitting that women should meet and take counsel to see what may be done."
It is only fitting that our women's peace walk in Korea takes place on this centennial anniversary year of the first international act of defiance of war women ever undertook. I am honoured to be among another generation of women gathering at The Hague to carry on the tradition of women peacemakers engaged in citizen diplomacy to end war.
Edited by Kitty Stapp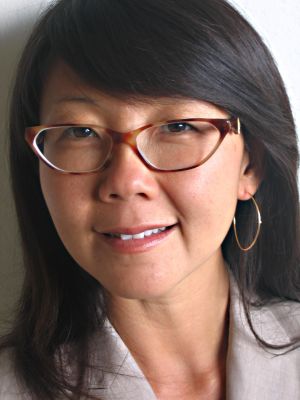 [Christine Ahn is the International Coordinator of Women Cross DMZ, a campaign of 30 international women walking for peace and reunification of Korea in May 2015. She is a policy analyst with the Korea Policy Institute and a fellow with the Oakland Institute. She is also a member of KAWAN, Korean Americans Against War and Neoliberalism, which organized the U.S. delegation to Korea.]