In Rare Move, Community Seeks Murder Charges for Cops Who Killed Tamir Rice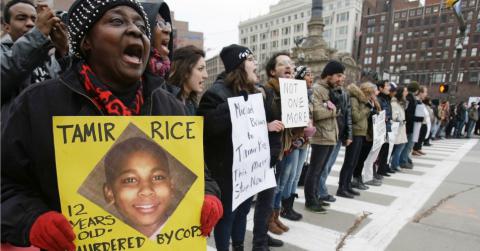 A group is seeking charges against two police officers, including aggravated murder and manslaughter, in the death of Cleveland resident Tamir Rice., Getty
Forced by a sluggish and dysfunctional justice system to take matters into their own hands, a group of community leaders, clergy, and civil rights activists in Cleveland will ask a judge on Tuesday to order the arrest of the officers who killed Tamir Rice, the black 12-year-old shot dead in November while carrying a toy gun in a park. 
The community group will make its announcement at a 11 am press conference Tuesday morning. According to the Cleveland Plain Dealer, the group plans to file several affidavits under a rarely used state law asking a Cleveland Municipal Court judge to issue arrest warrants for Cleveland police officers Timothy Loehmann and Frank Garmback in connection with the November 22 shooting. That law, passed in 1960, allows any person with knowledge of the facts of a case to file sworn affidavits asking a judge to find probable cause to sign off an arrest warrant.
The group is seeking charges including aggravated murder and manslaughter.
"We are still waiting for the criminal justice system to enact justice in the name of Tamir Rice," said Rev. Dr. Jawanza Colvin, pastor of Olivet Institutional Baptist Church, in a press release. "It has been more than six months since his tragic death and, yet, the people still have no answers and no one has been held accountable. Today, citizens are taking matters into their own hands utilizing the tools of democracy as an instrument of justice."
The Cuyahoga County Sheriff's Office completed its investigation into Rice's death earlier this month, and handed its findings over to Cuyahoga County Prosecutor Tim McGinty's office. Now, McGinty's office will review the evidence and present it to a grand jury, a process that could take weeks. 
The New York Times notes that "[i]n cases involving police officers, prosecutors are more likely to let grand jurors hear conflicting testimony or see evidence favorable to the officer."
Should the community group succeed, the case would still eventually be sent to a grand jury. Ohio's constitution guarantees a person charged with a felony the right to have their evidence heard by a grand jury, which could hand up an indictment charging the officers, or decline to indict them. However, if the group's affidavits are approved, the officers' arrest would be followed by a public hearing, which community members said would be preferable to allowing prosecutors to operate in secret.
The Times writes that "[t]he highly unusual move is the latest sign that some African-Americans in Cleveland and around the country have lost confidence in a system that they see as too quick to side with police officers accused of using excessive force against blacks."
As Walter Madison, a lawyer for Rice's family who worked with the community leaders as they planned to seek charges, told the Times: "The writing is on the wall...If you look at every other instance, it ends up unfavorable to the families."
At the end of May, a white police officer in Cleveland was acquitted in the fatal shooting of an unarmed black man and woman in 2012; also last month, a prosecutor in Wisconsin said a police officer in Madison, Wis., will not face criminal charges for fatally shooting Tony Robinson, who was mixed race and unarmed, earlier this year. In New York, a grand jury did not indict in the death of Eric Garner, who had been put in a chokehold by a police officer. And state and federal authorities said there was no evidence to charge Officer Darren Wilson in the fatal shooting of Michael Brown in Ferguson, Mo.
Tuesday's development comes on the heels of the announcement of a settlement between the city of Cleveland and the U.S. Department of Justice, following a deeply critical investigation that found an unconstitutional "pattern or practice of the use of excessive force."
In an interview Colorlines last week, Tamir's mother, Samaria Rice, recalled her dead son as "a kind and loving person, above all. And Tamir was very talented in all sports. He was my All American star. He could have been next LeBron James, I really believe that. He was advanced; he was not the average child because I made things available to him. I have sacrificed a lot for my children."
She added: "This is a nightmare and I have not woken up."
This work is licensed under a Creative Commons Attribution-Share Alike 3.0 License