books
`Rise of the Robots' and `Shadow Work'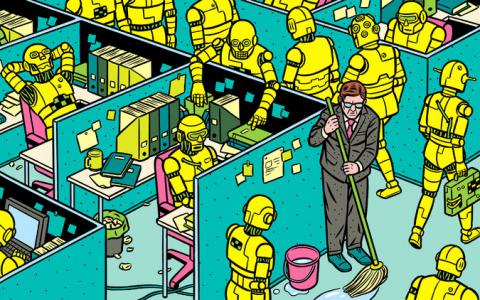 ., credit: Kristian Hammerstad // New York Times
In the late 20th century, while the blue-collar working class gave way to the forces of globalization and automation, the educated elite looked on with benign condescension. Too bad for those people whose jobs were mindless enough to be taken over by third world teenagers or, more humiliatingly, machines. The solution, pretty much agreed upon across the political spectrum, was education. Americans had to become intellectually nimble enough to keep ahead of the job-destroying trends unleashed by technology, both robotization and the telecommunication systems that make outsourcing possible. Anyone who wanted a spot in the middle class would have to possess a college degree - as well as flexibility, creativity and a continually upgraded skill set.
RISE OF THE ROBOTS
Technology and the Threat of a Jobless Future
By Martin Ford
Basic Books, 334 pages
Hardcover:   $28.99.
May 5, 2015
ISBN - 10: 978-0-465-05999-7    13: 978-0-465-05999-7

SHADOW WORK - The Unpaid, Unseen Jobs That Fill Your Day
By Craig Lambert
Counterpoint Press, 277 pages
Hardcover:   $26.00
May 12, 2015
ISBN -- 10: 978-1-61902-525-7   13: 978-1-61902-639-1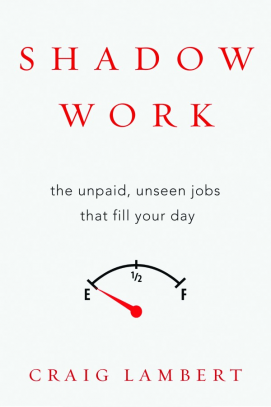 But, as Martin Ford documents in "Rise of the Robots," the job-eating maw of technology now threatens even the nimblest and most expensively educated. Lawyers, radiologists and software designers, among others, have seen their work evaporate to India or China. Tasks that would seem to require a distinctively human capacity for nuance are increasingly assigned to algorithms, like the ones currently being introduced to grade essays on college exams. Particularly terrifying to me, computer programs can now write clear, publishable articles, and, as Ford reports, Wired magazine quotes an expert's prediction that within about a decade 90 percent of news articles will be computer--generated.
It's impossible to read "Rise of the Robots" - for review anyway - without thinking about how the business of book reviewing could itself be automated and possibly improved by computers. First, the job of "close reading," now commonly undertaken with Post-its and a felt-tip red pen, will be handed off to a scanner that will instantly note all recurring words, phrases and themes. Next, where a human reviewer racks her brain for social and historical context, the review-bot will send algorithms out into the ether to scan every other book by the author as well as every other book or article on the subject. Finally, all this information will be synthesized with more fairness and erudition than any wet, carbon-based thinking apparatus could muster. Most of this could be achieved today, though, as Ford notes, if you want more creativity and self--reflexivity from your review-bot, you may have to wait until 2050.
This is both a humbling book and, in the best sense, a humble one. Ford, a software entrepreneur who both understands the technology and has made a thorough study of its economic consequences, never succumbs to the obvious temptation to overdramatize or exaggerate. In fact, he has little to say about one of the most ominous arenas for automation - the military, where not only are pilots being replaced by drones, but robots like the ones that now defuse bombs are being readied for deployment as infantry. Nor does Ford venture much into the spectacular possibilities being opened up by wearable medical devices, which can already monitor just about any kind of biometric data that can be collected in an I.C.U. Human health workers may eventually be cut out of the loop, as tiny devices to sense blood glucose levels, for example, learn how to signal other tiny implanted devices to release insulin.
But "Rise of the Robots" doesn't need any more examples; the human consequences of robotization are already upon us, and skillfully chronicled here. Although the unemployment rate has fallen to officially acceptable levels, long-term unemployment persists, and underemployment - part-time jobs when full-time jobs are needed, or jobs that do not reflect a worker's education - is on the rise. College-educated people often flounder for years after graduation, finding temp jobs and permanent roommates. Adults of both sexes are drifting out of the work force in despair. All of this has happened by choice, though not the choice of the average citizen and worker. In the wake of the recession, Ford writes, many companies decided that "ever-advancing information technology" allows them to operate successfully without rehiring the people they had laid off. And there should be no doubt that technology is advancing in the direction of full unemployment. Ford quotes the co-founder of a start-up dedicated to the automation of gourmet hamburger production: "Our device isn't meant to make employees more efficient. It's meant to completely obviate them."
Ford offers little hope that emerging technologies will eventually generate new forms of employment, in the way that blacksmiths yielded to autoworkers in the early 20th century. He predicts that new industries will "rarely, if ever, be highly labor-intensive," pointing to companies like YouTube and Instagram, which are characterized by "tiny workforces and huge valuations and revenues." On another front, 3-D printing is poised to make a mockery of manufacturing as we knew it. Truck driving may survive for a while - at least until self-driving vehicles start rolling out of Detroit or, perhaps, San Jose.
The disappearance of jobs has not ushered in a new age of leisure, as social theorists predicted uneasily in the 1950s. Would the masses utilize their freedom from labor in productive ways, such as civic participation and the arts, or would they die of boredom in their ranch houses? Somehow, it was usually assumed, they would still manage to eat.
Come to find out, there's still plenty of work to do, even if no one is willing to pay for it. This is the "shadow work" that Craig Lambert appealingly brings to light in his new book on "the unpaid, unseen jobs that fill your day." We take it for granted that we'll have to pump our own gas and bus our own dishes at Panera Bread. Booking travel reservations is now a D.I.Y. task; the travel agents have disappeared. As corporations cut their workforces, managers have to take on the work of support staff (remember secretaries?), and customers can expect to spend many hours of their lives working their way through menus and recorded advertisements in search of "customer service." At the same time, our underfunded and understaffed schools seem to demand ever more parental participation. Ambitious parents are often expected not only to drive their children to and from school, but to spend hours carrying out science projects and poring over fifth-grade math - although, as Lambert points out, parental involvement in homework has not been shown to improve children's grades or test scores.
"Shadow Work" is generally a smooth ride, but there are bumps along the way. The definition of the subject sometimes seems to embrace every kind of unpaid work - from the exploitative, as in the use of unpaid interns, to the kind that is freely undertaken, like caring for one's own family. At times the book gets weighed down by an unwarranted nostalgia for the old days, when most transactions involved human interactions. For example, Lambert grants that home pregnancy tests offer women "more privacy and more control," while also lamenting - as no woman ever has - that they cut out the doctor and thus transform "what can be a memorable shared event into a solitary encounter with a plastic stick."
Lambert, formerly an editor at Harvard Magazine, is on firmer ground when he explores all the ways corporations and new technologies fiendishly generate new tasks for us - each of them seemingly insignificant but amounting to many hours of annoyance. Examples include deleting spam from our inboxes, installing software upgrades, creating passwords for every website we seek to enter, and periodically updating those passwords. If nothing else, he gives new meaning to the word "distraction" as an explanation for civic inaction. As the seas rise and the air condenses into toxic smog, many of us will be bent over our laptops, filling out forms and attempting to wade through the "terms and conditions."
Lambert falls short of calling for the shadow workers of the world to go out on strike. But that's what it might take to give us the time and the mental bandwidth to confront the dystopian possibilities being unleashed by technology. If middle-class jobs keep disappearing as wealth piles up at the top, Martin Ford predicts, economic mobility will "become nonexistent": "The plutocracy would shut itself away in gated communities or in elite cities, perhaps guarded by autonomous military robots and drones." We have seen this movie; in fact, in one form or another - from "Elysium" to "The Hunger Games" - we've been seeing it again and again.
In "Rise of the Robots," Ford argues that a society based on luxury consumption by a tiny elite is not economically viable. More to the point, it is not biologically viable. Humans, unlike robots, need food, health care and the sense of usefulness often supplied by jobs or other forms of work. His solution is blindingly obvious: As both conservatives and liberals have proposed over the years, we need to institute a guaranteed annual minimum income, which he suggests should be set at $10,000 a year. This is probably not enough, and of course no amount of money can compensate for the loss of meaningful engagement. But as a first step toward a solution, Ford's may be the best that the feeble human mind can come up with at the moment.
[Barbara Ehrenreich, the founding editor of the Economic Hard- ship Reporting Project, is the author of "Nickel and Dimed: On (Not) Getting By in America."]