labor
"In Cuba, We're Not a Bit Afraid,"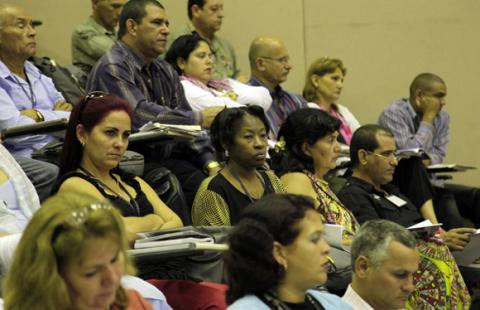 Sesión Plenaria Congreso de la CTC, Ismael Francisco / Cubadebate
Ulises Guilarte De Nacimiento, aged 50, started working in 1987 as a building engineer: a union activist, he became secretary of the Building branch, was then elected general secretary of the Workers' Central Union at its 20th congress in 2014. Parallel to this, he joined the Communist party's Central Committee in 2011. Now he is First Secretary of the Communist party in Artemisa, a member of the National Assembly and of the State Council.
HD: Change is the motto in Cuba now. What's the method? And what's the ambition?
ULISES GUILARTE DE NACIMIENTO: When we passed the law on foreign investment last year, some of our friends were really concerned: are you going to liberalize the labour market? And sell off industrial sectors to foreign capital? Our objective is to update our socialist society, to ensure its prosperous and sustainable development. We remain in full control of our social project (health, education), of our defense (with the people's army) and we alone define our needs. For our economy is a planned economy: we alone set our priorities and encourage foreign investment within that cadre. No one can come and set up a chewing-gum factory. We have no need of this. Property does not change hands, as nothing is for sale in Cuba. The collective ownership of the main means of production holds good. State companies remain the foundation of our economy. But we encourage complementary forms of management: small private entrepreneurship (cuentapropistas) and shared-ownership companies with foreign investment. The diversification of the economy takes place in management.
HD: How does this private sector evolve?
ULISES GUILARTE DE NACIMIENTO: Since 2010 the number of workers employed in that sector has grown from 156,000 to 498,617, and the branches are more varied: bed and breakfast, table d'hôte, care, cold drinks and refreshment stalls, repairs of all kinds, watch-making, transport, retrieval and recycling. For one year we have been testing out the co-operative mode – which already existed in agriculture. We now have 452 co-operatives in trade, transport, gastronomy, accountancy… so that the State can focus on the key sectors. This contributes to solving the problem of overstaffing in the state sector, which is detrimental to its efficiency. Our problem in Cuba is not joblessness.
In his speech on the state of the Nation, President Obama declared that the first measures following the end of the blockade would concern the private sector: the aim here, clearly, is to destabilize our economy. The CTC is quite aware of its responsibility. In the global context, the private sector is home to the informal economy – workers have no legal protection, no right. In Cuba, the labour code and social security law - reformed and voted last year – were debated, altered, amended, and put to the vote in all firms. Their dispositions and guarantees protect all workers indiscriminately.
Our CTC organizes these independent workers in several branches (building, gastronomy etc.) so that 63.3% of them are already union members.
In the May 1st march, cuentapropistas were present with their slogans, their banners, their mottoes. We have already turned some of their claims into legal rights : the wage tax is not levied on small companies with a staff of fewer than 6, street vendors are now allowed to display their stands and chairs, tables d'hôte can take more guests. Their main claim is for the creation of a wholesale market. We have not solved this problem yet, but they can get electrical appliances for catering on the retail market, large cans of oil, detergents etc. In order to diversify the offer for tourists, the ministry is going to propose contracts with table d'hôte owners in order to improve their guests' comfort (air-conditioning, new mattresses and bedclothes…)
HD: Which sectors are open to foreign investment?
ULISES GUILARTE DE NACIMIENTO: Mixed-ownership companies were first set up in the hotel industry. Today we need foreign investments to finance 240 specific projects: in the biotechnologies, in the oil industry, pharmaceutical industry, and product manufacturing industries. A number of such companies are to be found in the special area of the Mariel hub. For the time being they employ 40,000 workers. Foreign investments are exempted from the tax on profits for 8 years. Recruitment is through a state office, empleadora, that is the workers' employer. When their contracts come to an end, they are entitled to retrieve their previous jobs. "There will be no maquiladoras in Cuba." [1]. So Cuba invites foreign investment in specific, high tech sectors for the highly qualified workers that our Cuban revolution prides itself on educating. They are employable by these companies but it is the State – as their employer – that negotiates their labour contracts and salaries.
HD: Any changes for the State companies?
ULISES GUILARTE DE NACIMIENTO: 95% of all state employees are union members and all the changes have been discussed in each and every service or company. They are to become more productive and enjoy greater autonomy. A state company is now allowed to give workers 50% of its profits. We have introduced performance bonuses, to each according to his work. Salaries are lowest in the state sector. They have been raised for health workers. But a general wage increase is impossible without a rise in productivity. We cannot distribute wealth that we do not produce. So we proceed carefully : 800,000 workers still get incitement bonuses but we must move out of the equalitarian, paternalistic approach that has prevailed so far.
HD: Your motto is: "unhurriedly, but ceaselessly"
ULISES GUILARTE DE NACIMIENTO: In the 2000's we re-organized the sugar industry. A time bomb, some abroad called it. It took us two years: the change was discussed within each company with Fidel and ministers. Output / Power units were closed down, 40,000 workers reassigned. The industry benefited from a gain in productivity and in many units wages were raised. Nobody found himself or herself without a job. That is how we proceed, without leaving anyone by the wayside.
HD: What changes for the CTC?
ULISES GUILARTE DE NACIMIENTO: Change and experiments put a strain on the union. With 3,289,000 members, we are a mass organization, have struck deep roots in workplaces, represented in each organ of the State and we take on every challenge. One being to maintain the unity of workers in the face of the new private sector. In State companies, de-centralization and autonomy force trade-unionists to determine their own standards in the managing and productive processes.. They cannot merely relay or give added strength to an administrative discourse. Workers must feel that they are in control of and responsible for any decision that is made at any level or in any department.
At our 20th congress in 2014, all our junior and senior officers were renewed, especially in company branches : 41.5% of their delegates and officers are new, 56,9% of them are women, 17% are under 30.
So we are moving on. Worker participation does not consist merely in attendance at a purely formal meeting but taking part in a real discussion: about wages, training, conditions at work. Discussions on the plan and budget have taken place in 72,000 meetings. With the help of the National association of economists. We use no shock therapy. Changes cannot be decreed, they are first debated by all the workers, by the whole population. We are proud of being part and parcel of this people, of its capacity for resistance, of its creativity. We are aware of the issues at stake and we are confident. We, Cubans, are not a bit afraid!
---
The CTC was set up in 1939. It has 3,289,000 members, 2,192,749 in the State sector, 219,671 in the private and cooperative sector. It federates 17 national unions and their 82,1000 company, communal, or provincial sections, 1,418 of which in the private sector.
[1] Editor's note: Maquiladoras are US subsidiaries near the Mexican border.
Translated Friday 19 June 2015, by Isabelle Métral