Cheap Prison Labor Critical to Fighting California's Wildfires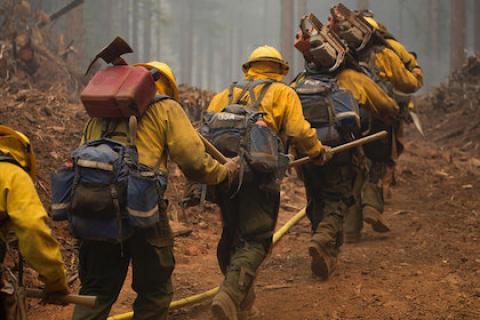 Fire crews heading out to fight the Klamath National Forest fire in California in 2014. Half of the state's 20 largest recorded fires have occurred since 2002., Kari Greer/ U.S. Forest Service
Northern California is burning: the Rocky Fire has charred nearly 70,000 acres west of Clearlake, while the Jerusalem Fire has grown to more than 14,000 acres, forcing the evacuation of 150 homes near Napa. The two fires are emblematic of a season that has been marked by a seemingly endless succession of fires, stoked by an unprecedented drought that has turned the California countryside into a tinder box of dry and dying vegetation.
But the fires are also emblematic of something else: the state's dependence on inmates to help battle wildfires wherever they occur. Since the 1940s, California has depended on the cheap labor of volunteer inmates to help control wildfires — it boasts the largest inmate firefighting program in the country, with around 4,000 inmate firefighters. But just as climate change is threatening longer, more extreme fire seasons, the state is looking at ways to cut back its unconstitutionally overcrowded prison populations. That leaves state officials in a peculiar position — will prison reforms drain the state of its cheap fire fighting labor, just when climate change means it'll need it most?
"It's true that over time, in theory, the inmates who are eligible to volunteer, that population should be reducing in state prison," Bill Cessa, spokesman for the California Department of Corrections and Rehabilitation, told ThinkProgress. "But we currently have a sufficient number of inmates so the fire protection is not compromised."
Fire protection in California is hugely dependent on the inmate firefighter program, run jointly by the California Department of Corrections and Rehabilitation (CDCR) and the California Department of Forestry and Fire Protection (Cal Fire). In total, the Cal Fire — the state's emergency fire response program — has about 10,000 firefighters on the ground combating wildfire — which means that almost half of Cal Fire firefighters in California are inmate firefighters. Unlike civilian volunteer firefighters with Cal Fire, who make minimum wage for their work ($9 an hour in California), inmates are paid $1 an hour when they are on the lines fighting fires. When they're not actually battling fires, but are working in camp or training, the prisoners make anywhere from $1.45 to $3.90 a day. That's paltry pay by civilian standards, but Cessa told ThinkProgress that "it's good money for prison standards."
But it's an especially good deal for the state, which saves a considerable amount of money by capitalizing on cheap prison labor instead of employing more civilian fighters at minimum wage. Over a 24-hour period, paying a crew of 12 to 15 civilian fighters would cost Cal Fire between $2,592 and $3,240. Inmate firefighters, on the other hand, cost $288 and $360. That's a savings of anywhere from $2,304 to $2,880 per crew — and with 196 inmate crews spread across the state, the program saves Cal Fire at least almost half a million dollars each year. Total savings to the state — and taxpayer — are hard to pin down, Cessa told ThinkProgress, but he said that a lot of people have put the number somewhere around $100 million. According to the state-run program website, the savings to the California taxpayer are $80 million annually. According to an in-depth feature on the program published last year by BuzzFeed, the savings to the state top $1 billion.
Any way you cut it, officials from Cal Fire told ThinkProgress, the state and taxpayers benefit from the inmates' cheap labor.
"If the tax dollars had to support this program, it would be a lot more costly with [civilian] firefighters," Janet Upton, deputy director of communications at Cal Fire, told ThinkProgress.
It's an advantage that the state isn't keen on losing — especially as climate change makes drought and extended fire seasons increasingly common in California. In November of 2014, lawyers for the state filed court documents arguing that a proposed expansion of parole programs would drastically undercut the appeal of the state's fire program, which incentivizes paricipation by offering inmates twice as many credits toward early release as they would earn inside prison walls. The program, known as 2-1 credits, was ordered to be expanded by a federal court in February of 2014. But attorneys for the state argued that such an expansion would "severely impact fire camp participation—a dangerous outcome while California is in the middle of a difficult fire season and severe drought." California Attorney General Kamala Harris swiftly distanced herself from that stance, telling ThinkProgress days after the documents became public that it "evokes images of chain gangs."
The connection between cheap prison labor and slavery is teased out explicitly in the Buzzfeed feature, where reporter Amanda Chicago Lewis follows inmate Demetrius Barr through a year of working at the Holton Conservation Camp north of Los Angeles.
"Pshh, this might be beyond slavery, whatever this is," Barr told Lewis at one point during the piece. "They don't have a whip. That's the difference."
State officials — perhaps predictably — see it differently. Both Upton and Cessa highlighted the positive aspects of the program, noting that it offered inmates a chance to amass a larger monetary nest egg for when they're released than any other prison job, and that it allows them a greater — though still severely limited — amount of freedom, because the camps are relatively open compared to the walls of a prison.
Still, Cessa doesn't hide the fact that it's very dangerous work. "When the inmates volunteer, we don't try to hide that fact," he said. "When you're actually in a fire — this is not a small grass fire, these are fires with flames 100 feet tall."
And the work that is required of the inmates is incredibly arduous — often, inmates are tasked with cutting fire lines in steep areas that inaccessible by bulldozer and covered in very thick brush. Cutting fire lines involves stripping away brush and vegetation to expose a wide path of soil that won't burn — it's work that civilian firefighters also take on sometimes, but for inmate firefighters, it's pretty much all they're allowed to do. Without the work of inmate crews cutting fire lines, Cal Fire's other fire suppression tools — from fire engines to airtankers — would be far less effective.
"They're an important resource just as all our resources are," Upton said. "The strength of each of those resources is their ability to work together. An airtanker by itself is not effective — it has to be followed up by boots on the ground work."
Historically, the program has pulled inmates exclusively from state prisons. Inmates are required to fit certain criteria: no arsonists, no violent offenders, no inmates serving a life sentence, and no imates with behavior problems in high-security institutions. But as state reforms have shifted more inmates from state prisons to county jails — and the need for inmate firefighters has only increased — the program has begun looking to county jails to fill the program.
"We are always concerned, but we have contingency plans," Cessa said. "There were predictions a few years ago that the population would drop dramatically, and fortunately those predictions did not come true, but anticipating that they might the state negotiated contracts with counties to provide jail inmates if we need them. Out of the 3,800 that we currently have out there, only about 200 or so are actually from counties."
Upton also said that Cal Fire is beginning to look beyond the inmate program — potentially to places like the California Conservation Corps, or the National Guard — to bolster its firefighting needs.
"I don't envision a time when we're going to lose all our inmate crews," Upton said. "That said, the numbers are certainly something jointly, with our partners, that we're paying attention to."
At the same time, she's also paying attention to the marked increase in wildfires within the state over the past few years.
"We've been tracking, in California, large fires by acreage. Of the 20 largest fires in recorded history, which goes back to 1932 or so, over half have occurred since 2002," she said. "That's concerning."
[Natasha Geiling is a climate reporter for ThinkProgress. Previously, she worked as an online reporter for Smithsonian Magazine, covering history, food, travel and science. Her writing has appeared online in Slate, Modern Farmer and Bustle. Contact Natasha Geiling.]