Will ICE Pull an End Run Around a New California Law?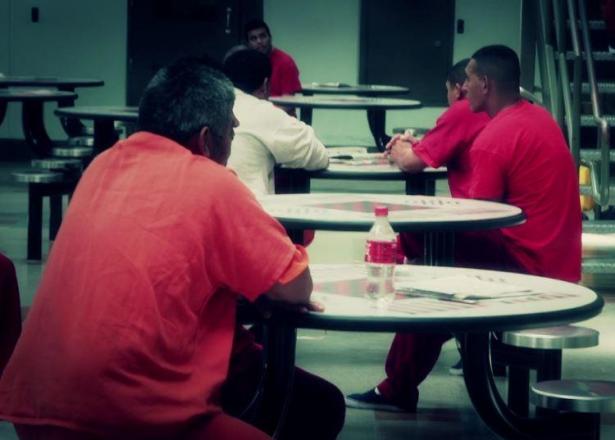 Capital & Main
Last month, California Governor Gavin Newsom signed Assembly Bill 32, aimed at phasing out private prisons in the state beginning Jan. 1, 2020. "These prisons do not reflect our values," Newsom said in a signing statement. The bill passed by wide margins in both houses, with 13 Republicans crossing party lines to support it. Under the law, all four U.S. Immigration and Customs Enforcement lockups that are located in California would be gone in less than a year.
But the Trump administration is fighting back. Five days after Newsom signed the bill, ICE found a way to get around it; the agency announced its intent to issue new contracts by December 20, just before AB 32 becomes law.
Under the ICE request for proposals, the agency would expand its footprint in the state from more than 4,000 detention beds to 6,750. It would also add comprehensive mental health programming at the state's largest detention center. Given the short deadline, immigration rights activists point out, these contracts – including the one for comprehensive mental health programming – would go to firms with extensive records of abuse and neglect of detainees and poor track records on mental health.

"They are certainly violating the spirit of the [federal procurement] law," said AB 32 author Assemblyman Rob Bonta (D-Oakland), adding that ICE's 18-day deadline for the receipt of proposals, and its requirement that the facilities be in operation by December 20, virtually ensure that the companies that currently hold the contracts will win the bids.
"They're ramming this through to throw a lifeline to a dying industry," Bonta said.
Twenty-one congresspersons and senators have taken Bonta's side. Senators Kamala Harris and Dianne Feinstein, along with House Judiciary Committee chairman Jerrold Nadler and Homeland Security Committee chair Bennie Thompson, wrote in a November 14 letter to ICE officials that the request for proposals appears "designed to eliminate meaningful competition in favor of three private corporations that operate within California."
ICE spokeswoman Paige Hughes wrote in an email to Capital & Main that the agency has done nothing wrong. "U.S. Immigration and Customs Enforcement remains compliant with federal contract and acquisition regulations as we advertise opportunity notices and subsequently implement the decision process."
But on November 5, in an announcement of the company's third quarter performance, GEO Group CEO and chairman George Zoley all but assured shareholders that at least some of the California contracts were in the bag for GEO.
"This procurement is expected to result in new long-term contracts starting in mid-December of this year," Zoley said. "It involves a re-bid of existing contracts at our Adelanto and Mesa Verde ICE processing centers as well as other contractor-operated facilities in California."
The GEO Group is the nation's largest for-profit prison firm and currently holds two ICE detention contracts in California, a nine-month-long agreement to operate Adelanto, a 1,940-bed facility in the Mojave Desert, and a year-long contract for Mesa Verde with 400 beds in Bakersfield, which together are worth more than $82 million. CoreCivic, GEO's slightly smaller competitor, operates the nearly 1,000-bed Otay Mesa Detention Center in San Diego, while Utah-based Management and Training Corporation manages the 700-capacity Imperial Regional Detention Facility in Calexico.
The ICE solicitation includes two additional opportunities that GEO is poised to snag. The agency seeks to add 750 more beds than it currently has in Northern or inland California, where GEO owns a recently emptied 700-bed facility in the Kern County town of McFarland. The mental health proposal is to be implemented at a 2,000-plus bed facility no more than 100 miles from Los Angeles — which roughly describes the company's Adelanto Detention Center.
An ICE spokeswoman didn't answer emailed questions about why the agency has proposed the mental health program and why it turned to the private sector and not its own government-run ICE Health Services Corps to operate it.
ICE's proposed mental health program would add licensed clinical staff and offer detainees art and music therapy, as well as substance abuse and domestic violence counseling, according to the agency's request for proposals.
The mental health plan comes as the California attorney general; Disability Rights California (DRC), an agency charged with investigating facilities that care for the disabled; and the Department of Homeland Security Office of Inspector General have all slammed ICE and the GEO Group for mistreatment of mentally ill detainees. Criticism has included charges of delaying and denying proper health care and placing detainees in solitary confinement because of their mental health conditions.
Disability Rights California spent four days at the Adelanto facility, interviewing more than 100 detainees and reviewing documents, before concluding in a March 2019 report that conditions at Adelanto "result in the abuse and neglect of people with disabilities as defined by federal law."
While DRC and others have stressed the need for better mental health care, Dr. Altaf Saadi, a neurologist at Massachusetts General Hospital (and one of the Adelanto investigators), said she's skeptical of the initiative, in part because it would be a for-profit venture. She also argued that the prison-like conditions prioritized disciplinary practices over health care. "The approach to managing mental health was a punitive one," Saadi said.
Among the DRC's findings:
•A guard pepper sprayed a Nigerian asylum seeker as he attempted to hang himself in a solitary confinement cell.
•A former Northern California college student slit her wrists at Adelanto; medical records indicated she didn't tell mental health workers about her suicidal thoughts because she feared being placed in solitary confinement.
•GEO significantly underreports data on suicide attempts at Adelanto. For instance, GEO reported no suicide attempts for the first 10 months of 2018, causing DRC to note, "Our investigation showed this to be demonstrably false."
Both DRC and the DHS's Office of Inspector General noted that homemade braided nooses hung from air vents in several Adelanto cells, even after Nicaraguan detainee Osmar Gonzalez-Gadba hanged himself with just such a noose in March 2017.
The IG report quotes a detainee who says, "The guards laugh at [suicide attempts] and call them 'suicide failures' once they are back from medical."
Dr. Saadi argued that freeing mentally ill detainees from confinement would be the best course, commenting that the crowding and sleep deprivation they experience at Adelanto exacerbate mental health issues. Even jails and prisons are more transparent than ICE facilities, she claimed. "The mental health needs there are very great," noted Richard Diaz, a staff attorney with DRC, and an author of the report. But, he said of Adelanto, "I just don't think it's possible in a facility that's run and designed like a jail."
GEO also ran afoul of state authorities for patient deaths, overmedicating patients, and unauthorized use of restraints, among other violations, while operating state mental hospitals in Florida and Texas in 2012. (Wellpath, formerly called Correct Care Solutions, bought GEOCare, the company's wholly owned healthcare subsidiary, in 2014. The company, which provides health care services at Adelanto, has been sued more than 1,395 times in federal courts, according to documents the company turned over to Yahoo News in 2018.)
In an email, a GEO spokesman didn't address the company's record on mental health. He referred Capital & Main to written responses to the Department of Homeland Security IG's report. Similarly, ICE spokeswoman Hughes didn't comment on GEO's or any other company's fitness to provide mental health care.
Minju Cho, an attorney for the American Civil Liberties Union, has filed a Freedom of Information Act request for communications between ICE and the three prison companies because, she said, "The manner and the terms of the October 16 solicitation suggest there might be coordination and collusion between them and ICE." Cho argued that the three companies that currently operate detention centers are virtually the only ones that could provide the "turnkey" facilities ICE requires by December 20.
Senators Harris and Feinstein, and the other members of Congress who questioned the ICE action in their November 14 letter, echoed Cho's request for information about the contract solicitation.
Even if the ICE contracts are signed before AB 32 takes effect, a GEO spokesman said in a written statement that its constitutionality will ultimately be decided in the courts. "[B]ut until then we will continue to provide safe, secure and humane care to individuals that are being adjudicated under federal immigration law." A Trump administration lawsuit against the state would add another to more than 60 legal battles between California and the federal government in the past three years.
Copyright Capital & Main.  Reprinted with permission.
Robin Urevich is a journalist and radio reporter whose work has appeared on NPR, Marketplace, the San Francisco Chronicle and the Las Vegas Sun.