What Does a Book Have to Do With a Movement?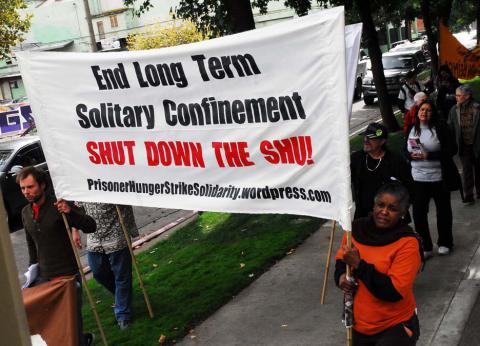 Bill Hackwell
California prisoners are calling it a victory. Their attorneys and family members are calling it a "landmark settlement." Even the California Department of Corrections and Rehabilitation, or CDCR, is calling it a step in the right direction.
On September 1, advocates announced that there was a settlement in the class-action lawsuit Ashker v. Governor of California. Filed in 2012, the lawsuit followed two mass prison hunger strikes which rocked California's prison system. Both the strikes and the ensuing lawsuit challenged the CDCR's policy of sending people to the Security Housing Unit, or SHU, for indefinite periods of time on allegations of gang affiliation. Until recently, one of the few ways to be released from the SHU was to debrief, or provide information about the gang in question and incriminate others, who were then placed in the SHU. The other ways were to parole or to die.
The same year that Ashker was filed, CDCR began changing its criteria for SHU placement. It also unveiled its Step Down Program, which served as an alternative to debriefing. Under Step Down, each person imprisoned in the SHU for gang affiliation is reviewed and assigned to one of five steps, with each step allowing more privileges and contact with other people.

The following year, dissatisfied with the changes, prisoners again went on hunger strike. On July 8, 2013, over 30,000 people in California's prison system refused meals. The strike lasted for 60 days, although the number of participants decreased sharply over those two months. Two years later, they are declaring victory with a settlement that agrees to place people who have spent 10 or more years in the SHU in either general population or a new restrictive custody general population facility which, although more restrictive, will still allow for in-person interaction, group programming and contact visits with loved ones. The settlement also places a five-year limit on placement in the SHU at Pelican Bay State Prison, where many had spent years, and sometimes decades, in isolation. Under the settlement, CDCR has one year to implement these changes, but attorneys predict that changes will come quicker than that.
What does a book have to do with all of these changes?
Todd Ashker is one of the leaders of the Pelican Bay hunger strikers. He is also the lead plaintiff in the class-action lawsuit. He has spent more than 20 years in Pelican Bay's SHU and was placed there in 1990, less than one year after the prison opened. He had already been in isolation for four years before that.
Sometime between 2008 and 2009, Ashker managed to get his hands on "Nothing But an Unfinished Song: Bobby Sands, the Irish Hunger Striker Who Inspired a Generation." Sands, an Irish political prisoner, died in 1981 after a 66-day hunger strike protesting British rule in northern Ireland. The following year, despite being kept in separate 11-by-7 foot cells, Ashker discussed the idea of a hunger strike and the rights of man with others along the prison's corridor. Based on those conversations, he compiled what he called a "formal complaint," which he sent to legislators and the CDCR. "It received very little response," he recalled in a 2011 letter. "CDCR's response was 'File a grievance, if you haven't already.'"
From their isolated cells, they followed the work strike erupting throughout Georgia's prison system and the hunger strike on Ohio's death row. They shouted down the corridor to the others locked in their isolated cells. "They soon agreed, something had to be done," described Ashker. "It was agreed, a peaceful protest via hunger strike was our best option, the goal being to expose the illegal policies and practices to the mainstream media (and thereby masses of people), and with outside support, pressure, force meaningful change."
On July 1, 2011, they launched the first of three hunger strikes, demanding an end to California's SHU policies and better prison conditions. That first strike spread to 13 prisons and, at its height, had 6,600 participants. The rest, as they say, is history.
Books have always made a difference, particularly to those behind bars. The most famous example is that of Malcolm X who attributes his transformation to reading first the dictionary and then anything he could get his hands on in his prison cell. "Anyone who has read a great deal can imagine the new world that opened. Let me tell you something: from then until I left that prison, in every free moment I had, if I was not reading in the library, I was reading on my bunk. You couldn't have gotten me out of books with a wedge," he recalled in his autobiography. "In fact, up to then, I never had been so truly free in my life."
More recently, the Huffington Post profiled poet Reginald Dwayne Betts, who was placed in solitary confinement because the jail lacked space for incoming adolescents. A book by James Baldwin sustained him through his 10 days in isolation. Two years later, while in solitary confinement (again), someone slid Dudley Randall's "The Black Poets" under his cell door. Betts was 18 years old. The book changed his life. "From that point on, I decided that I was going to be a poet." Now age 34, he has since published a memoir about coming of age in prison, written two books of poetry, gone on to get his undergraduate and MFA degrees, and is finishing law school.
Books can be a lifeline to people in prison. That lifeline doesn't always get profiled — not every person becomes an award-winning poet or writer, stages headline-grabbing mass hunger strikes, or becomes a legacy. But for people locked away, sometimes without human contact and sometimes with all-too-much human contact, books can provide a pathway to possibilities.
When I was a teenager, I saw this happen again and again. Several of my friends had joined gangs and, with easy access to money, dropped out of the high schools that weren't doing very much for them anyway. They were scornful of reading and anything that smacked of formal education. If I tried to read around them, they would literally smack the book out of my hand.
But then, they got arrested and, lacking the thousands necessary for bail, were sent to Rikers Island, New York City's island jail complex. They spent months behind bars waiting for their day in court. In the meantime, there was very little to do and so these same friends, who had not too long ago made fun of me for reading and discouraged their girlfriends from applying to college, were now asking me for reading material. I brought books with me each time I went to visit, waiting the extra 20 minutes between being processed as a visitor and leaving the paperbacks at the package window. These same friends, who had seen formal education as a waste of time, went on to get their GEDs and, before President Bill Clinton and Congress cut Pell grants to prisoners, started taking college courses.
Seeing the impact that books had behind jail and prison walls, I spent nearly every Sunday for the next 14 years sending books to people in prison across the nation. It started in 1996 when people involved with the Lower East Side anarchist bookstore Blackout Books and the Nightcrawlers Anarchist Black Cross (not to be confused with the present-day Anarchist Black Cross based in Brooklyn) invited me to help them set up Books Through Bars — NYC. The group would send free books and other reading material to people imprisoned in the tri-state area as well as women and juveniles across the country.
The original intent was to send history and political materials that would probably not be found on the shelves of prison libraries. But demand for books was huge and, despite our announcements specifying that the group's focus was on women, juveniles and people in the tri-state area, we were soon receiving mountains of mail from adult men incarcerated in California and Texas, which have the nation's largest prison population.
Over those 14 years, Books Through Bars grew into its own organization, partially because the Nightcrawlers disappeared within a year and Blackout Books closed its doors in 2000. As prison populations continued to grow and budgets for luxuries such as books shrank (if they even existed in the first place), more and more requests came in. People wanted reading material — some to temporarily escape the walls, some to learn more about their heritage, history and culture, some to educate themselves about the social and political forces that impacted their lives.
Dictionaries were the most popular request. They never stayed on the shelves for more than a few hours and there was often a manila envelope stuffed with letters from people whose sole request was a dictionary. It was not unusual to get a request for a dictionary with a postscript from his cellmate who actually wrote the letter because the person was unable to read or write. It was heartbreaking to open a letter from a person who had been locked up for years and no longer had contact with the outside world. It was horrifying to find letters in the four-month backlog from women who were seven months pregnant and needed a pregnancy book because no one told them what to expect.
Most of the time, the other volunteers and I searched the shelves for the appropriate books, wrapped them in brown paper, addressed them and sent them off. Sometimes we received thank you letters. I remember sending a memoir of a Muslim girl growing up post-9/11 to a white woman incarcerated in Oklahoma. She wrote back, thanking us for the book and explaining that it had made her think beyond the anti-Muslim hysteria that the news had been broadcasting. Another woman, who had requested material on HIV/AIDS, was using them to strengthen a peer education program to not only prevent the spread of HIV, but also to combat the prevailing stigma. One letter was particularly chilling — in 2002, a volunteer responded to a request by Stan Baker, then on death row in Texas. "I'm going to be executed May 30, but I'd like you to know that those books will give me much pleasure in the days remaining to me," he wrote. By the time we opened the letter, it was summer; we immediately raced to the computer and searched the internet. He had been dead for several weeks.
Sending a book to someone in prison always makes a difference. At the very least, it allows them to escape their surroundings for a few hours or gives them relief in their remaining hours. Sometimes it inspires people to explore opportunities they had never known existed. And sometimes, as both Malcolm X and Todd Ashker have demonstrated, a book can spark a movement.
Victoria Law is a freelance writer, analog photographer and parent. She is the author ofResistance Behind Bars: The Struggles of Incarcerated Women and co-editor of Don't Leave Your Friends Behind: Concrete Ways to Support Families in Social Justice Movements & Communities.