Burden of Mass Incarceration Falls Heavily on Families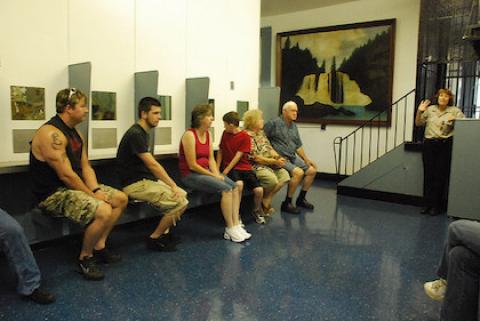 Visitors area, Moundsville Penitentiary, West Virginia, Dina-Roberts Wakulczyk
With more than 2.4 million people incarcerated in U.S. jails and prisons, the burden of mass incarceration falls on their families, many of whom are unable to pay off thousands of dollars in debt after paying court-related fees and other costs, according to a report published Monday.
The average family of an inmate incurs about $13,607 in debt for court-related costs, according to a report by the Ella Baker Center, Forward Together and Research Action Design, organizations that advocate for criminal justice and other social justice reforms. More than one-third of families go into debt to pay for phone calls and visits to keep in touch with a loved one behind bars, the study found.
Of the family members responsible for these costs, 83 percent were women, the report found. Many families surveyed for the study were struggling to pay for food or rent.
The researchers surveyed more than 1,000 formerly incarcerated people, their family members and employers in 2014, and they conducted 34 focus groups with those affected by incarceration in 14 states.
Shamika Wilson, a single mother of two whose husband has been incarcerated for 30 years, told Al Jazeera that she incurred more than $30,000 in debt to visit and take care of her husband, who is in a prison more than 500 miles away. A single trip, she said, costs about $1,000 in car rental fees, plane tickets and other expenses.
"Because my husband is incarcerated, that means that as a single mother I need to find ways to support the children on my own," she said. "It's very hard, it's not easy."
Stories like hers illustrate a cycle of poverty created by mass incarceration: About 80 percent of incarcerated individuals are low-income, and nearly two-thirds of their family members are unable to meet their basic food and housing needs. At the time of the study, nearly one in five faced eviction, were denied housing or failed to qualify for public housing assistance.
"This study confirms what society has ignored for too long — that already vulnerable families and the women who sustain them are being plummeted into greater poverty, stress, and strain when their loved ones are incarcerated," said Alicia Walters, a lead activist at Forward Together, an organization that helped conduct the study.
"Decades of bad policy have torn families apart, typically leaving mothers to make up the difference and bear the brunt of these costs," she added.
The crippling effects of incarceration don't stop after a family member is released, the study's authors found. Once free, many report issues with finding housing or a job, or say they lack the resources to get them back on their feet while they look for employment. Many are denied public benefits, such as education, housing or skills training assistance. Removing those barriers would go a long way toward helping individuals enter the job market more quickly, the authors argue.
And the problems extend beyond financial worries. The physical and psychological toll of maintaining a long-distance relationship with a loved one in prison is huge, said Wilson, who said she was prescribed antidepressants about six months ago to deal with her pain.
"It's really emotionally and physically just draining," she said. "I feel like I've been locked up along with my husband for the past 30 years," Wilson said in a statement.
The authors of the report conclude that, given the impact on families, criminal justice reform should go beyond sentencing reform. "We must enact policies that restructure the system, remove barriers, and restore opportunities to create lasting change that reinvests in the families and communities most harmed by mass incarceration," said Azadeh Zohrabi, a national campaigner at the Ella Baker Center for Human Rights.
[Lisa De Bode is a digital news producer for Al Jazeera America.]