Teachers Object As NEA Leaders Eye Clinton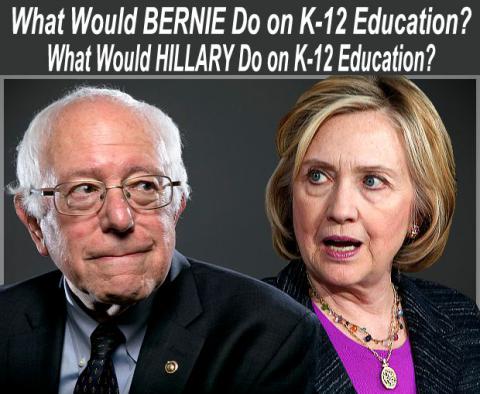 A rumored presidential endorsement by the nation's largest union is exposing a rift between rank-and-file members who are "feeling the Bern" and leadership who appear more willing to err on the Clinton side of caution.
Various news reports have indicated that an announcement by the 3-million strong National Education Association is expected sometime this week.
According to an email obtained by Politico, the NEA PAC, the union's political arm, is planning to hold an upcoming vote "recommending Hillary Clinton for the presidential primary" on the grounds that the former Secretary of State "is the best positioned candidate to win both the Democratic primary and general election," citing her "unmatched organizational strength, ground game, and fundraising ability to defeat the candidate of the Koch brothers."

EdWeek is also reporting that "NEA President Lily Eskelsen-Garcia has been busily canvassing the union's 50 state affiliates via visits and conference calls, trying to drum up support for a PAC Council vote," which she is expected to hold later this week.
This early endorsement is being defended by NEA leadership as a means of securing a more "significant role," according to the internal email, in the next administration's public education policymaking.
However, it has spurred outright protest from many of the organization's rank-and-file members who argue that a primary endorsement excludes the majority's input, particularly those who support Senator Bernie Sanders for the nomination.
NEA members supporting Sanders "are already planning a grassroots campaign in opposition to the what they expect will be a Clinton nod," Politico reports:
In a letter to members, five educators from Wisconsin, Vermont, Massachusetts and Montana write: "More than 30,000 NEA members have shown support for Sen. Bernie Sanders to be our next president through his campaign website or various social media sites," and cite Sanders' opposition to charter schools, support for collective bargaining rights and free tuition at public higher education institutions.

"An early endorsement for Clinton would be based only on advocacy by national and state leaders without membership input," the letter states. "Like it or not, this is our time to mobilize against an endorsement next week not to moan about it." Members are being encouraged to write to their state association protesting the early endorsement.
Not unlike the groundswell of excitement the campaign is experiencing nationally, NEA members have voiced their fervent support for the more progressive candidate's policies and positions. As EdWeek reported following the union's summer meeting, "by far the loudest delegate cheer went to Bernie Sanders, when the names of the three Democratic candidates interviewed by NEA President Lily Eskelsen-Garcia were announced."
Further, despite the fact that he's now polling ahead of the presumed nominee in key battleground states, the Sanders campaign revealed to Politico that the progressive candidate was not given equal consideration by NEA leadership.
"There was recently a phone interview that was arranged for Secretary Clinton with their board of directors," said a Sanders campaign official. "That was never offered to us."
As educator Anthony Cody wrote in a column published last week on Common Dreams, excluding the input of NEA members on the endorsement decision will only hurt the organization's power.
"If that decision is made by a handful of leaders, it will send a message to members that their voices do not count," Cody said. "This will make it difficult for NEA to then activate their members."
Cody added that members will "be active regardless," if not through their union, then through their own grassroots efforts. "If NEA endorses Clinton or any other candidate without an adequate process that actively involves and engages their membership, and without clear answers to the vital questions we have regarding the Department of Education and Democratic party support of corporate reform, then teacher activism will take place outside of the NEA," Cody wrote.
The fray follows the American Federation of Teachers' controversial endorsement of Clinton in July and mirrors similar debates being waged within other labor organizations, including the The International Association of Machinists and Aerospace Workers (IAM) and SEIU.
Last month, the National Nurses Union gave a strong endorsement of Sanders, saying his issues align with theirs "from top to bottom."
This work is licensed under a Creative Commons Attribution-Share Alike 3.0 License