food
UN Declares 2016 The Year of Pulses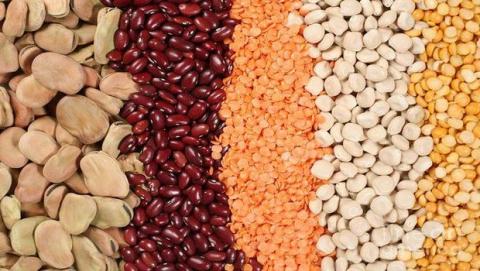 Pulses like dried beans and peas are an inexpensive and highly nutritious source of protein.,Natural Products Insider
Pulses, including all kinds of dried beans and peas, are an inexpensive and highly nutritious source of protein and vital micronutrients that can greatly benefit people's health and livelihoods, particularly in developing countries. For this reason, the United Nations has declared 2016 the International Year of Pulses.
Pulses can contribute significantly in addressing hunger, food security, malnutrition, environmental challenges and human health. Using the slogan "nutritious seeds for a sustainable future," the International Year of Pulses will raise awareness of the many benefits of pulses, boost their production and trade, and encourage new and smarter uses throughout the food chain.
Hundreds of varieties of pulses grown throughout the world. Popular ones include all varieties of dried beans, such as kidney beans, lima beans, butter beans, broad beans, chickpeas, cowpeas, black-eyed peas and pigeon peas.

These plant-based proteins are an affordable alternative to more expensive animal-based protein, which makes them ideal for improving diets in poorer parts of the world. Because pulses yield two to three times higher prices than cereals, they also offer great potential to lift farmers out of rural poverty, and processing provides additional economic opportunities, especially for women.
Micronutrient malnutrition affects more than 2 billion people. Among the most essential micronutrients are vitamin A, iron, zinc, iodine vitamin D and omega-3s. In fact, 17.3 percent of people do not take in adequate amounts of zinc, and 33.3 percent of children and 15.3 percent of pregnant women are deficient in vitamin A, according to the SupplySide Boardroom Journal's June 2013 issue, "A World Without Hidden Hunger."
Pulses are packed with proteins (double that found in wheat and three times that of rice). They are also rich in micronutrients, amino acids and b-vitamins, which are vital parts of a healthy diet. Low in fat and rich in nutrients and soluble fiber, pulses are also excellent for managing cholesterol and digestive health, and their high iron and zinc content makes them a potent food for combating anemia in women and children. They are a key ingredient in healthy diets to address obesity and to prevent and manage chronic diseases such as diabetes, coronary conditions and cancer. Because of their high nutritional content, pulses are a staple in emergency food baskets and since they do not contain gluten, they are also suitable for celiac patients.