How Can No One Be to Blame for Tamir Rice's Death?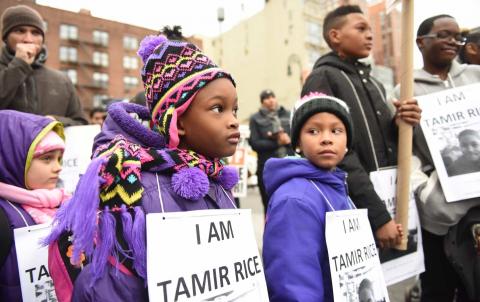 A children's march in New York City sponsored by the Stop Mass Incarceration Network on the one-year-anniversary of Tamir Rice's death,  AP Photo / Andy Katz
First, police killed the 12-year-old black boy at a park, barely bringing the car to a halt before jumping out to open fire. Then, minutes later, they pinned his 14-year-old sister to the ground after she ran up to see about her wounded sibling. Next, a media outlet dragged his parents' names through the mud, implying that their unrelated brushes with the law made them at least somewhat culpable for their child's death. And on Monday, the Cuyahoga County prosecutor's office announced that Timothy Loehmann, the Cleveland police officer who killed Tamir Rice last year, would face no state criminal charges.
It is the end to—or at least a turning point in—a story that is both heartbreaking and stomach-turning: An onlooker calls 911 to report that he sees someone pointing a gun at people in a park. Two critical caveats the caller passes on to 911—that the gun is probably a fake and that the person holding it is probably a juvenile—never make it from the 911 call center to the police who rush onto the scene. (It was and he was.) A New York Times report from early this year explains what happened next:
Within two seconds of the car's arrival, Officer Loehmann shot Tamir in the abdomen from point-blank range, raising doubts that he could have warned the boy three times to raise his hands, as the police later claimed. And when Tamir's 14-year-old sister came running up minutes later, the officers, who are white, tackled her to the ground and put her in handcuffs, intensifying later public outrage about the boy's death. When his distraught mother arrived, the officers also threatened to arrest her unless she calmed down, the mother, Samaria Rice, said.
They shot the boy within two seconds of arriving. What could they have possibly surmised in those two seconds? What might actual police work have looked like, and what were the steps that would have allowed Rice, newly in possession of a toy gun, to have lived through this encounter?
As we know from media reports out of Cleveland, there was no reason to expect that Loemann would or could take appropriate action in that moment. In 2012, the police department that he worked for in Independence, Ohio, noted that he was "distracted" and "weepy" during firearms training. The deputy chief of police there reported that Loehmann "could not follow simple directions, could not communicate clear thoughts nor recollections, and his handgun performance was dismal." That same supervisor wrote, "I do not believe time, nor training, will be able to change or correct the deficiencies." Loehmann resigned after six months on that force, but went on in March of 2014 to join the Cleveland Police Department, which did not review his file from Independence. He scored the new position after failing to secure a job with police departments in Akron, Euclid, and Parma Heights or with the Cuyahoga County Sheriff's Department.
Loehmann's shortcomings bring to mind the Barney Fife fumblings of the McKinney, Texas, officer whom video showed to be clearly out of his depths—somersaulting needlessly outside a pool party and waving his gun at teenagers before sitting on a bikini-clad girl's back. They bring to mind the cowardice of Officer Michael Slager in North Charleston, South Carolina, who took aim at the back of a running Walter Scott.
Loehmann wasn't the only officer present at the scene. He opened fire after stepping out of a car driven by Officer Frank Garmback, who was accused of using excessive force against a 39-year-old black woman in 2010. Cleveland eventually paid the woman $100,000 to settle. According to The New York Times, after shooting Tamir Rice, the officers stood around for approximately four minutes. Neither of them checked his vital signs or gave him first aid.
How do people such as these get and keep their jobs? And what is to be done when, after the deaths of Michael Brown, Sandra Bland, Eric Garner, and Rice, evidence suggests that prosecutors can't be trusted to hold police accountable? In Cleveland, concerns about Cuyahoga County Prosecutor Tim McGinty surfaced early and often. As of mid-October, nearly a year after Rice's death, McGinty still had not begun presenting a case to the grand jury. In October, attorneys representing the Rice family sent a letter to McGinty asking that he recuse himself so that a special prosecutor who might actually try to secure an indictment could be appointed. More than 200,000 people then signed a petition circulated by the civil-rights organization ColorOfChange.org echoing the call for McGinty to step down.
Pressure came from within the establishment as well. Last summer, a municipal judge in Cleveland decided that there was probable cause to charge Loehmann and Garmback on multiple counts. The judge, responding to affidavits filed by members of the Cleveland community who sought charges against the officers, wrote an administrative order, advising that Loehmann be charged with murder, involuntary manslaughter, and reckless homicide and that Garmback be charged with negligent homicide. The order was purely advisory and apparently did little to inform McGinty's actions.
But the issue at hand is bigger than one Ohio prosecutor's failing to aggressively seek an indictment. LaDoris Hazzard Cordell, a retired judge and independent police auditor, has consistently made the bold call for an abolition of the grand-jury system altogether. In these proceedings, which are closed to the public, the prosecutor runs the show, presenting evidence to jurors and instructing them on the law. With their outdated reasons for existing and the inordinate power given to prosecutors, the grand jury system itself appears to be part of the problem in a case like Rice's (and Bland's and Garner's and so many other deaths at or alleged to be at the hands of police). Writing late last year after it was determined that the officers who killed Brown and Garner would face no charges, Cordell explained:
In high-profile, controversial cases, where officers use lethal force, prosecutors face a dilemma. If they don't file charges against officers, they risk the wrath of the community; if they do file charges, they risk the wrath of the police and their powerful unions. By opting for secret grand jury proceedings, prosecutors pass the buck, using grand jurors as pawns for political cover. The Michael Brown and Eric Garner cases are examples of how prosecutors manipulate the grand jury process.…

We will never know why there was no indictment because what the prosecutors said, how they said it, what evidence they presented, and what they asked the witnesses will forever remain secret, unless the transcript is opened to the public by court order.

By convening grand juries, the prosecutors in Missouri and New York ensured that there would be no justice for Michael Brown and Eric Garner. Sadly, these two men are gone. But if we abolish criminal grand juries, at least their deaths will not have been in vain.
It's difficult to imagine that any reform could make the family of 12-year-old Rice feel as though he did not die in vain. But perhaps a serious effort to abolish grand juries is an appropriate step toward ending this pattern of watching police walk free after needlessly killing those who are black and unarmed. One such effort is underway in California, where lawmakers this summer banned the use of secret grand juries in police shootings.
Copyright c 2015 The Nation. Reprinted with permission. May not be reprinted without permission. Distributed by Agence Global.
Please support our journalism. Get a digital subscription to The Nation for just $9.50!