Raisin' Cane: A Harlem Renaissance Odyssey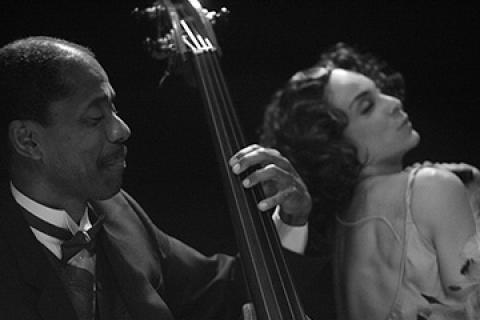 RAISIN' CANE:
A Harlem Renaissance Odyssey
starring Jasmine Guy
Written and conceived by Harry Clark
Original score by Avery Sharpe
Performed by the Avery Sharpe Trio
Production Design by Gregg Bellon
Theatrical Projection Design by Daniel Foster
Directed by Dan Guerrero
Executive Producer Gloria Johnson Goins

Inspired by the classic 1923 novel "Cane" by Jean Toomer
and works by other artists of the Harlem Renaissance
It was an exceptional time. It was our time. It was time.
Time: 1920s. Place: Harlem, New York, USA.
In the American Black community, during the years leading up to the Harlem Renaissance, there was a sense of building artistic expression. Outlets and avenues for its poets, musicians, novelists, artists, and actors were few. But in 1918, as the first great World War concluded and thousands of African-American soldiers returned home victorious, this mountain of artistic expression was now ready to explode.
The words and thoughts of Langston Hughes, Countee Cullen, Zora Neale Hurston, W.E.B. Du Bois and many others, became the voice of a new generation of African-Americans- looking forward but still struggling with the past and present. These thoughts, songs, and images are woven into a panoramic experience that spans this extraordinary outpouring of artistic endeavor. Raisin' Cane is a window on this critical point in our history.
Starring the award winning actress, singer, and dancer Jasmine Guy, a modern day Griot, and the acclaimed Avery Sharpe Trio, Raisin' Cane celebrates and honors the legendary voices of the Harlem Renaissance through text, song, music, movement, and imagery.
Jasmine Guy has a regular presence on film, television, and stage. She was the star of the Bill Cosby spin-off A Different World for which she won six consecutive NAACP Image Awards. Recent television work includes The Vampire Diaries, Melrose Place, NYPD Blue, and Dead Like Me. A former dancer with the Alvin Ailey American Dance Theater, she has also appeared in a range of Broadway and national productions including Chicago, Grease, and The Wiz. On film, she starred in Spike Lee's School Daze, as well as in Harlem Nights, and Stompin at the Savoy. Her collaborations over the years, from Bill Cosby to Spike Lee to Kenny Leon to the Atlanta Ballet, show her to be a multi-faceted star. Ms. Guy is not only recognized as an accomplished actress, singer, and comedienne, but also as a director, writer, and speaker.
Avery Sharpe is considered one of the greatest Jazz bassists of his generation. He has performed and toured with many of the world's top jazz musicians including Wynton Marsalis, Dizzy Gillespie, Cab Calloway, Bobby McFerrin, Pay Metheny and others. Sharpe's extraordinary compositional skills are on display in Raisin' Cane. His exceptional works have been performed in every musical configuration from orchestras to the Grammy Award Winning Jazz recordings of Michael Brecker and McCoy Tyner. For performances of Raisin' Cane, Mr. Sharpe is joined by the renowned percussionist Kevin Sharpe and violinist Diane Monroe.
. . . from the Raisin' Cane website
2016 Performance Schedule
1/22/2016
Performing Arts Center-Lund Auditorium – Dominican University River Forest, IL
Friday, January 22, 2016 @ 7:30PM. Box Office: (708) 488-5000: 1 Performance
1/29/2016
The Fox Cities Performing Arts Center Appleton, WI
Friday, January 29, 2016 @ 7:30PM. Box Office: (844) 854-1450: 1 Performance
http://pac-appleton.com/events.php?search_text=Raisin+Cane
2/05/2016
Zeiterion Theatre New Bedford, MA
Friday, February 5, 2016 @ 8:00PM. Box Office: (508) 994-2900: 1 Performance
http://zeiterion.org/raisin-cane-2/
2/26/2016
Popejoy Hall Center for the Arts-University of New Mexico Albuquerque, NM
Friday, February 26, 2016 @ 8:00PM. Box Office: (505) 925-5828: 1 Performance
Inspired by the 1923 novel, Cane, by Jean Toomer, and the work of other renaissance artists, this multimedia presentation fronted by Jasmine Guy provided a look into the general trends and opposing factions that that transversed the Harlem Renaissance from the return of African American soldiers after World War I through the early 1930s. 'Raisin' Cane: A Harlem Renaissance Odyssey is clearly a labor of love by the multi-talented Guy.
Based on Cane, written in 1923, the story of the Harlem Renaissance was expanded into Raisin' Cane by Harry Clark and directed by Dan Guerroro. During the first act, Guy was almost always center stage delivering a complex message through the words of intellectuals of the time. During the second act, the Avery Sharpe Trio, not Guy, dominated the stage. Her closing lines,"I, Too" by Langston Hughes were the most powerful of the evening.
Backed by the spectacular Avery Sharpe Trio Guy employed poems, short stories, literature excerpts, songs and paintings to tell the story of the Renaissance. For much of the first act, I found it easy to follow the unfolding story but hard to identify the different prominent people of the time. This might have been easier if the program included poems, literature, and songs in the order of the program rather than by the name of the creator.
A high point for me was the discussion of the sharply divided views of Langston Hughes, W.E.B. Dubois, Booker T. Washington, and Marcus Garvey. Hughes believed in the power of new intellectuals. Poet/author Langston Huhes extolled the macht of artists to effect social change while W.E.B. DuBois' "Talented Tenth" concept forwarded the premise of the black community's new intellectuals to change the social landscape of America.  Garvey preached the return to Africa. All were painfully aware of the contrast between the lives of African Americans in the south and the north.
Aspects of the Renaissance were highlighted by paintings from Archibald Motley, who showcased the high life in settings such as the Cotton Club. William H. Johnson used primitive forms to illustrate African Americans returned to Africa. Palmer Haydon is best known for his paintings which reflect African-American folklore and also documented all aspects of life in Harlem.
Except for the closing reading, the second act was dominated by the Avery Sharpe Trio, including Diane Monroe on violin, Kevin Sharpe on percussion and vocals, and Avery Sharpe on the Double Bass. Avery Sharpe composed all of the music for the show except for a handful of traditional songs, including Eubie Blake's "I'm Just Wild About Harry," Duke Ellington's "The Mooche," and the spiritual "Sometimes I Feel Like a Motherless Child," which Guy sang with heartfelt emotion. The trio's beautiful sound was one of the highlights of the show. Diane Monroe received many well-deserved ovations.
Guy ended the performance with a poem from Langston Hughes called "I, Too." It speaks passionately about the rise of the African American from servant status to the one being served:
I, too, sing America.
I am the darker brother.
They send me to eat in the kitchen
When company comes,
But I laugh,
And eat well,
And grow strong.
Tomorrow,
I'll be at the table
When company comes.
Nobody'll dare
Say to me,
"Eat in the kitchen,"
Then.
Besides,
They'll see how beautiful I am
And be ashamed—
I, too, am America.
All in all, Raisin' Cane: A Harlem Renaissance Odyssey was not about skin – but about heart.
Running Time: One hour and 45 minutes, with one 15-minute intermission.
Bev Fleisher has performed and taught many genres of dance for over 40 years. She is currently a student with Precipice Improv Theatre. Explorations into the visual arts have ranged from glass to bookmaking and wood blocked silk. Her current project is researching and making beads by hand from sites along the Silk Road. Always a fan of the performing arts, Bev is excited to be writing reviews rather than spend all of her time writing technical books and articles.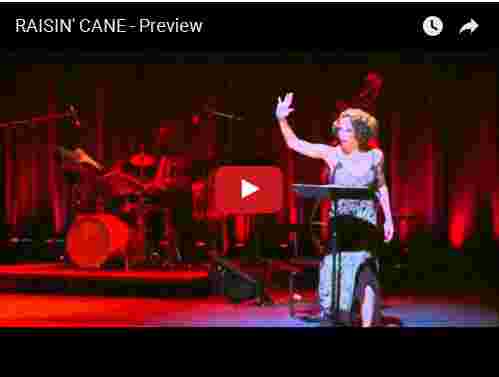 Raisin' Cane: A Harlem Odyssey played on January 24, 2015 at 8 PM at George Mason University's Center for the Arts – 4373 Mason Pond Drive, in Fairfax, VA. For future events, go to their event calendar.
 
An Interview with Jasmine Guy on 'Raisin' Cane: A Harlem Renaissance Odyssey at George Mason University's Center for the Arts on January 24, 2015 by Ramona Harper.
An Interview with Jasmine Guy on 'Raisin' Cane: A Harlem Renaissance Odyssey' at George Mason University's Center for the Arts on January 24, 2015
On the evening of January 24, 2015, the renowned star of stage, television, and film,
Jasmine Guy
will present for one-night only
, "Raisin' Cane: A Harlem Renaissance Odyssey," 
along with the acclaimed
Avery Sharpe
Trio (Sharpe with John Blake on violin and Kevin Sharpe on percussion) at the George Mason Center for the Arts.
"Raisin' Cane"
is a panoramic experience of text, song, movement, and imagery of the Harlem Renaissance era experienced through the voices of Langston Hughes, Countee Cullen, Zora Neale Hurston, and W.E.B. Du Bois. Here is a chat I had with Ms. Guy about her upcoming show.
Ramona: You've had such a versatile career as a dancer, an actress, singer, choreographer, author, and a director in theater, television and film, — way beyond the "Triple Threat." Tell us what has inspired your achievement the most during your spectacular career?
Jasmine Guy: I love what I do and I have been so fortunate to have opportunities to do other things. Not everything I've done was of my own devising. I know these opportunities are rare. I have been asked to do things and just said, "I don't know why you think I can do this, but I am going to direct Colored Girls even though I have never directed before." Or, I am going to write a book because the opportunity came. Those opportunities also came with a lot of fear and trepidation and sometimes I just do it because of that, because I am afraid of it and I don't want to be. I figure God is still using me. So, I don't dance anymore. I'm 52 and there are other parts of me that can still express myself without it being that very first language that I learned, and I use dance as my first language; I've had other languages, too.
Can you tell us a little bit about "Raisin' Cane: A Harlem Renaissance Odyssey" that you will be performing at the George Mason Center for the Arts on January 24th? How did this project come about, and what made you want to be part of it?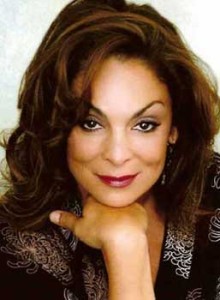 Jasmine Guy
Avery Sharpe is the bassist and composer of the music of the piece, and we've been friends for a long time—like maybe thirty years. And we did a show together called Bubbling Brown Sugar when I was like 21 years old. So, we've been friends and he called me and said that I have a piece about the Harlem Renaissance and we need a narrator for the piece. So, it started as this kind of reading with music and it was so good and so rich and so full. I started moving to the music and like why doesn't she sing. So, over the last six years, we really created this magical journey through the Harlem Renaissance. We've reworked it many times but it is the same effort that we started with – which is this amazing decade between World War I and the Great Depression – where all this art and revolutionary thinking came out of this decade. And my passion for the piece is also because we are so much a part of our history.
We pretty much cheat our kids from Harriet Tubman and we skipped Martin Luther King. We leave out everything. We leave out the Harlem Renaissance, Reconstruction, abolitionists. We are told that we have in our history… that makes me want to do the piece all over the world because it's an American story. It's the story of the creation of jazz. We have our great poets like Claude McKay and Countee Cullen, and Langston Hughes, and our great thinkers and politicians like W.E. B. DuBois, Booker T. Washington to Marcus Garvey. So, I love doing this show. It's so much fun. It's clear and it gives you a lot of information and in a very entertaining way. You just kind of get lost up in the times and what it felt like to be alive back then. A New Negro. This was the decade of the New Negro where blacks were moving to the big city, and stripping off their overalls and work boots and putting on hats and gloves and going to the Savoy and being lovely.
Speaking of the Savoy, did your role in the 1992 CBS special Stompin' at the Savoy give you a historical appreciation and context for your role here? 
Yes. I love doing historical pieces anyway because it's so fun to go back into the times and how people read and thought. That was a 30's piece. "Queen', of course, was during slavery, and I wouldn't say that was a fun time to go back to, but you do feel the spirit and the energy of those people from that decade and that jazz inspired me to kind of find the essence and I speak to a lot of different characters and sometimes I am the man, too. So, I have a lot of trans-morphing to do very quickly with my body and my voice, but I do love the work and I love saying the words and talking and finding the relevance -and now it's one hundred years later to do with what they gave us.
Did working under the direction of Debbie Allen expand your range as a performer?
Debbie Allen has always inspired me and encouraged me to do more and be more. She is the example of everything I have done. When people would say to me, "Well, you are a dancer and you are not going to be able to an actor or you don't have any acting credits when I would go for auditions. I would say in the back of my mind, "Well Debbie did it." If someone says you can't direct or you can't write, I always say that Debbie did it so you don't know that. I already see somebody who does that –multifaceted and does all of it well. Now she has this great dance school. She never ends. She is nothing but fire and soul and creativity. She has always been an inspiration for me, working with her and being around her.
Do you see any links or connections between the themes of the creative movement of the Harlem Renaissance and the arts today? How can today's audiences relate to the creative expression of the 20s and the Harlem Renaissance?
Well, yes, but the artists were the voice in very revolutionary times and when we have that kind of power as artists and we use it in a way that is responsible to our own journey. You know I feel like we have evolved and the rappers have become the poets of our time. One of the poems that I do in the piece sounds like a rap song. I do it like a rap song. And when I do some other poems, I'm like, "I can be on Def Jam Comedy right now." So that part of the poetry, the show that we do, it is so contemporary, that I have to remind myself that it was written a hundred years ago.
I know that you've been known to say that you are a "Steel Magnolia." Can you tell us more about that self-description. How are you a 'Steel Magnolia'?
I got that from a writer friend of mine because I was talking about how at this point in my life – and what do I want to do now; like what is the next thing that is going to make me passionate, and I was talking about how I don't feel strong like I used to. And she said, "You are strong, Jasmine, but you are also soft. You're a 'Steel Magnolia." So that's where I got that from. I took it on because she saw that in me and described me that way because I really didn't know how to describe myself. So, when they asked me that on Oprah and that's what came to mind because she saw me as that and that's how she described it. And I was like, "Okay, I'll take that." There's a fragility there but I do have a certain amount of strength that gives me the steel that I need to get through things without breaking. And I like the magnolia because it's a big, white, powerful flower, and I am back in Atlanta now, so, claiming my southern roots again it just seemed to fit.
Can you tell us two things about yourself that only your closest friends know about. For example, do you have some unique interests or special hobbies that you do in your spare time that people probably don't know about?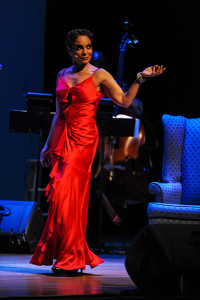 I have kind of boring hobbies, I read, I watch a lot of documentaries, it's almost like research when I am not working. I am just trying.. even when I am watching television with friends I'm like, "Why did they make her do it like that?"And nobody wants to share all that technical stuff while watching a movie, but my mind is always working like that. I get engrossed but it has to be really good. If it's bad I can't sit through it. I can't sit through bad writing, bad acting, but there are so many things that are good on television now that I like to study that. I color adult coloring books and I have a very expensive set of paint pencils that I use, and I still write poems. I don't really share them anymore, but that's kind of something that goes on when I am by myself.
How do you wind down and relax? Are those things that you do to rejuvenate for your next performance? Performing is a high energy endeavor.
I just do those things and I stay home a lot. I don't like to go out because I can get over-socialized when I am performing a lot and I just want to be by myself. I might take a day that I just don't do anything but then eventually if I am at home I am either going to start cleaning or doing laundry or something– on my hands and knees on my floors, almost every other day. I am a floor fanatic.
I also know that you've been known to say that, "living between the gigs" is where you have learned most of your life lessons. Can you tell us about any of those life lessons?
I think that I have had to learn to forgive myself. We all know that forgiveness is key to moving on in your life, but I think I've always thought I had to forgive someone else and I realize I also have to forgive myself to be able to move on. And I think we can spend too much time beating ourselves up for something, and then it keeps us from moving forward.
What are some of your other current projects and upcoming projects?
I'm in a movie called Big Stone Gap starring Whoopi Goldberg and Ashley Judd. I think it's out now, and I have been writing a book about my life. I've been writing a lot. I'm also in Tyler Perry's new show, If Loving You is Wrong. I can never just say that title to that show without either singing it or saying it with some attitude! I'm like, "How can you say this! It's gotta be wrong! You can't say if loving you is wrong!" But that's a lot of fun, that show.
Why should theatergoers see Raisin' Cane? What's so special about this production to make people go see it?
Well it's a magical experience. It's a show that's full of poetry and painting, and jazz music and the dance thing. It takes you on a journey that's fun but poignant, and involving. You have to listen; you have to be there—engaged. And once you go, "Oh, okay—now I see where we're going." You're not really sure in the beginning. It's a one-woman show—and now she's talking about that, and she sings, and once you can go with the flow… I love it. I can feel it. We have such a good time. It's a very uplifting show that we can celebrate all of this beauty together and claim it as our own. That's what history does. It should be, ""I'm from that too!" That's how you should feel: "I am of that too!". And we've got to be giving our people more to come from than slavery and gangsters.
Is that what you want people come away after they see the show?
Yes, but I want them to come away with pride and a sense of belonging and gratitude.
Have you ever performed in the DC area before and where?
I have. I was there last year. Of course, I never know if I am in Virginia, Maryland, or DC. We were… I can't remember the name of the theater. It was a black theater* and it was old and had been renovated. It wasn't far outside DC because my friends came. It's blurring! We had a great show there, too. They loved it. We did a matinee for the kids and a show that night. And I did a workshop. I really wish I could remember it.
(*The theater was the Publick Playhouse in Cheverly, MD.)
What do you think about DC area audiences?
Oh fabulous! Omigod! That's why I remember the show. They loved it. And then we did a talk-back. The audience was so knowledgeable. It's like they already knew. I felt like we were doing this together. Like, "Yeah, tell 'em about that" and tell 'em about that." They were quite verbal as I recall. It was funny.
How can people follow you to know where you will be performing next? Do you have a website of blog?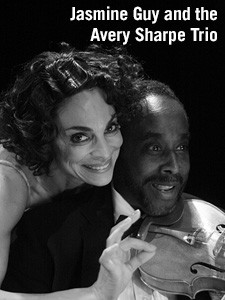 There's the show's website. They have the itinerary for the show there. And I am on Facebook, Twitter, Instagram, and I think I am "Jasmine Guy" on Facebook and my website. And then I am "Be Jasmine Guy" on Twitter. People were using my name and I had to keep changing how I did my own name. And I am, "Jasmine Guy" on Instagram and Facebook, and my website.
This has been such a pleasure and a treat and I thank you for this opportunity to speak with you.
Thank you so, Ramona. Are you coming to the show?
I absolutely plan to be there. I have to see this show. I've seen the trailer.
I want to sell it out.
You will. I know you will!
Ramona Harper is a retired Foreign Service Officer (career diplomat). While in the Foreign Service, her specialization was Public Diplomacy. Her overseas postings were Senegal, Zimbabwe, Uganda, Panama and Germany where she presented American visual and performing artists on behalf of the U.S. Government. Before joining the Foreign Service, Ramona was a counselor and administrator in higher education at the community college level. Her academic work includes a Master of Science degree in Counselor Education from Florida International University and a Master of Science degree from the National Defense University's Industrial College of the Armed Forces. Ramona is an avid theatregoer and filmgoer and is happy to be a member of the DCMetroTheaterArts writing staff.